Ben Hogan Award Winner Chris Williams Now a Pro
After a storied career at the University of Washington, Chris Williams has turned his sights onto the professional ranks. Thanks to a sponsor's exemption, the two-time All-American is making his pro debut at the Travelers Championship. The $6.1 million PGA Tour event starts Thursday at TPC River Highlands in Cromwell, Conn.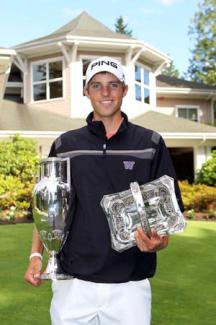 Chris Williams after Winning
2011 Sahalee Players Championship
In May, the Moscow, Idaho, native won the Ben Hogan Award, given annually to a college golfer for his excellence on the course and in academics. Last year Williams won the Mark H. McCormack Award for being the world's top-ranked amateur.

Williams was a first-team All-American in both 2011 and '12. He won the prestigious Western Amateur in 2012 and was on the USA's team for the World Amateur Championships in Turkey. Williams was also a key player on both the Walker Cup and Palmer Cup teams during his time at the UW.

He had perhaps his best year ever in 2011, winning two legs of the three-tournament "Western Swing," the Sahalee Amateur Players Championship and the Pacific Coast Amateur.

With those credentials Williams doesn't have much more to prove as an amateur. At the recent U.S. Open at Merion, he missed the cut by a stroke.
In addition to the Travelers, Williams is slated to play in the AT&T National at Congressional next weekend, the Reno-Tahoe Open in early August, and the Wyndham Championship in Greensboro two weeks after that.

On Wednesday, he talked about his leap from the collegiate stage to that of the touring pro. Here's what Williams - who turns 22 on June 21 - had to tell reporters about his debut.

MODERATOR: I'd like to welcome Chris Williams. Chris, you're getting ready to make your professional debut here at the Travelers Championship. You had a start in the U.S. Open last week. If you want to kind of talk about your decision and your thoughts coming into this week then we'll have a few questions.
CHRIS WILLIAMS: Yeah, I played last week as an amateur, and that was the last week I'll play as an amateur. I'm pretty excited to be here and make my professional debut here at Travelers. There's been a long history of guys that have done that. Patrick Hanley did that last year, and it worked out pretty well for him. Obviously, very excited, can't thank Travelers enough. Nathan Grube gave me the opportunity and I'm very excited. This has kind of been a dream of mine, and I'm very excited to be here.

Q. Could you talk a little about the Open experience, and did you take the flight up here with the rest? Can you talk about the experience and leading us up to date?

CHRIS WILLIAMS: Yeah, so it was nice, two years ago I had to qualify for the Open, but this year I was exempted, so I knew I was going to play in it since August. So I was thinking about it quite a bit, going over the course. They said it was going to play very firm and fast, and obviously it didn't. But I'm used to that in Seattle. Courses don't play firm and fast in Seattle, so it actually works out great for me.

I didn't play my best. It was unfortunate to miss the cut, but it is an awesome week. It was so much fun to have my family there and had a bunch of people out supporting me. Unfortunately, I missed the cut, but I had this to look forward to right around the corner. It was a good week, but I was ready to move on and start my professional career, and it was nice to be able to hop on that 45 minute charter and come right up here.

Q. I was in Idaho, and I have to ask you, are you living in Moscow or where are you living these days?

CHRIS WILLIAMS: I live in Seattle right now.

Q. Did you go to U of I?

CHRIS WILLIAMS: I went to Washington.

Q. What is the Moscow connection?

CHRIS WILLIAMS: I was born and raised in Moscow.

Q. So no plans to go back to Idaho though?

CHRIS WILLIAMS: Probably not to live, but I'll go back. I have friends and family there, but it's not really a golf hotbed to say.

Q. I read a little about Moscow. I saw where because a lot of people left the school for the summer you were able to shoot from all over the course and not just the practice range. So I guess for it not being a hotbed for golf, it kind of worked out well for you. Could you talk a little about how you were able to cash in on that?

CHRIS WILLIAMS: Yeah, so we really didn't have a driving range. It was nonexistent. It was a pasture. So for me to practice, I had to go out and practice on the course, and it was great because no one was there. The town is 20,000, and that's with 10,000 students. So nobody plays the golf course. There is no one in the town. It's like a ghost town in the summer. So I was able to play and practice on the course as much as I wanted. I had the whole place to myself. I never was a guy that would stand on the range and hit a ton of balls. I like to practice on the course. It worked out best for me, and I learned the hard way that that's not how you're supposed to do it. I would go to Seattle and play those country clubs and members didn't like taking a bunch of divots and ball marks on the green.

Q. You talked about knowing Patrick, and he did the same thing last year. Can you talk about what he told you about this tournament? Is there something about this tournament that makes it a good one to start a pro career on? Some of the top players after the U.S. Open don't often show up here. What is the reason for this tournament?

CHRIS WILLIAMS: Well, like you said, it is right after the U.S. Open, and for me it made sense to stay amateur for the Open because I was exempted into it. But, no, Patrick obviously two weeks ago played amazing, shot 60. I haven't really talked to him yet about it, but that was his goal, that was his path, to turn pro here. Even though he's younger than me, I kind of follow him a little bit. He's actually helped me quite a bit. We talk a lot and share a lot of stuff together. So to be able to do what he did is actually, I mean, it would help me that he did it last year, and we'll definitely talk to him about the course and about the tournament.

I think it is a great tournament. They make it pretty easy. They make a charter straight from the U.S. Open, so it makes it easy to come here and play in this tournament. And it's a fun course. I mean, it is a great course. After last week it's stress, stress, stress, and you get here and it's pretty easy. I mean, it seems easy compared to last week. So it's a good transition a lot of guys have done it in the past. They've turned pro here, and that's definitely what I wanted to do.

Q. I'm sure a lot of people ask you about the 10 finger grip. Is it a product of playing baseball? I mean, it's very rare at this level, could you just talk about it a little bit?

CHRIS WILLIAMS: Yeah, I played a lot of baseball. That was kind of my sport growing up. I liked the faster paced sport. Golf was boring. But I would play golf in the summertime and baseball other seasons. So when I would come to the golf course, it didn't feel right to use the other grips. The one time I did, I shanked it. The one time I used the other grip, I shanked it. So I've never tried a different grip. The 10 finger feels natural. It is a baseball grip, but it works out for me.

Q. How many sponsors' exemptions have you applied for, and how many more do you plan to apply for as the summer goes on?

CHRIS WILLIAMS: I applied for seven, and as of now I've gotten four. So I play this week, the AT&T, Reno, and Wyndham.

MODERATOR: Reno and then Wyndham and not Greenbrier?

CHRIS WILLIAMS: Yeah.

The transcript for the above interview is courtesy of ASAP Sports.