Bermuda Bound
By: Elisa Gaudet
Bermuda bound and bound by Bermuda I will always be As both my heart and the direction of my compass point to this beautiful island in the sea.
Elisa on the Green at Tucker's Point
The feelings I have towards islands is similar to the way parents feel about children: it's hard to have a favorite as they each have their own personality and unique characteristics that make each of them special.

However, there is no greater experience than ocean and golf combined; with a preference for the warmer locations. One of such extra-special locations is Tucker's Point in Bermuda. Once the site of the Castle Harbor Hotel, opened in 1931, it was situated in Tucker's town and was a popular destination for celebrities and the well-heeled. It closed in 1999 and was demolished in 2002. A new property, the Rosewood Tucker's Point, was built in its place and opened in 2008.

Tuckers Point has been impressively recognized; it's on Travel & Leisure's list of "30 Most Romantic Dream Trips." That romance may very well include golf as you will fall in love with the stunning views, elevated tees and fairways and greens that overlook the light-blue Atlantic Ocean and pink-sand beaches.

While playing this beautiful Charles Banks-designed, par-70, 6,500-yard course you can see three bodies of water: Harrington Sound, Castle Harbor and the Atlantic. Director of golf, Paul Adams, has been at Tucker's Point for seven years and enjoys the great history of the property as well as the site's many changing vistas. The 17th hole is no better example.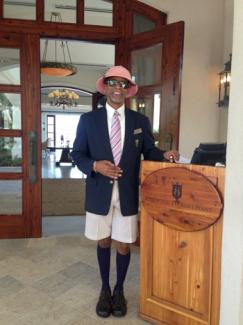 Levon & His Pink Pith Hat
English culture is still prominent on the island, from high tea and cricket to men wearing Bermuda shorts, high socks and a blazer. The St. George Cup cricket match is one of the highlights of the year and an exhilarating experience for even those who do not follow the game. English traditions combined with very friendly island hospitality make Bermuda a unique experience.

It is precisely that hospitality that brings people back year after year. Eric Levon, the gentleman greeting you when arriving at Tucker's Point, is a shining example. He has been here since it opened in 2008 after the Tripp Brothers took over operations from the old Castle Harbor property and completely reconstructed and revitalized the resort.

On a recent day Levon was excited as he just had his pink pith hat signed by American PGA Tour pro Matt Kuchar, who was staying at the property with his family. "I have met some really nice people over the years and Matt was one of them. I really enjoyed meeting Gary Player, he used to be the touring pro for Castle Harbor, and I met Lucille Ball in 1967," Levon told me.
When asked about his signature hat, Levon explains, "Two years ago a guest gave me the pink pith hat because his wife bought it for him in town and he did not want to wear pink. I liked it and have been wearing it ever since. I have 18 pink ties to match."

While the island is known for its "Rum Swizzle" and "Dark & Stormy" drinks made with Gosling's Rum, there's a refreshing lesser-known cocktail made by Owen the bartender at the 19th hole bar at Tuckers Point Golf Club. Ask for an "Owen's Special or GB Julep." It's a combination of vodka, fresh basil, fresh ginger and soda.

Pair that with one of the best lobster rolls on the planet and you will understand why Mark Twain said, "You can go to heaven if you want. I'd rather stay in Bermuda."
For more information, visit www.tuckerspoint.com.
Elisa Gaudet brings a wealth of entertainment and golf experience to Cybergolf. Elisa has spent the past several years in the golf industry in the U.S., Latin America and Spain. She worked for the PGA Tour and the Tour de las Americas before founding Executive Golf International, a golf marketing company that works with clients to develop strategies using golf as the medium. Often referred to as the Maria Bartiromo (a business analyst for CNBC) of golf, Elisa says: "Golf, as a marketing tool, has been around for years. It's amazing how many new ways companies can align their brand with the golf market to reach their target audience. Our goal is to create alliances and establish cross-border relations." Elisa also worked in the entertainment industry for over 10 years, including five in Los Angeles as a model and actress. She can be seen at many celebrity golf events and often gets the inside scoop from PGA Tour players. In 2011, Elisa published her first book, "Two Good Rounds" (Skyhorse Publishing). Her story for Cybergolf, "Golf a Romantic Affair at Cabin Bluff," won the top prize in ING's 2012 Travel Writing category, and that same year she won the ING's Outstanding Achievement award for the Op/Ed Writing Category for her Cybergolf article, "I Want to Fall in Love with Tiger Again." For more information about Elisa, visit her websites at www.onthelip.com or Executive Golf International www.execgolfintl.com.