'Big Ben' Chimes Midnight for Opponents, Wins 100th Travis Invitational
By: Jay Flemma
There's a new "Big Ben" in the sports world, but this one doesn't throw touchdowns, shake off pass-rushers, or hold on to the ball so long that Pittsburgh Steelers fans get heart failure. Instead, "Big" Ben Hayes from Whisper Rock G.C. in Arizona crushes Space Shuttle drives, pin-points laser-beam irons, and smothers opponents with the surgical precision of a chess player.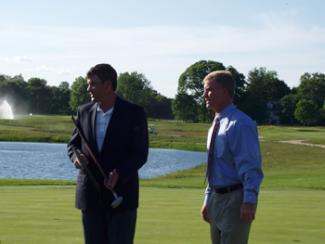 Hayes & the Schenectady Putter
With iron-willed focus, a swing as smooth as one of Bob the Bartender's Southsiders, and a few flashes of short-game brilliance, he puts opponents under relentless pressure until they break, or he simply outlasts them. Now, after overcoming a valiant comeback by his best friend in the semifinals, and then methodically inching to victory in the finals, Ben Hayes became the 100th winner of the Walter J. Travis Invitational at Garden City Golf Club in New York.

"It's incredible, beyond all my expectations," beamed the former Nationwide Tour contestant and University of Southern California star as he held the replica Schenectady Putter and Waterford crystal trophy given to the winners, posing for photos with his caddie, Jim. "I'm thrilled and privileged to be a part of the prestigious history of this wonderful club and tournament."
Hayes defeated Brad Hayes, his best friend, former roommate, and teammate on the Southern Cal golf team 2&1 in the morning semifinal, but not before watching a front-nine, 4-up lead evaporate.

"I was really leaking oil, and Brad is a great player," breathed a relieved Hayes. Shaw must be great; he erased a 4-down deficit in just five holes against the former No. 1 player at USC and contestant in the 2006 U.S. Open at Winged Foot.

"The key shot for me was a 6-iron on 15. I hit it to 10 feet and made birdie, which calmed me down," he explained. Hayes had to dig deep to birdie one of the most difficult holes in golf, a beefy 487-yard, uphill par-4 bisected by a stone wall with a green slanted so far to the right, a mishit might end up on the adjacent 13th green. After halving the 16th, Hayes won the match with a 2-putt birdie at the par-5 17th. He reached the 498-yard hole with a 2-iron off the tee and a 4-iron into the green.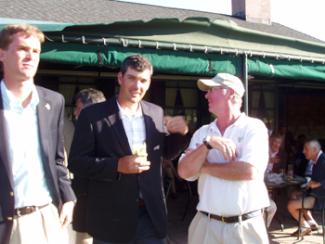 (left to right), Brad Shaw, Ben Hayes & Caddie Jim
Hayes then held off plucky Jay Crowley 3&1 in the final. Crowley reached the final by defeating Garden City member Jed Raynor 4&3, thus ending Raynor's inspiring run and Cinderella bid to become the first member of Garden City to win the Travis since Billy Edwards in 1970.

Indeed, Hayes did treat the final match much like a championship-level chess match. He got ahead early - he was 2-up after three - and then slowly, methodically, tightened the vice like a chess player slowly pressing an advantage until he reaches a winning position.

"I got off to a great start. Driver, chip to one foot on one, then a 20-footer for birdie on three," he stated. "Then I just made a lot of pars and tried to limit my mistakes."
Over the course of the final, Hayes hit nine out of 14 fairways and 11 out of 16 greens in regulation. Three times his drives split the middle of the fairway, but he was so long off the tee, he actually drove through the fairway into the light rough of a cross-hazard (Nos 7, 9, and, shockingly,15). He hit seven and nine in regulation and missed 15 by a foot.

Once he had the lead, he never lost it, holding a 1-up advantage from the sixth hole until the 14th, when a tense up-and-down for par swelled the lead to 2-up once again. After halving the 15th in inglorious fives, Hayes Goodyear-blimped one, launching a 320-yard drive dead-center. When Crowley's drive landed in the woods and his punch out left him with too difficult an up-and-down, Hayes's wedge to 10 feet won the match. Checkmate.

The 27 year-old Hayes simply turned and fist-bumped his caddie, who was beaming as broadly as Hayes. Jimmy is an old standby who deserved a win. It had been a long time since he'd reached the finals, his man lost in 1989. Then Hayes shook hands with pro emeritus Gil McNally and tournament director Pat Fogarty before turning and hugging Brad Shaw.
"It's incredible. I've never had more fun sitting out a final match in my life," Shaw explained. "If I have to lose to anybody, I have no problem losing to Ben. For Ben to write his name in the history of this club and this tournament is just the coolest thing."

Actually, it might have been the second-coolest thing. Garden City and the Golf Gods had one last joyous surprise for us. With a glorious sunset lighting up the sky, but tying long shadows to their feet, two small boys - sons of member Mark Thompson - went out to play the loop of 1-2-18. With the gallery still assembled on the veranda, little 12-year-old Luke Thompson stepped into the front-right bunker guarding the 18th green and took aim at the flag. The ball splashed out perfectly, bounced softly, and rolled into the cup. The veranda exploded with cheers. The sixth grader at Munsey Park just waved and went over to the short-game area to practice with his brother. Ladies and gentlemen, meet your 2025 Travis winner. Hey, Jed Raynor played here since 15, and he was a semifinalist this year. Why not Luke?

And so the sun set on the 100th Travis Invitational, the sky as red and gold as USC's colors. Hayes looks every bit the part of the rugged Trojan mascot, minus the sword, shield and cardinal-and-gold breast plate with plumed helmet. Tall and broad, with rugged Hollywood good looks, this Big Ben looks like he'll be a presence on the amateur circuit for decades.
Meanwhile, everyone else was left to bask in the warm post-Travis glow, celebrating together. Jesse, George and Rob from the pro shop are chatting amiably with members Merrick McQuillan and Noel Volpe. Bob, Bob and Henry are trading stories at the bar with contestants. General manager Jimmy Gilchrist is sharing a laugh with Chef Tony, who brandishes his cleaver and slices a rack of lamb. And the "under the clock club" gathers for am impromptu picture.

And with them, the ghosts of the past all raise their glasses and toast the glory of Travis's name. That's the beauty of Garden City. With the right kind of eyes, you can see what people have seen for centuries.

The other winners in the various flights of the 100th Walter J. Travis Invitational were (seeds in parenthesis):

Devereux Emmet Flight
Jerry Chang (6) over Greg Rolff (13) 6&5.

C.B. Macdonald Flight
Keven Gai (8) over Daniel Macdonald (2) 5&4. Gai was the lowest seed in this bracket and the lowest seed to win a flight this year.

Robert Trent Jones Flight
Steve White (2) over Kirk Kashevaroff (5) 2&1

William H. Taft Cup
Pat Pierson (5) over Robert Shawger (7) 6&5

Eisenhower Cup (Senior Legends)
Chuck Wagner (8) over Pat Tallent (2) in 22 Holes. There were 16 players in this bracket. As an aside, Wagner has one of the most eccentric putting styles in golf. A tall, burly man, his tiny putter barely reaches his knees. He spreads his legs nearly twice the width of his shoulders and then kneels over putts like a football center. But as Fox Sports broadcaster Steve Czaban famously said, you can't fault a guy for a funny swing if he wins with it. Just look at Jim Furyk.


Since launching his first golf writing website in 2004, http://www.jayflemma.thegolfspace.com, Jay Flemma's comparative analysis of golf designs and knowledge of golf course architecture and golf travel have garnered wide industry respect. In researching his book on America's great public golf courses (and whether they're worth the money), Jay, an associate editor of Cybergolf, has played over 220 nationally ranked public golf courses in 37 different states. Jay has played about 1,649,000 yards of golf - or roughly 938 miles. His pieces on travel and architecture appear in Golf Observer (www.golfobserver.com), Cybergolf and other print magazines. When not researching golf courses for design, value and excitement, Jay is an entertainment, copyright, Internet and trademark lawyer and an Entertainment and Internet Law professor in Manhattan. His clients have been nominated for Grammy and Emmy awards, won a Sundance Film Festival Best Director award, performed on stage and screen, and designed pop art for museums and collectors. Jay lives in Forest Hills, N.Y., and is fiercely loyal to his alma maters, Deerfield Academy in Massachusetts and Trinity College in Connecticut.