Big, Bold Features Highlight Stunning Paa-Ko Ridge
On the eastern slopes of New Mexico's Sandia Mountains 20 miles from Albuquerque and 45 miles from Santa Fe, golf architect Ken Dye fashioned one of the nation's top public tracks, Paa-Ko Ridge, which curls among arroyos, native vegetation and rock outcroppings.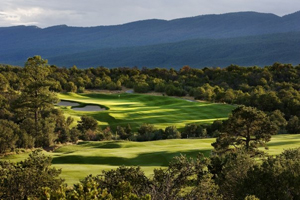 Paa-Ko Ridge Golf Club
Paa-Ko-Ridge is carved through a forest of pinon and juniper evergreens, with some specimen ponderosa pines near the landing areas and greens to make the course stand apart from the region's other high-desert venues.

Texas-based Dye, who apprenticed under veteran architect Joe Finger and now partners with Baxter Spann in the firm Finger Dye Spann, revels in the fact that the site was conducive to building a great course without disturbing too much land, most of whose naturally rugged features he was able to retain.

Paa-Ko, in the language of the native Anasazi, means "root of the cottonwood tree," but you'll find none of those on this ridge that faces the morning sun. There are tribal ruins nearby where an archaeological site was excavated in the 1930s that found multi-room dwellings, kivas, corrals and a wealth of artifacts, all of which are now owned and preserved by the University of New Mexico.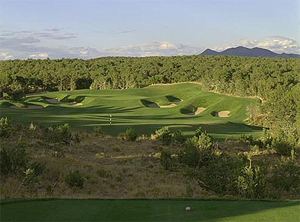 Paa-Ko Ridge's Short Par-4 Sixth
Opened for play with 18 holes in April 2000 and later expanded to 27 in 2005, Paa-Ko Ridge features multiple mountain views, strong shot values and a serenity that seems synonymous with the quality golf found in the "Land of Enchantment." The course also sports many big, bold features, undulating putting surfaces and plenty of risk-reward opportunities.

Often compared with Pinon Hills, Dye's other top-rated course in New Mexico, Paa-Ko Ridge is more visually intimidating but with lesser green contours that its older sibling. "I think Paa-Ko Ridge is better," said Dye. "It has better elevation, better trees, better soil and better views. It's a great location for a golf course."

There's something great about playing golf in New Mexico. Maybe it's the fine lineup of mountainside courses, 310 days of sunshine, low humidity or overall affordability. For me, it's the feeling that when you play one of the state's great courses - of which Paa-Ko Ridge is surely high on the list - it feels like you're discovering a bit of hidden treasure that you can't wait to share with other golfers.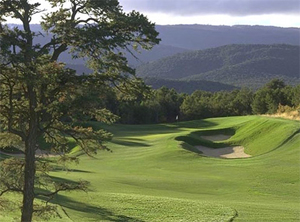 The 13th at Paa-Ko Ridge
Demanding but Not Punitive

Paa-Ko Ridge is situated at an elevation ranging from 6,500 to 7,000 feet. The original 18-hole layout plays to a par of 72 and at a lengthy, but not overwhelming, 7,562 yards, where it's rated a healthy 75.2 and slopes of 138.

Holes 19-27 stretch 3,842 yards (the longest nine-hole section at Paa-Ko Ridge) and are a real delight for golfers who relish challenge and fun.

Paa-Ko Ridge's setting in the high desert of New Mexico is one of the most moderate of the four-season climate zones in North America. In the winter, picturesque snowfalls are often followed by stretches of sunshine. The warm days of summer are interspersed with cool nights. The golf courses experience just enough precipitation to keep the native trees and grasses lush and healthy.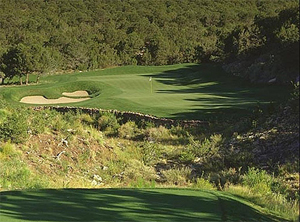 No. 4 at Paa-Ko Ridge
There are five sets of tees, rolling, generous bluegrass fairways and multi-tiered bentgrass greens here. And while it's true that the ball carries farther at Paa-Ko Ridge's higher elevation, the course still plays fairly long as both nines work up mountain foothills before turning back downhill.

At Paa-Ko Ridge, the green depth charts are quite beneficial, as Dye gave players some very wide putting surfaces to shoot at, but many are as deep as they're wide.

The best example this is on the par-3 fourth, which is a full 100 yards deep and with three distinct levels. Depending on the pin placement, wind conditions and which of the five sets of tees used, you can hit everything from a driver to a pitching wedge. The hole measures 77 yards from the front tees and 193 from the back. But that's to the center of the green. With a back pin placement, a low-handicapper hitting from the tips may need all of 240 yards to the flag. There are 13 feet of elevation rise to the green and a ravine to carry.

Try to reach the putting surface off the tee on the 327-yard par-4 sixth, but beware of a hollow right-rear of the green. Be prudent here, however, as any score between two and eight is possible. The 496-yard par-4 seventh is the longest two-shotter on the original course, but the green is open in front and receptive to a run-up.
Paa-Ko Ridge's challenge builds at No. 15, a 640-yard, dogleg-right par-5 that drops 100 feet from tee to green. A run-up shot is possible, but don't go long because there's water behind. Water is also in play on the 16th, a 228-yard par-3 with hazards short and left. There's plenty of bailout short and right, but the green is huge, contains tricky tiers and is split by a hollow.

The panoramic Estancia Valley and surrounding mountains make you stop and think about how lucky you are at that moment before launching a tee shot on the 419-yard par-4 17th. The climb to the back tees is worth it for the view and photo ops as you can see the entire golf course from this vantage point. You can also spot five mountain ranges and three ski areas from this lofty perch, which is at 7,000 feet above sea level and has a drop of over 100 feet to the fairway lined by an arroyo on the left and ponderosa pines both sides.

The 474-yard par-4 18th gives plenty of room to the right, but longer hitters will want to take their shot deep and left of the fairway bunkers. The approach requires a ravine carry to a large green with a ridge separating the back-left side from the rear.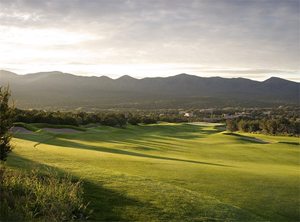 No. '27' at Paa-Ko Ridge
Holes 19-27 are no Afterthought

After playing Paa-Ko Ridge's original 18 holes, you'll want more, and the track's newest nine is there for the energetically inclined.

Routed in a 3-3-3 configuration of par-3s, -4s and -5s, the land utilized for 19-27 offers more stunning vistas, with putting surfaces perched on ledges and holes that involve more rocky peripheries than on the first 18. On this side there are elevation changes of up to 250 feet, and many of the holes are sloped more severely than their predecessors.

Golfers still have 60-mile views of five mountain ranges and, on the newer holes, Dye fashioned three tributes to Scotland. The 22nd hole, a 230-yard downhill par-3, is called "Redan" and was designed to simulate the oft-copied 15th at North Berwick. No. 23, a longer version of Muirfield's ninth, is a 625-yard par-5 and boasts angular cross-bunkering, while the 24th, a 202-yard one-shotter called "Postage Stamp," is replete with a no-bailout plateau of its Royal Troon-inspired green.

Dye said he'd never before tried to "copy" any of the great holes. "But on just those holes I had some fairly level land on a mountainous site. They worked out well," he said.
Much Awarded & Rightly So

Paa-Ko Ridge Golf Club is one of the most beautiful, challenging and award-winning courses in the U.S. Golf Digest ranks it No. 20 on its list of America's 100 "Greatest Public Courses" and as the top course in New Mexico. Golfweek magazine lists the track at No. 23 in its ranking of the "Top 100 Modern Courses in America" and Golf Magazine places Paa-Ko Ridge at No. 30 in its list of the "Top 100 You Can Play in America."

The golf is stimulating, the views breathtaking and the experience unforgettable. Paa-Ko-Ridge feels like a vacation getaway. It's a place you can play every day and never tire of - the highest compliment a golfer can give any course.

For more information, visit www.paakoridge.com.
Steve Habel is one of Cybergolf's national correspondents, contributing news stories, features, equipment and book reviews and personality profiles from his base in Central Texas. He is also the managing editor for Texas CEO Magazine and works as a contributing editor for Horns Illustrated magazine, a publication focusing on University of Texas sports. He also writes a blog (www.shotoverthegreen.blogspot.com), which features news on golf and the Longhorns, and another (www.checkinginandplayingthrough.blogspot.com) on his many travels, which took him across the nation and to 105 different golf course in 2009. Habel is a member of the Golf Writers Association of America and the Texas Golf Writers Association.