Big Easy Does it . . . Again & Again
By: Elisa Gaudet
Ernie Els, the laidback South African known as the "Big Easy," has returned to the winner's circle twice in the past month. Yet, while his game has struggled a bit over the past few years, his business interests have soared. He's now similar to a custom-made LeMond bike and, like the spokes on a wheel, all his passions have merged and there's no doubt he's on a roll.
You have to marvel at the determination and quality for which Els executes his many passions. He's a global champion on the golf course, a course designer, award-winning winemaker, philanthropist, husband and dad.
Global Champion

Els is a three-time major winner and one of the best-known players in the world. If he's collecting frequent-flyer points, Els has more than enough for a set of knives and a set of luggage. He is constantly circumnavigating the world to play events on the European and PGA tours, and always supporting tournaments in his home nation, in addition to his growing and extremely successful golf-course design business.

Els is one of the most successful golfers in the history of the game, having won more than 60 tournaments since turning professional in 1989. He has notched victories in two U.S. Opens and the British Open and holds the record for seven World Match Play titles. His numerous international wins ensure him a place as one of the game's great champions.
Wine

"While men may dream different dreams, they are driven by the same quest: to reach for, and to accomplish perfection. No two pursuits bare the truth of this more than the perfect round of golf and the perfect bottle of wine." This was said by Ernie Els and Jean Engelbrecht.

When Els and his good friend Engelbrecht decided to produce wine together, the marriage of their ideas on wine-making styles quickly transformed into a strategy based on quality and excellence. "We have, through our travels worldwide, developed a passion for fine wine, for the Cape wine lands and in particular, Stellenbosch, the noble heart of South African wine. This classic wine was born out of a friendship and is both the culmination of a dream and a reflection of our personal style," they commented.

Now in its third vintage, The Big Easy Wine has been well-received both locally and internationally and it is definitely a wine to look out for in the future. The 2005 Ernie Els vintage has received industry accolades including scoring an impressive 94 points by Wine Spectator magazine; it also won Double Gold at the Veritas Wine Awards. The Engelbrecht Els received two Golds at the International Wine Challenge (UK) and Concours Mondial (Belgium) as well as Double Gold at Veritas. Not to be outdone, the Cirrus received a strong 92 points from Wine Spectator and Gold at Veritas. For more information, visit www.ernieelswines.com.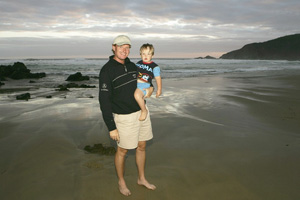 Ernie Els Holding his son Ben
Philanthropy

Ernie has generously reached out to charitable organizations and encouraged others to do the same. He was recently honored with the Charlie Bartlett Award, one given to a professional golfer by the Golf Writers Association of America for his or her unselfish contributions to the betterment of society. Over 10 years ago Els set up the Ernie Els & Fancourt Foundation in South Africa. More recently, he and his wife Liezl set up the Els for Autism Foundation in the U.S., where they are undertaking a capital campaign to raise $30 million to establish a Centre of Excellence for Autism.

The facility will be the first of its kind in the world, combining cutting-edge education, therapy and research for children with autism. Through its proposed digital-learning program it will also have a global reach, helping individuals and families around the world. Els has been a passionate advocate for finding a cure for autism since his son Ben, now seven, was diagnosed four years ago. "One in 150 children is affected by autism and, that was perhaps the most shocking thing about all of this," he said.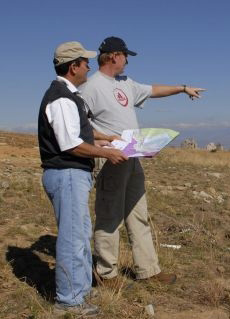 Greg Letsche and ErnieEls
Ernie Els Design

Els' golf-course architecture firm mirrors his success on the course. While he is yet to build a course in Mexico, he is interested in growing his brand in Latin America and is currently reviewing opportunities. The full-service design company is committed to transporting Ernie's goodwill across cultures and borders in order to create distinctive courses.

Ernie Els Design achieves this by forming unique relationships with developers who share the company's lofty ambitions, creating attractive destinations that adhere to the principles of sustainable development and sound environmental practice. Els hired veteran golf course architect Greg Letsche in 2005 to head the group. With more than 20 years of experience, Letsche previously spent 15 years working with Jack Nicklaus and the legendary Pete Dye.

Courses by Ernie Els Design have won many awards. They include: The Els Club Dubai was named the Best New International Course in 2009 by Links Magazine and won the CNBC Property Award in the category of Best Golf Course, Dubai. Oubaai, in South Africa, was the CNBC African Property Award Best Golf Resort in South Africa in 2007. Anahita, on the island of Mauritius, was voted the Best Golf Development for Europe & Africa in 2008 at the CNBC International Property Awards.

The courses constructed under the Els Design name to date are scattered throughout the world. Asia: Mission Hills, China , Tomson Shanghai, China; Australia: Bingara Gorge; Europe: Cape Verde Islands, Wentworth, England; Middle East: Durrat Al Bahrain, Bahrain, The Els Club, Dubai; The Americas: Albany, Bahamas, Fond Bay, St. Lucia; U.S.: Hoakalei, Silo Ridge, Whiskey Creek; Southern Africa: Anahita, Mauritius, Gardener Ross, Highland Gate, Lahleni Lakes, Nondela, Oubaai at Herold's Bay.
When being honored with an award, Els says: "I often say that the mark of a true man is not what he takes in life, but what he gives back." While we can expect many things in the future, this Renaissance man has already left one heck of a mark.
For more information about Els, visit www.ernieels.com.  

For more information regarding course design in Latin America, contact Elisa Gaudet elisa@execgolfintl.com or call 646/678-5747.
Elisa Gaudet brings a wealth of entertainment and golf experience to Cybergolf. Elisa has spent the past several years in the golf industry in the U.S., Latin America and Spain. She worked for the PGA Tour and the Tour de las Americas before founding Executive Golf International, a golf marketing company that works with clients to develop strategies using golf as the medium. Often referred to as the Maria Bartiromo (a business analyst for CNBC) of golf, Elisa says: "Golf, as a marketing tool, has been around for years. It's amazing how many new ways companies can align their brand with the golf market to reach their target audience. Our goal is to create alliances and establish cross-border relations." Elisa also worked in the entertainment industry for over 10 years, including five in Los Angeles as a model and actress. She can be seen at many celebrity golf events and often gets the inside scoop from PGA Tour players. For more information about Elisa, visit her websites at www.onthelip.com or Executive Golf International www.execgolfintl.com.