Big Fun on the Big Island
By: George Fuller
Many people seem to have trouble pronouncing Hawaiian words. I'm not sure why. To me it's natural. For example, humuhumunukunukuapua'a, the name of the state fish, just rolls off my tongue with ease. So in my mind, when my wife Landry and I visited the Big Island recently, we started our journey at Hualalai at Historic Ka'upulehu. To my wife, we went to the Four Seasons Resort. Two names for the same place.
But regardless of how you may refer to its place names loaded as they are with "k"s and "h"s and "u"s, the Kohala Coast of the Big Island of Hawaii - a 20-mile stretch of coastline that starts at the Kona airport and extends north past Mauna Kea Resort - boasts a collection of golf/beach resorts unequalled anywhere. In order, you'll find Four Seasons Hualalai, Kona Village, Waikoloa, Mauna Lani and Mauna Kea.

Each has its unique attributes: Kona Village is ideal for that authentic, funky, thatched-roof Polynesian getaway; Waikoloa for a great, sprawling family experience where kids (and adults!) can swim with dolphins, ride monorails and splash in meandering pools; Mauna Kea for one of the top-rated beaches in the world and immersion in classic Hawaiian elegance.

All except Kona Village also feature ocean-view/ocean-front golf courses that are the stuff of dreams when you're back home socked away in your cluttered office or stuck in the frustration of freeway traffic.
For Landry and me, two days at Four Seasons Hualalai, followed by two days at Mauna Lani Bay Hotel was the perfect solution. At Hualalai, we strolled empty beaches at sunrise and marveled at the honu (green sea turtles) lounging on the sand or warming themselves in the day's first rays. We played golf on the Jack Nicklaus-designed Hualalai Golf Club course that each January hosts the Champions Tour Mitsubishi Electric Championship, won this year by Tom Watson. We lounged lazily in hammocks with nothing more pressing to do than read a book and doze in the warm tradewinds . . . not necessarily in that order. We frolicked unclothed and free in the tropical ambience of our room's private outdoor shower.

A recently completed $40 million renovation of the Four Seasons Hualalai produced 20 new one- and two-bedroom ocean view suites, a much-needed new casual Pacific-front restaurant called Beach Tree, four new outdoor spa treatment rooms and two boutique shops. Still undergoing transformation is the golf clubhouse restaurant which formerly was The Hualalai Grille by Alan Wong.
If there's a "perfect" resort course, the Nicklaus design at Hualalai is it. In January when the Champions Tour plays here, it sets up around 7,000 yards. Add in fairways carved from lava beds (i.e., hit the ball straight) and winter winds, and the course can bare its teeth.

The morning Landry and I played, however, in late May, from just over 6,000 yards, proved it's one of the great resort courses in the state. With ocean and mountain views from every hole, it is as scenic as Pebble Beach. With wide fairways, open approaches and fairly flat greens, it's a layout every resort-level golfer will enjoy. (In the spirit of full disclosure, I will say that any course where I score in the 70s, which I did here, is immediately a "great" course in my book!)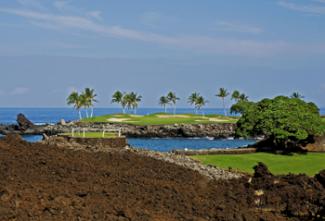 Mauna Lani South's 15th Hole
Our days at Mauna Lani were equally blissful. The two courses here are similarly resort-friendly and have seen their share of professional tournament play. Former home to the Champions Tour Skins Game, the South Course meanders through black lava fields before emerging at the ocean on the back nine, where the par-3 15th plays over an ocean inlet and is among the most recognizable golf holes in Hawaii.

The North Course also runs past the ocean, but its postcard hole is No. 17, a par-3 that tees into a coliseum of lava. This Robin Nelson design plays a few strokes more difficult than South, but the two make a very appropriate couple.

Mauna Lani Bay Hotel is a six-story atrium with "V-shaped" wings. The ground floor is a tropical garden with streams and pools. One of the pools holds four young honu the hotel is provided by Oahu's Sea Life Park. Guests have the pleasure of watching them swim and grow until each July 4th, when Turtle Independence Day is declared and the little guys are released into the wild Pacific Ocean.
The beach in front of Mauna Lani Bay is gentle and protected, ideal for snorkeling, swimming and paddling. All the equipment you'll need for any beach activity is found in a hotel-staffed beach shack.

Landry and I always seem to end up at Roy's for dinner one of our evenings when on the island, located between Hualalai and Mauna Lani in the Kings' Shoppes at Waikoloa, and as always it was reliably good. But the highlight of our culinary experiences this visit was dinner at The CanoeHouse, a short walk out the side door of the Mauna Lani Bay Hotel. Announcing that we were vegans, we were told that a special Meat Free Monday menu had recently been introduced by talented young chef James Ortiaga and, even though it was Thursday, chef would be happy to see what he could whip up.
Soon enough, we were served a Hamakua mushroom and tomato tart with pesto made from Mauna Lani's gardens, topped with eggplant caviar. Impressive and tasty! Next was an elegantly presented dish of quinoa-stuffed spinach, Hilo corn and vegetable coulis, all of which came from local farms. The dessert, which is Landry's special area of expertise and pleasure, was a double-chocolate cake.

Sitting there watching Landry enjoy her chocolate, it occurred to me that picking where you'll stay on the Kohala Coast is like selecting from among a selection of desserts: you may have your personal favorites, but there's really no wrong choice.
For further details, visit:

Kona Village Resort: www.konavillage.com
Four Seasons Hualalai: www.fourseasons.com/hualalai
Hualalai Golf Club: www.hualalairesort.com
Mauna Lani Resort: www.maunalani.com
Roy's Hawaiian Fusion Cuisine: www.roysrestaurant.com/
CanoeHouse: http://www.maunalani.com/d_ch_overview.htm
Award-winning publisher, editor, writer and photographer George Fuller has been covering golf travel and lifestyle for more than 30 years. His book and magazine assignments and projects have taken him throughout the United States, Canada, Europe, Asia, Polynesia and Mexico.

From 1992 to 1997 he was editor of LINKS-The Best of Golf, based in Hilton Head, S.C. In 2005, after having spent several years in the Pacific starting two magazines for Continental Micronesia Airlines and writing two books, Fuller launched GOLF LIVING Magazine for the Los Angeles Times, a "super-regional" magazine of travel, real estate and the lifestyle surrounding the game of golf. After a successful year of publication, he purchased GOLF LIVING from the newspaper and sold it to Media That Deelivers of Scottsdale, Ariz., with a contract to operate it for them.

In 2007, he launched TEE IT UP Magazine in partnership with the nationally syndicated radio show of the same name; and in 2009 he gained the contract to redesign and re-launch TEXAS GOLFER, a magazine with 25 years of history in the Lone Star State.

He has nine published books to his credit, the most recent being I Golf, Therefore I Am...Nuts! (2008, Human Kinetics Publishing). Others include Discover Hawaii's Best Golf (2001, Island Heritage Publishing) and California Golf: The Complete Guide, (11th edition, 2005, Avalon Books). He has contributed to many guidebooks, notably the Berlitz Travelers Guide, Birnbaum Guide, Citibank's Great Resorts of the World and several city editions of Guest Informant.

Fuller's newspapers and magazines credits include TIME, Wall Street Journal, San Francisco Chronicle, The Los Angeles Times, Robb Report, Coastal Living, Palm Springs Life, Estates West, GOLF Magazine, Golf Digest, Travel & Leisure Golf, LINKS, Successful Meetings, Honolulu and many others. He has reported for Reuters, United Press International (UPI), written for Copley News Service and is still a regular on-line travel correspondent for CBS Sports.com.

George Fuller is based in Newport Coast, Calif. He can be contacted directly at: gfuller@earthlink.net; 310/245-9550 (cell).