Billy Casper - A Giant among Golfers
By: Tony Dear
Billy Casper turned 81 yesterday (June 24th), something that will come as a surprise to those of us who didn't even know he had celebrated his 80th. When Arnold Palmer became an octogenarian in September 2009, Jack Nicklaus made it to 70 in January 2010, and Gary Player completed his first 75 years in November 2010, golf fans from Hualalai to Hoylake to Hirono certainly knew about it.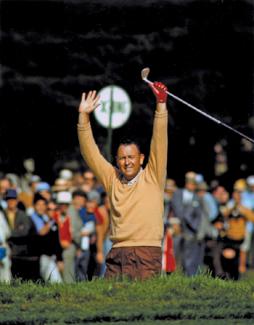 Casper Celebrates After Holing Out from
a Bunker in the 2nd Round
of the 1966 U.S. Open
And quite rightly too. This trio of superstars, led of course by the always-entertaining Palmer, did so much to popularize the game worldwide, winning 34 major championships and more than 370 professional titles between them.

Casper's comparative lack of fame explained why his anniversary didn't receive nearly the level of attention paid his three contemporaries. But, based on his record, Casper surely deserves better.

Casper's list of accomplishments in the game is a long one. In the 1960s, the San Diego native won the same number of PGA Tour events as Nicklaus (33), three more than Palmer, and 25 more than Player. During the 26 years he played the Tour full-time (1955-1981), he won 9.2 percent of the 556 tournaments he started - third in Tour history behind only Nicklaus and Tiger Woods. He won the Tour's Vardon Trophy - awarded to the player with the lowest scoring average - five times, which is one more than Palmer and five more than both Player and Nicklaus (to be fair, Nicklaus never qualified for the award because he played too few rounds to be eligible).

Casper's 51 Tour victories rank seventh on the all-time list, ahead of players like Walter Hagen, Tom Watson, Gene Sarazen, and Phil Mickelson. And, as a member of eight winning U.S. Ryder Cup teams, he accumulated 23½ points, the most by any American.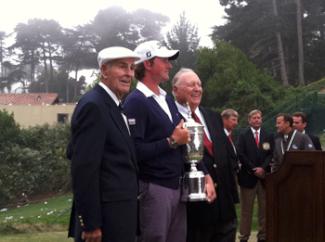 Fleck, Simpson & Casper at 2012 U.S.
Open Awards Ceremony
Had he been represented half as well as Palmer, Nicklaus and Player, whose manager Mark McCormack first labeled them the "Big Three" in 1962, Casper would probably be a darling of the Golf Channel and various golf magazines now, having built highly-successful course design and club manufacturing companies, and developed a lucrative business out of the "Billy Casper"-brand buffalo, elk, hippo and bear steaks (Casper began his unconventional diet in 1964 to combat serious environmental allergies).

His firm Billy Casper Golf, a golf course owner and management company that operates 125 facilities in 27 states, is the second largest of its type. But that doesn't quite do for Casper what some of the Big Three's business enterprises have done for them.

For Casper, a man of great integrity and grace, the lost opportunities actually mean very little, and it's somehow pleasing to know he doesn't bear anyone any grudges. "I don't harbor any animosity at all," he says. "Why would I? I've been very blessed in my life."

Shortly after winning the U.S. Open at Winged Foot in 1959, Casper did actually sign on with McCormack's National Sports Management (soon to become International Management Group), which had already inked Palmer and was also looking to lure Player, Dow Finsterwald, Art Wall and big-hitting Georg Bayer. But Casper stayed with IMG for only a couple of years, choosing to break away with McCormack's former business partner Dick Taylor after becoming a little disillusioned with the way McCormack did business.

"Mark had a sort of team mentality," says Casper. "If a client wanted Palmer to appear at a corporate outing, they'd have to take another player in the stable too. I didn't really like that and didn't want to rely on Arnold or have other players relying on me to get off-course income."

(It could be argued that McCormack missed a big opportunity, too. With the Beatles on their way to becoming the most successful recording artists ever, how easy might it have been to promote "Golf's Fab Four'"?)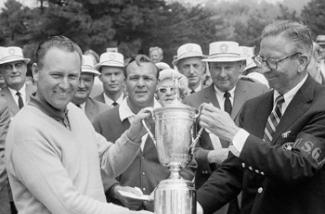 Casper Receives the 1966 U.S.
Open Trophy, with Palmer Looking On
Taylor, like McCormack, was very ambitious and established a big-money event called the Carling World Championship. After Casper won it in Toronto in 1967, the tournament lost its audience, however, and closed down. Taylor was soon out of the business, leaving Casper on his own. He joined Ed Barner's Uni-Managers International group (UMI), which also boasted Johnny Miller and Seve Ballesteros among its clients, but the relationship never blossomed like the Big Three's had with McCormack.

"Of course things could have turned out very differently had I stayed with Mark," says Casper. "But you live by your decisions. I've had an unbelievable life. I've enjoyed things that are far more important than professional success. Really, I'm very grateful to Mark for what he did for golf. And you know what, I'm getting more recognition nowadays than I ever did before."

Casper certainly got his share of the limelight at the U.S. Open in mid-June 2012. Back at the Olympic Club, the scene of his most famous victory - the 1966 U.S. Open where he beat Palmer in a playoff the day after rallying from seven shots down with nine to play - Casper enjoyed a week of functions and outings that included appearances on the Golf Channel and in the media tent, and a special moment at the trophy presentation when he and 1955 champion Jack Fleck got to stand with newly-crowned champion Webb Simpson.

"I had such an amazing week in San Francisco," says Casper a few days after the Open had ended. "To be honest, I didn't really know what to expect before I left for California, but it was all so exciting, and what an honor to be part of the trophy ceremony. Earlier in the week, I got a hug from my good friend Tiger Woods, and I attended a couple of special dinners away from the course. I spent some time in the merchandise tent with Andy Zhang, who is a very impressive young man, and I got to go out to the 11th green and recreate the putt I hit during the playoff in '66. There was a good gallery there, and they didn't want me to leave. It was a lot of fun."

On top of all that, Casper also spent a few hours signing copies of his superb autobiography entitled "The Big Three and Me," which he worked on for two years with writers James Parkinson and Lee Benson. "People ask me why it took so long to get 'round to publishing a book like this," he says. "The timing had just never been right. I always wanted to work with a writer who understood both the life of a professional athlete and someone from the Mormon Church of which I've been a member since 1966."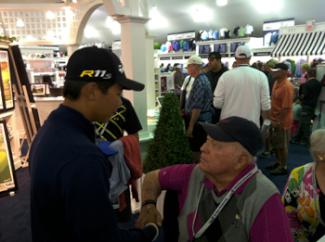 14-Year-Old Andy Zhang Gets Advice from Casper
When, at last, he found his man/men, Casper would sit for up to four hours at a time reeling off story after story which Benson tape-recorded. "Lee would ask me three or four questions during a typical session and I'd spend the rest of the time talking," says Casper. "Lee said he'd never seen or heard anyone remember things so vividly from so long ago. And he says I come up with stuff at book signings and other events that he's never heard before. So he jokes there's enough material for another book."

By now, you've probably begun to appreciate how remarkably sharp-witted and robust Casper is for an 81-year-old man, but the truth is you don't know the half of it. At 6 a.m. on the Monday after an exhausting week at the U.S. Open, Casper was on a plane back to Utah where he lives with Shirley, his wife of 59 years (they celebrate 60 years of wedded bliss on June 28th).

There, he attended a charity tournament for 140 players, and he was at another 100-plus-player tournament the following day. On the next Wednesday afternoon, he addressed 80 club professionals at a Utah PGA Section seminar, and after three days' rest and relaxation visiting with his youngest granddaughter (one of 34) and her three boys (three of 15 great grandchildren), he was on a plane to Pittsburgh to play in the Grand Champions pro-am at the Constellation Senior Players Championship.

In April, a week after attending the Champions Dinner at the Masters - he won his green jacket in 1970, beating friend Gene Littler in a playoff - Casper played in the Demaret Division (age 70 and over) at the Liberty Mutual Legends of Golf alongside Ken Still. And early in July, he will fly to Monte Carlo where he will board the Crystal Serenity and, for 12 days, give clinics to passengers en route to Lisbon.

"I love doing the cruises," says Casper. "I do a couple a year. Last summer we were in Ireland and had Christy O'Connor come on board. It was the highlight of the trip."

Casper estimates he's away from home about 150 days a year. "In 2011, I made two international trips and about eight major trips in the U.S. I do get worn out, but I just love meeting people. I'm enjoying life so much now. I don't have to be so busy, I choose to be busy because I love it."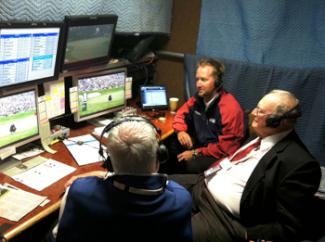 Casper (center) Looks on During
2012 U.S. Open Telecast
For now, August seems pretty clear (likely to fill up though), but in September Casper will be in the air and on the road again, appearing first at the Junior Ryder Cup at Olympia Fields Country Club in south Chicago, where he will impart his wisdom to 24 of the best young players - male and female - on either side of the Atlantic. He'll then move 45 miles north to Medinah Country Club and the actual Ryder Cup, where he will be a guest of the PGA of America as a past captain - Casper led the U.S. side to victory in 1979, the first year continental Europeans were part of the contest. "I'm really looking forward to that," he says. "It's become such an exciting event, and this year will be no different. It's going to be a battle and will be extremely close. For the U.S., a lot will depend on how (captain) Davis Love manages his team."

Casper believes the role of the captain has changed a good deal in the 33 years since he took control of a team that included Lee Trevino, Hale Irwin, Lanny Wadkins and Larry Nelson. "It's so much bigger now," he says. "And the Europeans are always united. It's tough for the U.S. captain to get his players together regularly and build team unity. That will be one of Davis's biggest tasks."

Clearly, even though 17 years have passed since he played a full schedule on the Champions Tour, Casper is acutely aware of what's going on in professional golf. "Oh sure, I keep up with it," he says. "I know Luke is No. 1 in the world. And I know Tiger went back up to number four after winning the Memorial."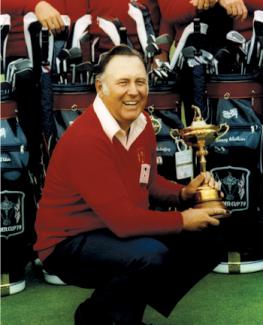 Casper Captained the Victorious
1979 U.S. Ryder Cup Squad
As for the state of the game, Casper says he likes that it has become truly global and that the PGA Tour has begun playing tournaments in Asia at the end of the official FedEx Cup season. "Golf creates goodwill wherever it is played," he says. On the flip side, however, he feels strongly that the top players don't play often enough. "It took me 14 years to earn a million dollars," he says. "These days, players can make that for winning a single tournament and, while the financial rewards are obviously very nice, they can also have a negative effect as the player who wins a lot of money can lose a little motivation to repeat his success."

And, like Palmer, Nicklaus and a number of other players whose opinion golfers respect, Casper believes equipment is having a negative impact on the professional game. "I like what the improvements in technology have done for the average golfer," he says. "Better shafts, balls and club-fitting have helped the average player improve far quicker than he used to be able to. But I think it has changed the way professionals play golf, and not necessarily for the better."
Course management, says Casper, has become something of a lost art. If you drive it 300 yards then hit the green with a lofted approach that stops immediately, it doesn't really matter what type of course you're playing, he contends. "One course ends up playing much like another," he adds. "The pros can just fire for pin after pin most of the time. Hogan used to dissect courses. He studied them, hit practice shots into greens from every conceivable angle just to see how the ball would react.

"I think the USGA has occasionally gone too far with the U.S. Open set-up, but I think narrower fairways and thicker rough might be the best way to set up a course nowadays. Put the emphasis on finding the fairway, and don't give players the freedom to smash the ball as far as they can and leave themselves a straightforward short-iron to the green. I think par is a good standard, and the Tour should strive to keep it safe."

Something that definitely is safe is Billy Casper's place in the list of history's greatest-ever golfers, even if the 1978 Hall of Fame inductee never did receive the recognition a player with his record had every right to expect. Today, he's content, healthy-ish (a recent diagnosis of amyloid cardiomyopathy - which causes undigested proteins to be deposited in his heart and leaves him short of breath at times - obviously hasn't slowed him down much), and enjoying a schedule that includes a little golf, a lot of travel and plenty of charity work with the San Diego Junior Golf Association and his own Youth Foundation.

Billy Casper clearly succeeded at the game of golf. But, with an uncommon generosity of spirit and compassion for his fellow man, many will tell you he's done even better at the game of life.
Tony Dear is an Englishman living in Bellingham, Wash. In the early 1990s he was a member of the Liverpool University golf team which played its home matches at Royal Liverpool GC. Easy access to Hoylake made it extremely difficult for him to focus on Politics, his chosen major. After leaving Liverpool, he worked as a golf instructor at a club just south of London where he also made a futile attempt at becoming a 'player.' He moved into writing when it became abundantly clear he had no business playing the game for a living. A one-time golf correspondent of the New York Sun, Tony is a member of the Golf Writers Association of America, the Pacific Northwest Golf Media Association and the Golf Travel Writers Association. He is a multi-award winning journalist, and edits his own website at www.bellinghamgolfer.com.