Biloxi, Beau Rivage & Fallen Oak
By: Joel Zuckerman
For those in search of a mid-wintertime golf-and-gambling destination, there's really one clear choice: Mississippi's Gulf Coast.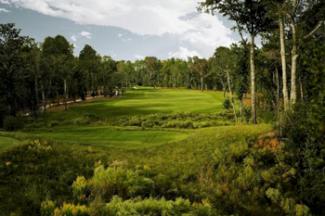 A Beautiful Tree-Lined Hole at Fallen Oak
Lake Tahoe is a no-go, the fairways blanketed with heavy snow known as "Sierra Cement." Las Vegas can offer tolerable temperatures in the middle of the day, but mornings and late afternoons are often hand-stinging weather. Atlantic City golf is a gamble within a gamble this time of year. You could be on the tee in nothing but a wind vest, or be looking at a hard freeze or worse, depending on the jet stream.

The Mississippi "Casino Coast," the town of Biloxi in particular, is the most dependable choice. Ardent golfers are getting the message. This is evidenced by a recent visit to baggage claim at Gulport-Biloxi International Airport, where no less than 20 golf-travel bags were the very first pieces of luggage offloaded onto the carousel. Mild breezes off the Gulf of Mexico normally keep the air temperature near 60 degrees through the heart of winter. There are myriad hotels, restaurants and entertainment options, as ubiquitous to the gaming industry as felt tables and free drinks. Also some fine golf venues, none better than Fallen Oak, a Tom Fazio creation and Champions Tour venue that has received rightful acclaim since its 2006 debut.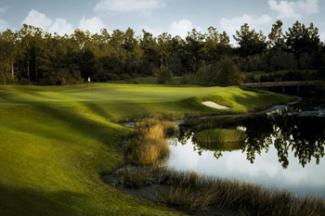 Fallen Oak
First, a pronunciation primer: Most non-Mississippians think Biloxi rhymes with foxy. But phonetically, it should be pronounced "bill-luck-see," emphasis on the second syllable. The mnemonic should be easy enough to recall. Bring your bills (or credit cards, of course) hope for luck in the casinos, and perhaps you'll see your bankroll expand, though realize the odds are against you.

However, the odds are excellent that even the very well-traveled and discriminating golfer will be impressed with Fallen Oak. Even better, there's no luck involved in securing a tee time. Available to anyone staying at the beautiful Beau Rivage Hotel, some 15 miles to the south, Fallen Oak is a wonderfully serene and challenging stroll through 500-plus acres of some of the thick and rolling woodland of the DeSoto National Forest.

Fallen Oak's 18th Hole with Clubhouse in Background
(photo by Andy Anderson)
The tree cover would have been thicker had Hurricane Katrina not leveled the landscape during latter stages of construction, uprooting or knocking over a minimum of 4,000 trees before crews lost count. Consequently, most any tee ball can be played and advanced, and though stymied lies are still possible, they are a rarity. While the original plan called for wall-to-wall hardwoods obscuring adjacent fairways, now golfers can catch a glimpse of other players on adjoining holes, not necessarily a bad thing.

Playing nearly 7,500 yards from the tips, with more manageable yardage markers at 7,000 and 6,500, the course rolls and dips, bends subtly in both directions, and offers further challenge with greens that are humped, knobbed and otherwise roiling. It's not a stunner, but it's a beauty, and herein lies the difference: The course is bereft of sparkling water views, precipice tee shots, colorful flower beds, fountains, or signature holes. In lieu of frippery there are 18 solidly individual holes, each demanding in its own way. There's no tinsel, but a lot of tree(s).
One of the best holes on the course is the par-5 sixth, beautifully framed on both sides by both live oaks and bunkers, a dogleg-right that chugs slowly uphill from as much as 550 yards away, though most play is contested from about 500 yards. The finisher is equally noteworthy: the 18th plays slightly downhill, a strapping par-4 of 490 yards from the tips, 430 yards for mortal golfers, with a beehive of dangerous bunkers left of the fairway. Any drive pulled into the catacombs of sand will effectively eliminate the possibility of reaching the green in regulation.
"Mr. Fazio wanted both the fairway- and green-side bunkering to mimic the gnarly nature of all the wonderful live oaks that dot the property," explains Fallen Oak general manager Dave Stinson, who took the reins just a few months after the course opened in autumn 2006. "That's why our bunkers are surrounded with Zoysia grass, and are generally so big, beefy, knotty and cavernous. It's really the most notable playing feature of the golf course."
Nobody would ever suggest Hurricane Katrina caused anything but heartache for the Gulf region, although nature's tree-pruning did have an unexpected positive effect on Fallen Oak. "As course architects have often said, you can grow grass or grow trees, but it's hard to do both," continues the GM. "Because so many trees were lost during the storm, our turf conditions are excellent."
As mentioned previously, the prerequisite for a tee time is a reservation at Beau Rivage, not exactly a hardship. The hotel has garnered four diamonds from AAA, and is owned by MGM Resorts International. There are no visible signs of Hurricane Katrina, which wreaked havoc up and down the Gulf Coast, forcing Beau Rivage into a year-long closure. (Other casino-hotel properties in the area have yet to reopen, and are likely closed permanently due to the storm and its aftermath.)
More than 1,700 rooms and suites can be found above and beyond the soaring atrium lobby, an indoor arboretum decorated with an ever-changing display of fresh flowers. There are acres of gaming, a state-of-the-art spa and fitness center, nationally and internationally recognized headliners providing weekly entertainment, and specialty restaurants of such surpassing quality that they wouldn't be out of place in the gastronomic capital of New Orleans, just 90 miles to the west.

For example, BR Prime offers an experience of indulgence in terms of both quantity and quality that Henry VIII himself would probably limit visits to just special occasions. This handsome seafood and steak house offers the finest prime beef - both wet-aged and dry-aged, three-pound lobster tails, onion rings masquerading as donuts, and a 3,500 bottle wine cellar. Eat here every night for a long weekend, and be ready for your star turn on television's "The Biggest Loser."

Just slightly less extravagant is Jia, practically right next door to BR Prime, but a world away in terms of gastronomy. Here, sushi, teppanyaki and Pan-Asian cuisine from Thailand, Japan and China are served expertly in Asian-Zen décor. The dining product is the equal of the golf, and that's really saying something.

Wonderful though the golf course may be, the service component at Fallen Oak supersedes it. A brief anecdote proves the point. It was discovered upon arrival that my Ping driver had been decapitated in transit from Savannah, the club-head and shaft in two parts. A staffer fetched a high-quality replacement driver that had been procured from the demos available in the pro shop, which was to be expected. But what was completely unexpected was the fact that my very own driver was returned to me in one piece on the 15th green (not even three hours later, owing to the dearth of play that afternoon) retrofitted with a high-quality Fujikura shaft and ready for action.

Someone on staff had immediately driven to a local golf superstore, matched the broken shaft with the best available, and made the club whole again. It's this service component, the attention to detail, in combination with the incredible course quality, that gives Fallen Oak its pedigree.

This is not only among the most desirable golf destinations in Mississippi, not only among the finest in the Gulf Coast, but truthfully, among the finest public access or resort venues in the entire Southeast.

For more information, visit www.fallenoak.com.
Joel Zuckerman, called "One of the Southeast's most respected and sought-after golf writers" by Golfer's Guide Magazine, is an award-winning travel writer based in Savannah, Ga., and Park City, Utah. He has written five books, including the epic "Pete Dye Golf Courses" in 2008. Joel's course reviews, player profiles, essays and features have appeared in more that 100 publications internationally, including Sports Illustrated, Golf, Continental Magazine, Travel & Leisure Golf, Sky Magazine, Golf Connoisseur, Golfweek, Estates West, Millionaire and Golf International. For more of Joel, visit www.vagabondgolfer.com.