Birdies & Birds in the Wilds of South Dakota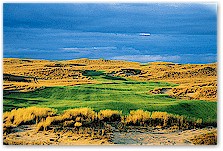 One of the least likely places you'd expect to find a private golf club would be in remote north-central South Dakota. But such is the case with a new private golf and bird-hunting preserve called Sutton Bay Club. Now under development, the facility is patterned after the highly regarded, private Sand Hills Golf Club in Nebraska. Indeed, half of Sutton Bay's founders are Sand Hills members.
Sutton Bay Club will feature a links-style, 7,200-yard layout and par-3 nine designed by Graham Marsh, the former PGA Tour player from Australia, and built by Bill Kubly of Landscapes Unlimited, who's also a partner in the project. The site was owned by the Sutton family, which farmed the property until a dam was built in 1961 that created Lake Oahe, a 240-mile-long body. The Sutton's lost over 15,000 acres because of the dam, but gained beautiful new Sutton Bay.
The property is in the flight path of migratory birds that head south out of Canada in the fall and return northward in the spring. Approximately 2,500 acres of the 4,600-acre preserve will be used for pheasant hunting from September 1 through March 31. The golf course will be augmented by a clubhouse/lodge with 18 rooms as well as a luxury four-plex unit and duplexes. All told, Sutton Bay Club will have 50 beds for overnight stays by the members. All facilities are slated to be completed by July of 2003.
The golf course is being carved out of the dramatic landforms of the Missouri River "Breaks" region of South Dakota. The site closely resembles the terrain found on some of the finest courses in the British Isles. While not a links course by strict definition, as it does not reside by the ocean, Lake Oahe-bordering Sutton Bay enjoys all the characteristics associated with a links.
In addition to what promises to be a superb test of golf, the club will offer members plenty of hunting and fishing chances. Lake Oahe is located in the central flyway for hundreds of thousands of Canada Geese migrating from Canada to the southern U.S. A private lake is also being developed on the property. The lake will be aerated so it remains open all winter long. Hunters of all skill levels will be challenged with hunts in food plots of corn, milo, and sorghum, tree belts, waterways, and grasslands. Experienced guides with trained dogs will lead all hunts. Licensing and other necessary services will be handled on-site, thus guaranteeing members a stress-free and successful hunting environment.
Some of the best walleye lakes in the U.S. are near Sutton Bay; Lake Oahe has been written about in nearly every fishing magazine. A 14-pound 2-ounce walleye has been caught in the lake, and the state record Chinook salmon (21 pounds, 2 ounces) was caught in late September 2002. Lake Oahe also contains catfish, smallmouth bass and other game fish. Sutton Bay members will have access to professional guides, equipped with boats and all necessary fishing gear, who will pick members up at the club's boat ramp and take them to the lake's hot spots.
Sutton Bay is an invitation-only club. For more information, call managing partner, Mark Amundson, at 605/359-6911.