Birdies, Blue Skies, Bright Smiles Open Senior Amateur SOS Championship
By: Jay Flemma
Quail Ridge's North Course in Boynton Beach, Fla., bowed her head in homage to golf's venerable, honored veterans as 25 of the 92 golfers who started in the championship flight shot par or better to open the 28th playing of the Society of Seniors Championship - the de facto Tour Championship of senior amateur golf. Five players sit atop the leaderboard at 4-under 68, while four more fired 3-under 69s to stand just one back.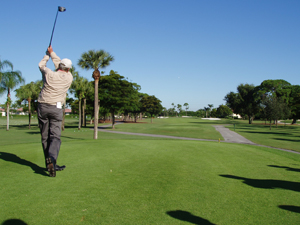 Broadcaster Maury Povich Tees Off on 1
"I've never seen Quail Ridge play easier," said Tom Knapp, who balanced one bogey and a double-bogey with a stunning seven birdies. "Normally the North plays much more difficult because the wind blows a crosswind 10-20 miles per hour," he explained. "But today we didn't have to play the finishing holes into the wind, but in a benign breeze that played downwind."

Knapp could have gone much lower if not for his lifelong nemesis: No. 17. "I don't like that hole and it doesn't like me, but it's me, not the hole," he surmised shaking his head, rolling his eyes, and then grimacing agonizingly at what might have been. "I hit a 3-iron off the tee OB right," he moaned, looking like a frustrated football coach chastening his quarterback for a careless interception. Then he recovered himself enough to deliver another chastisement.

"Do you know that once I came to that tee 4-under in a senior amateur qualifier and shanked a 4-iron into the water?" he asked rhetorically in frustration. "That hole just does not set up well to my eye."

Still, Knapp did plenty right. The Tequesta, Fla. native - who loves Donald Ross courses and Oak Hill Country Club in Rochester, most of all - hit long par-5s in two and made easy two putt birdies. He lasered a 9-iron to one inch at 14. ("I knew it was close, but I didn't think it'd be that close," he beamed.) And he made two long birdie putts on the front nine to tie for the overnight lead.
Mild-mannered Georgian Bill Leonard also shot a 68, although in far less mercurial fashion than Knapp. Two three-putt bogeys from 40 feet or longer were offset by six birdies, some from medium range and some from mere inches.

"I hit it close most of the day, and before I knew it, I had six birdies," said the soft-spoken Kennesaw native, who has played less than a dozen rounds of casual golf this year, but eight weekend tournament including the SOS event at Scioto, where he placed third. He made putts of 11 and 12 feet at four and nine, while tapping in putts of less than a foot at 12 and 14.

"I've never won anything in my life," he remarked humbly, although he has a resume that includes appearances at eight USGA events, including a run to the semifinals in the 2006 Senior Amateur, one U.S. Amateur and four U.S. Senior Opens. Now he sleeps on the lead, along with Michigan's Bill Zylestra, North Carolina native Dennis Helms, and Stanford, Conn.'s Joe Sommers.
Some serious talent is breathing right down their Ashford shirts though, as four well-decorated players are a stroke back at 3-under. 2009 Travis Invitational winner Chris Lange coasted to a 69 after opening the tournament with three birdies. He hit irons to 2 feet or less three times Tuesday and made two other long putts to offset a three-putt bogey at the par-4 8th and one failed up-and-down attempt from the greenside bunker at the par-5 6th.

Though no Quail Ridge members are in contention in the championship flight as of yet, Lange may be the closest thing. "My mother-in-law, Marie Stolfi, has lived here since 1979, and we'd come every single winter and play here," he said.

Then the Bryn Mawr, Pa., native inadvertently channeled one of his favorite rock bands, the Grateful Dead. "I've been here so long, I've got to calling it home," he beamed fondly, reciting the lyric form the classic "St. Stephen." "Winning's great anywhere, but yes, I'd love to win here," he finished.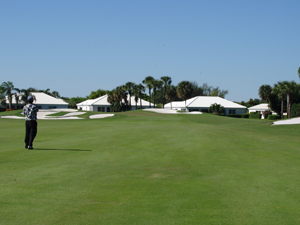 Oahu's Wendell Kop hits One Close
Still, he'll have a long strange trip to get to the winner's circle as the logjam at 3-under has some other big names from the senior amateur ranks. Besides the 2006 Society of Seniors Championship winner, Rick Woulfe, Lange is also tied with fellow Pennsylvanian Paul Schacter of Pittsburgh, and Indiana native and Purdue Boilermaker Ron Carter, who battled his driver all day.

"I started terribly with bogeys on two of the first five holes, but after driving into the pine needles on 16 [His 7th hole of the day: he started on the back], I made a five-footer for birdie," explained Carter. "I buried it in the middle and it got me going. I told myself, 'Get up off your [expletive deleted!] It's time to play golf!'"

The former baseball player for the Boilermakers then made four birdies on the front, and further thrilled the galleries with wild shots form out of trouble the entire round. "I hooked a 3-wood around a tree on 16. Then I hooked a 3-iron around trees on six," he added. He made birdies both times, to the delight of the blue-jacketed officials and patrons who eagerly lined the fairways from sunrise until play finished at about 4:00 p.m. this afternoon.
Carter was clearly buoyed by the fervent support of the cheering and cheerful members and golf fans. "This is a great organization," he said warmly. "They are the best senior players on the country, but they are even better people. It's great company, great golf, and some of the best golf courses in the country. I absolutely love the Society."

Surprisingly, some of the marquee names are further back than expected after one round as, for them, the course genuflected early, but bit hard late. Pre-tournament favorites Pat Tallent and Vinny Giles fired 72 and 73, respectively. Tallent, runner-up at both the Travis Invitational Seniors Division (where he lost the final in 22 holes) and the 2010 U.S. Senior Amateur at Lake Nona, was 2-under early and got as low as 3-under. But a bogey at 16 and a double at 18 dropped him to even-par.

Meanwhile Giles, the 2009 U.S. Senior amateur champion and 2011 host as the tournament will be held at a Lester George-designed course he built, Kinloch in Virginia, carded a dismal 40 on the front nine after opening with a 33 on the back. He even had to make a testy 6-footer for double-bogey on the home hole.
"The guy who played that side looked like me, but whoever he was, he just got on my bad list," quipped the affable Richmond native. His chipping betrayed him as he played ping-pong across one green, first stubbing a chip, then blading another across the green.

"For 10 holes I knew what I was doing, then I pull-hooked my approach on two into the lake and I did nothing right after that," he surmised. Still, if Giles can ham-and-egg a 73 with a band-aid swing, he can rebound strongly Wednesday, especially if the winds that tore through Quail Ridge over the weekend return.

While Quail Ridge members struggled in the top flight, Raleigh, N.C., native Ronnie Grove (even-par 72) stands only four back of leader Larry Boswell's 4-under 68 in the Super Seniors division, named after SOS co-founder Johnny Owens. Grove, who won both the North Carolina Senior Amateur and the Carolinas senior amateur in his career, and shot his age - a nifty 69 - as recently as last week.
"We may not have too many fellows in contention in the championship flight right now," said Judge John Harrigan, a Quail Ridge official and member, "but we have several fellows doing well in the other flights that have a chance to win."

As the South Course has been recently renovated by Kipp Schulties, the members may have some local knowledge on the greens and in the approaches that may give them an edge coming down the stretch in the tournament. The players have 36 more holes to play. Joe Estes leads the Masters Division with an even par 72. Michigan's Dick McClear and Oahu native Wendell "Hawaiian Punch" Kop, an affable and colorful favorite among the members, players and fans are second at 3-over 75.

But perhaps the biggest cheer of the day was reserved for Owens, the only surviving founding member of the SOS, whose bright smile lit up the clubhouse veranda as brightly as the "Lucky Ol' Sun" of Jazz music fame. Members, players, and fans alike stopped by to say hello and spend a few pleasant minutes with a remarkable athlete and even more remarkable gentleman.
"It may be a perfect day today," said one member whose name I didn't catch, "but when he's around he chases all the rain clouds away. We absolutely love him. He's one of the biggest reasons we all are here."

And so as the real Sun set on Quail Ridge, a brand-new crescent moon burns low in the sky like a golden lantern, and the course is left to the hum and zing and tinkle of singing crickets and cicadas. The North Course sleeps fitfully, for now, but that can all change in a heartbeat.

Sure, Quail Ridge surrendered pints of ale faster than Gus the bartender today, but if the prevailing wind blows tomorrow, the north-south running fairways will be much tougher to hit and much more water and sand will come into play. With 25 players within four shots of the lead, and many well-decorated champions still lurking, someone is on their way to becoming a legend, but it's still anyone's game.

Quail Ridge - 6,700 yards, Par 72

Championship Flight

Bill Leonard -4
Bill Zylestra -4
Dennis Helms -4
Joe Sommers -4
Tom Knapp -4
Chris Lange -3
Paul Schactler -3
Rick Woulfe -3
Ron Carter -3
Alan Fadel -2
Mike Jackson -2
Ray Womack -2
Tim Miller -2
Chris Maletis -1
David Brookreson -1
Joe Whisenant -1
Van Lefferdink -1
Jerry McMullen E
Mark Weston E
Pat Tallent E
Pete Allen E
Phil Pavoni E
Tom Humphrey E

Owens Flight

Larry Boswell -4
Nick Kirkland -3
Del Kinney -2
Jim Holbrook -2
Alan Foster -1
Dave Spannbauer -1

Masters

Joe Estes E
Wendell Kop +3
Dick McClear +3
Bob Hughett +5
Eddie Pell +5


Since launching his first golf writing website in 2004, http://www.jayflemma.thegolfspace.com, Jay Flemma's comparative analysis of golf designs and knowledge of golf course architecture and golf travel have garnered wide industry respect. In researching his book on America's great public golf courses (and whether they're worth the money), Jay, an associate editor of Cybergolf, has played over 220 nationally ranked public golf courses in 37 different states. Jay has played about 1,649,000 yards of golf - or roughly 938 miles. His pieces on travel and architecture appear in Golf Observer (www.golfobserver.com), Cybergolf and other print magazines. When not researching golf courses for design, value and excitement, Jay is an entertainment, copyright, Internet and trademark lawyer and an Entertainment and Internet Law professor in Manhattan. His clients have been nominated for Grammy and Emmy awards, won a Sundance Film Festival Best Director award, performed on stage and screen, and designed pop art for museums and collectors. Jay lives in Forest Hills, N.Y., and is fiercely loyal to his alma maters, Deerfield Academy in Massachusetts and Trinity College in Connecticut.