Black Mesa GC Honored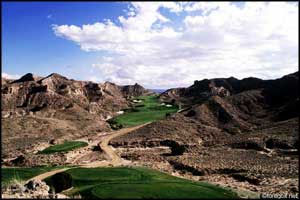 "Southwest architecture of the highest order" is what Golf Digest calls Black Mesa Golf Club, the course designed by golf course architect Baxter Spann of Finger Dye Spann, Inc. The Club was No. 1 on the magazine's exclusive list of "Best New Affordable" golf courses in the country.
"I am very honored that Black Mesa Golf Club has received such high national acclaim," said Spann. "I have been designing courses for more than 20 years, and more than any other course, I eagerly anticipated every trip I made to this site, always knowing I would find something new to experience. I hope that golfers enjoy the unique qualities of this course."
"The course is so perfectly integrated within rugged sandstone peaks and jagged ravines that it looks timeless and ageless, its contour-hugging bluegrass fairways seemingly the result of rain and fertility dances, its enormous, free-flowing bunkers simply puffy clouds drawn to Mother Earth," according to Golf Digest. "Spann "practiced careful excavation in creating Black Mesa, which is 20 minutes north of Santa Fe.
No mountainsides were blasted away to create corridors. Instead, Spann followed the natural seams between peaks to form his fairways and placed his greens atop escarpments, in box canyons and beneath rocky ridges. Where he wanted a feature, he left no stone unturned, but along the perimeter of every hole, all rocks remain untouched. The result is an oxymoron: a mountainous minimalist design, where ridge lines tumbling off mountain flanks are carried through as fairway contours and washouts serve as hazards and even bunkers."
Black Mesa Golf Club is not the first course Spann has had on Golf Digest's annual rankings. In 2001, Olympia Hills Golf and Conference Center in Universal City, Texas claimed the fourth spot, and in 1995, Timarron Country Club (a course designed along with Byron Nelson) in Southlake, Texas came in seventh, both on the "best new affordable" lists. In addition, Finger Dye Spann, Inc.'s Paa Ko Ridge Golf Club, designed by Ken Dye, in Sandia Park, New Mexico came in first on the same list in 2000.
The competition among this year's 163 courses was as strong as ever. Within that group, the "affordable" courses constitute a green fee of $50 or less. Judged on shot value, design variety, memorability, aesthetics, playability, resistance to scoring and walkability, Black Mesa Golf Club, built by Ortiz Earthscapes, came out on top.
Located on the Santa Clara Pueblo north of Santa Fe, the combination of onsite landforms and offsite views at Black Mesa Golf Club is second to none. The environment at this 18-hole course is pure, absent of any man-made distractions, and the first glimpse of the course gives golfers a taste of this vast, dramatic property. The course has a wild Irish links look to it, particularly in the spring after a wet winter when the native grasses are leafy and blowing in the breeze.
From the wonderfully intriguing tee ball on the par four first hole to the wildly contoured green on the par four finishing hole, Black Mesa is a celebration of strategy and playing within one's abilities. The course plays through dramatic sandstone ridges with Black Mesa visible from several locations. Spann made each hole different, featuring characteristics that make every one both strategic and memorable in its own unique way. Spann designed the course to be fun and challenging in both calm and windy conditions, and the site showcases distinctive bunkering, native arroyos as hazards, and green contouring in keeping with the scale of the natural landforms.
Located at an elevation of 5,400 feet, the course routing features an elevation change of over 125 feet, and 12 of the holes play slightly downhill. The course plays at 7,359 yards, par 72, with 105 bunkers. Spann also designed the course's short game practice area which presents golfers with all of the same challenges around the green that they will face on the course, as well as a spacious, 60,000 square foot teeing area that accompanies the range and two practice putting greens.
In addition to Black Mesa Golf Club, the firm has designed four other courses in New Mexico, including Paa-Ko-Ridge Golf Club, Pinon Hills Golf Course, Marty Sanchez Links de Santa Fe and the new nine holes at Riverview Golf Club. Outside of New Mexico, the firm is currently working on renovations in New York at Ardsley Country Club, Old Westbury Country Club and Mahopac Golf Club, as well as Beaumont Country Club in Beaumont, Texas.