Black Mesa Golf Media Week - Part II
By: Jay Flemma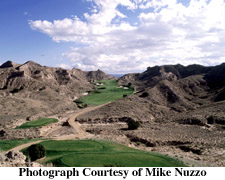 Editor's Note: Part 1 of Jay's trip to New Mexico and Black Mesa Golf Club likened the experience of flying there to a scene from Gilligan's Island. His second installment gets into the details of the Black Mesa experience and draws upon his vast storehouse of musical knowledge.
16 October, 06:00
Daybreak comes. Though the rest of the writers are asleep, my room is filled with light and music and movement. As I will walk 36 holes over the two days, my morning routine will focus on fitness. A long jog, a swim, quick horseback ride and a dip in the Jacuzzi will ready me for the crucible; from first tee to 18th green Black Mesa is no less than a 6-mile walk up, down and around the hurly-burly pink-colored hills around the course.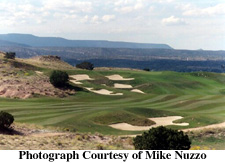 Bishop's Lodge plays its part admirably. The king-sized bed with six thick pillows is far more restful than most resort beds. On the LG flat-panel TV, the "SportsCenter" anchors scream at me as I dress in my Adidas jogging suit: cobalt blue, long-sleeve top with black stripes, long black running pants with cobalt stripes. I turn down Neil Everett's screeching tenor and crank up Bowling for Soup's "A Hangover You Don't Deserve" as I down a cup of coffee and bolt out the door. Dawn breaks gloriously over the Sangre De Christo Mountains.
My path eventually leads me eventually to the horse corral where I chat with the two paints and a pair of black horses - it's a one sided conversation, but they're grateful for the attention as they chew their hay. There are usually upwards of 45 horses on property, but as the shoulder season is here, the Lodge reduces the number to 10. My run continues up the ridge where the sun climbs out of bed, yawning, rubbing the sleep from her eyes and stretching rays over the mountains in a full palette of color lighting up the vale below in the first pale light.
Originally a missionary, the lodge's pink-adobe and wooden chapel are easy on the eyes and on the landscape, blending unobtrusively with their surroundings. Even such additions as tennis courts, a basketball court and pool feel natural, not forced. The Jacuzzi's jets are a little weak, but not so much as their New York City football counterparts - they can't stink enough this year. Yet the small pool is well over 104 degrees and my sore muscles are instantly relaxed. Mind and body are readied.
08:00

Breakfast brings me the first opportunity to chat with the rest of the group, so lets meet our dramatis personae, our castaways in this episode of Gilligan's Island:
Gilligan - aka Tony Korologos of Hooked on Golf Blog. Dressed in black golf shirt, black shorts, black cap and black vest, Tony could have passed for me. The only true "blogger" of the bunch, Tony, like Gilligan, is young, easygoing, and fun to be around. He lives for the simple things in life, good golf and good friends. A 1.7 handicap at his local munis, this Toto who's not in Kansas anymore will have as many zany adventures over the week as, well, Gilligan.

The Skipper - Black Mesa owner Eddie Peck. Eddie's running the ship and provides as many laughs as his jovial TV character counterpart, although he's more svelte than Alan Hale and much smarter. Plus he smokes great cigars. Friendly in the extreme, Eddie could play with a Velociraptor and at the end of the round they'd shake hands/talons and exchange addresses/nesting sites so they could hook up again for another round.

The Professor - Who Else? Me: dorky, talking over people's heads and yammering on and waving my arms all the time.

Thurston and Lovie Howell - Redanman and Mrs. Redanman. Redanman runs a website called Redanman. A golf course architecture expert and course critic; if the real Thurston is more well-traveled than him I'll eat my gap wedge. A tough critic and a drop high-maintenance, he's balanced nicely by his affable wife. They make a great team.

Ginger and Mary Ann - Another husband and wife team. The hubby is a famous sportswriter, broadcaster and film/music executive. He's definitely as Hollywood-colorful as Ginger and has as interesting stories to tell about starlets and athletes as the real Ginger. His lovely wife is as sweet and friendly as Mary Ann.

We'll also meet some other offbeat characters along the way: Skelly the sportswriter, John Frew and Kevin Sniffen - the PR team, Joe and Andrea - another hubby-and-wife team who are a joy to be around, and Andri, the perfectly-permed, curly-haired, platinum blonde who could - as the saying goes - make a bishop kick out a stained glass window. They'll all get some camera time this week. But now to breakfast.

And what a breakfast! Bishop's Lodge pulls out all the stops, serving huge burrito-sized omelets; fat, long strips of crispy bacon with almost no fat; tall, wide goblets of juice; five different flavors of jam for four different types of toast served in racks (the only way to serve toast); and wide, deep bowls of every type of cereal from sugary kids' favorites to flavorless healthy oatmeal and everything in between. With all this, we're fattened up and ready for the kill.

11:00 - "Oh, Dino! Soup's on!" - Preparing the Moveable Feast

Tucked in between the Sangre De Christo Mountains and the Jemez Mountains, there's no question the staggering grandeur of Black Mesa's natural setting commands a golfer's attention. The desolate and wrinkled rose-colored mountains are reminiscent of Turkey's fabled conical rocks of Cappadocia, which reach reverently to heaven. The Black Mesa itself, a tall cylindrical mountain towering over the clubhouse, provides stunning views from many holes.

Moreover, while most people think desert courses are just ribbons of fairway framed by saguaro cacti, Black Mesa has far more color and texture than many of its Arizona counterparts: sagebrush and the predominant deciduous cottonwood trees share the canvas with the bright reds of Indian paintbrush, the shimmering gold of chamisa, the noble purple of aster. Apache plume, warbonnet seedhead and many other species of high-desert flora offer a deep and bright contrast to the desolate pink rock and the green of the Kentucky bluegrass fairways and creeping bentgrass greens.

Nevertheless, Peck and Spann sought a strategic course with solid design principles as well and, indeed, this course has as much brains as beauty. Peck and Spann sometimes joke that Black Mesa is really "Tobacco Road West," for it was an impromptu visit by Spann to Mike Strantz's Carolina sandhills masterpiece that inspired Spann to go for broke, design outside the box, and ultimately build one of the three most critically important golf courses to open in our generation (the others are Bandon Dunes and Tobacco Road). Spann wrote in an interview with Ran Morrissett:

"Just before getting into [planning] the final routing of the course, I had played Tobacco Road. I was blown away by the dramatic features there and by some of the chances Mike Strantz took on the design of that course. I also knew that many felt that TR was 'over the top' or overly severe in many places, but to me it was not any more severe than many of the great places in Ireland or Scotland that are revered by everyone. There just haven't been enough guys who are willing to risk working 'on the edge' to create something that breaks away from the routine, formulaic golf hole design patterns that have become so prevalent in America. Tobacco Road slapped me in the face and made me realize what wild and exciting golf holes can result when conventional wisdom and traditional limits are abandoned in favor of fresh creativity and vision."
Thankfully for the game, Peck understood and embraced the same concepts. He allowed Spann a free hand to incorporate just a few blind or semi-blind shots and design heaving, contour-filled greens as the course meanders through, around and sometimes over the dramatic bleak-jagged hills that tower over the high desert floor.

Amazingly, architect Baxter Spann only moved about 200,000 cubic yards of earth to build Black Mesa, and that includes greens, shaping, tee boxes and the practice area. "I'd say almost half of that was for the practice area," chuckles course superintendent Pat Brockwell, a mild-mannered, caterpillar-moustached legend in greens-keeping circles who spent many years at Southern Hills, site of this year's PGA Championship. To the inestimable delight of avid golfers, Eddie brought Pat to New Mexico and together they and Spann have nurtured a true wonder of the golf world. "Baxter was here more than 100 days walking the property," recalls Pat with a serene smile. "All that time on property was pivotal in coming up with this intricate routing."

Spann accomplished three astounding feats while moving so little earth. First, the course's routing is outstanding. Each hole looks completely different than every other, no two consecutive holes run in the same direction and all four par-3s play to different points of the compass. Next, except for the 12th hole, the bunkers are completely organic, with shapes following the existing grade of the terrain and designed as though they were carved out by the wind. Finally, Spann designed open routes to the greens and allowed the fast and firm conditions fostered by sandy soil to promote the ground game as well as the aerial game, providing more options for all skill levels.

While not "hard for hard's sake" or unreasonably narrow like most "limited turf" Arizona desert layouts, Black Mesa is both visually intimidating and demands precision around the greens. In an age when the PGA Tour prefers oceanic, flat greens that could masquerade as helicopter landing pads, the adventure on any hole at Black Mesa only begins upon reaching the green. Using words out of Tiger Woods' lexicon to describe the kinds of greens he doesn't like, they have elephants buried under them.

The character-filled contours are not merely fanciful whims but echo the great design features of classic courses. The green on the par-3 eighth hole is a modified punchbowl. The kidney-shaped green of the par-4 14th has the same interior movement as the seventh at fabled Crystal Downs, the Northern Michigan masterpiece of Alister MacKenzie and Perry Maxwell. Although it looks as though you need to chip the ball over the section of rough in the kidney shape's negative space to navigate the length of the green, the contours actually filter a well-planned and -struck putt from one part of the green to the other. Finally, the alien face shape of the putting surface at the par-5 16th calls to mind the fabled "double-plateau" shape used frequently by architects Charles Blair Macdonald and Seth Raynor.

So with all this to look forward to - a singularly beautiful natural setting coupled with a fascinating design - the castaways are agog with anticipation. We pile out of our van, exchange warm greetings and head to the practice tee. Even though each hole is a puzzle that's as difficult as a Sunday New York Times crossword, we might as well douse ourselves in barbeque sauce and jump into the fire.


Since launching his first golf writing website in 2004, http://www.jayflemma.thegolfspace.com, Jay Flemma's comparative analysis of golf designs and knowledge of golf course architecture and golf travel have garnered wide industry respect. In researching his book on America's great public golf courses (and whether they're worth the money), Jay, an associate editor of Cybergolf, has played over 220 nationally ranked public golf courses in 37 different states. Jay has played about 1,649,000 yards of golf - or roughly 938 miles. His pieces on travel and architecture appear in Golf Observer (www.golfobserver.com), Cybergolf and other print magazines. When not researching golf courses for design, value and excitement, Jay is an entertainment, copyright, Internet and trademark lawyer and an Entertainment and Internet Law professor in Manhattan. His clients have been nominated for Grammy and Emmy awards, won a Sundance Film Festival Best Director award, performed on stage and screen, and designed pop art for museums and collectors. Jay lives in Forest Hills, N.Y., and is fiercely loyal to his alma maters, Deerfield Academy in Massachusetts and Trinity College in Connecticut.