Bobby Orr Energizes the Ridge Club
By: Rob Duca
Bobby Orr. Hear the name and if you're north of 50 and grew up in New England, all sorts of vivid images come flooding back, like memories spilling forth from a time capsule. Mother's Day 1970, and No. 4 flying through the air after scoring the overtime goal that won the Stanley Cup. The magnificent rink-long rushes. The blue line pirouettes and the blinding brilliance of a career that like a comet flashed before our eyes before burning out all too quickly.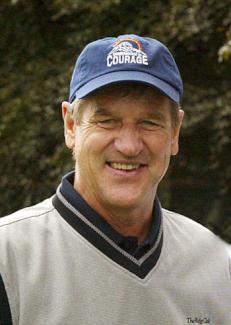 Bobby Orr
He was a Beatle in Boston Bruins' black and gold, mobbed wherever he went, acclaimed for his talent, admired for his self-effacing nature - a charismatic superstar who revolutionized his sport. What he has never been is someone who craved attention. An interview with Orr during his playing days - not easily obtained - usually involved cryptic answers that revealed little personal information, followed by the polite suggestion that the interviewer talk to his teammates.

There have been books written about Orr, most recently "Searching for Bobby Orr," an apt title for an unauthorized biography about a man who zealously guards his privacy. But there has never been an Orr autobiography, where the legend lets down his guard for all the world to see. Quite simply, he has always been someone who prefers to remain low-key.

During his Hall-of-Fame playing days, he did his talking on the ice, winning eight consecutive Norris Trophies for best defenseman, three straight Hart Trophies for league MVP and twice leading the Bruins to Cup titles. Since retirement - now an astonishing 35 years ago, he has built a successful business career as a sports agent, while continuing to seemingly always be available to lend his time to a succession of charitable endeavors. But he has done much of it quietly, without a press release being sent out or reporters being invited in.
So given all this, one might reasonably ask: What in the world is Bobby Orr doing buying a golf club?

Even Orr, 64, can't help but laugh at the question. "It's the last thing I ever expected to do," he admits. "I thought it was going to be a pain. But it's been absolutely wonderful. Look, my life is pretty good. I'm not going to do something unless I want to. But I don't look at this as work. This has been fun. I didn't think it would be this much fun."

Orr is one of 12 members who rescued the Ridge Club in South Sandwich, Mass., from foreclosure last February. The partnership includes a number of prominent business people. But Orr, one of the Ridge Club's first members who joined and bought a home across the street from the clubhouse in 1992, was the driving force behind the purchase and is most assuredly the face of the new ownership.

Why now, he's asked?
"We've been going through a lot of turmoil and uncertainty for years," he said of the club. "We have a wonderful community here and it just needed stability. People were leaving, [homes] weren't selling. We were not in great shape. The time came and we said, 'We've got to do it.' I got the guys together and everyone was on board."

That uncertainty included a succession of ownership changes since the private club opened in 1989 - including three in the last nine years, culminating in a foreclosure auction last year. Cost-reduction measures resulted in cuts to services and staff, with club membership dropping from 360 to less than 200. But since the new ownership took control, that number is up by 78, including all levels of membership. Many are past members who left during the turbulent times but were allowed to rejoin without paying the $15,000 initiation fee.

No cut-off number has been set on membership. A full membership requires annual dues of $7,900 for a family and $5,900 for an individual, with a $1,000 annual food minimum. A young executive membership (ages 25-35), a sports membership that does not include golf and a social membership, is available at reduced rates.

"We're aware of what our members want, so we'll be very careful not to fill it up so there are five- or six-hour rounds," Orr says. "That's just not going to happen."
Orr's name still means something, even decades after his last goal. Ask anyone who has ever encountered him, either on a personal level or only to request an autograph, and the response is usually along the following lines: "Class act. Genuine. Gracious. Humble. Patient." He's hockey's answer to Arnold Palmer. The final words on his Wikipedia page read: "Orr projected a clean image."

"He has built a reputation his entire life. He has been kind to people, good to people, honest," says Derek Sanderson, who joined the Ridge Club shortly after Orr and was his teammate on the Big, Bad Bruins for both Stanley Cups. "Some people come walking in acting like a star. Bobby's never done that. Bobby is magic. But while the name opens doors, you still have to sell yourself."

Selling the "new and improved" Ridge Club is the current mission for Orr and its new owners. "We want our members to be proud of this club. I'm proud of it," he said. "We want them to bring their friends, and have them leave saying it was a great experience."

Changes have already taken place. The grille room and circular bar were transformed into an enclosed sports bar, with hardwood floors and flat-screen televisions. Mark Connolly, who ran a highly respected Plymouth restaurant, was hired as the new chef. Golf course superintendent Mike Dube, formerly an assistant to Hyannisport Club's Tom Colombo, has been given additional resources to maintain the course. Jay Askew, a Barnstable High graduate who worked at Oyster Harbors and Sankaty Head, was brought in from the Boston Golf Club as head golf professional.
The golf course is being tweaked, the irrigation system improved and cart paths repaired, although major changes to the layout are not in the current plans.

One of the first moves of the new ownership was to gather a group of local realtors, where they laid out their plans. "With all the uncertainty, how could realtors recommend anyone buy property here?" Orr conceded. "They were very receptive. Ten homes have already been sold."

Those who know Orr don't expect him to fail. "He would not have done this if he didn't think it was a great operation," Sanderson says. "He brings a sense of reasonableness to things. He's always been humble, but Bobby is a lot shrewder and a lot more intelligent than people give him credit for. He wasn't prepared for retirement (from hockey at age 30), but then he dedicated his life to business, like he had dedicated his life to hockey."

Orr never felt pressure playing hockey. "I was asked many times, 'What was the key to my success?' " he says. "I never lost my passion for the game. My dad would say to me, 'Just go out and play, have fun and see what happens.' Never any pressure. I was living a dream. I was in my element. I felt comfortable. I didn't feel pressure until I couldn't do what I once did."
He admits that he feels more pressure standing over a golf ball than he ever did skating to the blue line. "There's no game like golf, but my God, it's hard," he says. "But I love it."

He smiled, pulled papers from a folder, and ran his fingers down a list, making certain he hadn't left anything or anyone out as he shifted the conversation back to the Ridge Club, now his home and passion. "This is too nice a place," he said. "We've got to bring it back to the way it used to be."
Rob Duca is an award-winning sports columnist who wrote for the Cape Cod Times for 25 years, covering golf, the Boston Red Sox, the Boston Celtics and the Boston Bruins. He is now managing editor of Golf & Leisure Cape Cod magazine and has written for a variety of other publications, including Sports Illustrated, the Boston Globe, Yankee magazine and Cape Cod Life.