'Boom Boom' & Ecco - A Match Made in Marketing Heaven
By: Blaine Newnham
Has there ever been a more important - and appropriate - endorsement in golf than Fred Couples and his casual cavorting in Ecco shoes?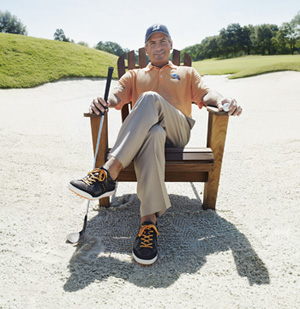 Fred Couples Wearing His Ecco Shoes
I remember my Sam Snead Blue Ridge clubs from Wilson, and how popular they were. Perhaps Sam was more important than Freddy, but from almost the moment Couples slipped sockless into the Ecco "street shoes" at the 2010 Masters, the line was sold out.

Blue Ridge irons were always in stock, as I remember. "I've been in this business forever," said Jesper Thuen, the master of marketing for Ecco, a relatively small Danish company, "and I've never seen anyone linked with a product the way Freddy has with our street shoes.

"This was a perfect match and great timing. It has changed the apparel mold. More than anything, we know that people are watching what Freddy is wearing."

The company has three years left on its contract with Couples with an intent to make it a lifetime relationship. "I remember when we were sitting around talking about who we ought to get to endorse our product," said Thuen, "and when I mentioned Fred Couples there was a lot of talk that he was, well, too old.

"I'm so glad I was right."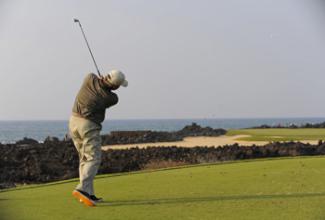 Freddie Teeing off in His Ecco Street Shoes
Thuen won't discuss numbers, but the Couples endorsement has been monumental for the company. Thuen can't remember the nod by a pro golfer ever having had so much immediate impact.

Ashworth, Adidas, Foot-Joy and Puma, among others, have come out with the spikeless, boat-shoe, bowling-alley look, trying to get in on the latest golf fad. Besides looking elegant and casual at the same time, the new shoes are so versatile you can wear them in the airport as well as the on the first tee, making travel simpler.

They aren't cheap - in the $150 range - but are well-made, comfortable, trendy, versatile, and they seem to work. "We were after comfort," said Thuen. "We wanted your feet to feel as good on the 18th hole as they did the first hole."

But could golf shoes without spikes - plastic or steel - provide the traction golfers needed? Especially professional golfers? Couples answered that at Augusta National. He took an early lead in the 2010 Masters Tournament wearing Eccos. He won three of the first four Champions Tour events he played in wearing the shoes.

But while the recreational players bought them right off the shelves, last year's Masters' field wearing spikeless shows consisted only of Couples and Ryan Moore, who endorses his own line of "more comfortable" shoes, the True barefoot-like shoe.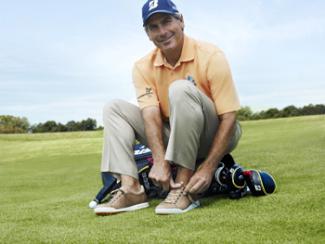 Couples Donning His Eccos
It will be interesting to see what further inroads there might be for comfortable shoes this year at Augusta. "Guys are wearing what they are told to wear," Moore said in an interview at the 2011 Masters. "You don't get to choose as much as people think."

With his chronic and celebrated back troubles, Couples was looking for comfort along with style and, of course, adequate traction. Ecco put him in the street shoe. It was his option not to wear socks.

The trick is what the company calls "molded traction bars'" in a design that looks a little like the old Nike waffle-trainer running shoe. The rows of protruding nubs offer, according to Thuen, 800 angles of contact with the ground. "In our testing," said Thuen, "they didn't slip."

Couples said he found the shoes comfortable, easy on his back, stylish and with the traction he needed. "They've sold a lot of them," Couples said at last year's Masters. "I saw Jack Nicklaus wearing them the other day. That was kind of fun. At clubs where I play, everyone wears them."
According to Ecco officials, the company shipped 24 times what it had anticipated in 2010. "It just went off the charts," David Helter, general manager of Ecco in America told Bloomberg. "We made them as fast as we could and still never caught up with the business."

Now there is competition for the street-shoe market - from companies much bigger than Ecco. But there's still only one Fred Couples.
Blaine Newnham has covered golf for 50 years. He still cherishes the memory of following Ben Hogan for 18 holes during the first round of the 1966 U.S. Open at the Olympic Club in San Francisco. He worked then for the Oakland Tribune, where he covered the Oakland Raiders during the first three seasons of head coach John Madden. Blaine moved on to Eugene, Ore., in 1971 as sports editor and columnist, covering the 1972 Olympic Games in Munich. He covered five Olympics all together - Mexico City, Munich, Los Angeles, Seoul, and Athens - before retiring in early 2005 from the Seattle Times. He covered his first Masters in 1987 when Larry Mize chipped in to beat Greg Norman, and his last in 2005 when Tiger Woods chip dramatically teetered on the lip at No. 16 and rolled in. He saw Woods' four straight major wins in 2000 and 2001, and Payne Stewart's par putt to win the U.S. Open at Pinehurst. In 2005, Blaine received the Northwest Golf Media Association's Distinguished Service Award. He and his wife, Joanna, live in Indianola, Wash., where the Dungeness crabs outnumber the people.