Boom-Boom & the Shark Discuss Presidents Cup & Other Issues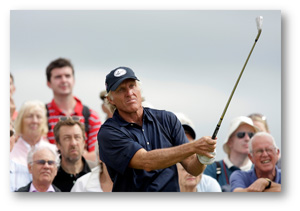 Fred Couples and Greg Norman are the captains of the American and International teams, respectively, in the upcoming Presidents Cup. The biennial event, held in the off-years of the Ryder Cup, is set to be played October 8-11 at Harding Park Golf Course in San Francisco.
At a press conference yesterday Couples and Norman announced their teams. The first 10 selections were automatic, based on points accrued during the season, and the announcement of the players was merely a formality. Each captain will, however, get two at-large picks.
The American team will be comprised of: Tiger Woods, Phil Mickelson, Steve Stricker, Kenny Perry, Zach Johnson, Stewart Cink, Sean O'Hair, Jim Furyk, Anthony Kim and Justin Leonard. Couples said that Lucas Glover and Hunter Mahan, who finished 11th and 13th in points, were way out front on his at-large list.
The International team will contain: Geoff Ogilvy, Vijay Singh, Camilo Villegas, Retief Goosen, Ernie Els, Angel Cabrera, Mike Weir, Robert Allenby, Y.E. Yang and Tim Clark. Among the players on Norman's watch list are Jeev Milkha Singh of India, Japan's Ryo Ishikawa and Shingo Katayama, and Thailand's Thongchai Jaidee.
During their press conference yesterday at the site of last week's PGA Championship in Chaska, Minn., Norman and Couples discussed this year's Presidents Cup.
MODERATOR: Thanks to all of the media for joining us today. We are pleased to have International Presidents Cup Team Captain Greg Norman, as well as U.S. Team Captain Fred Couples on the line. As you know on Sunday after the PGA Championship, the top-10 from each team was finalized and automatically made each team. And on September 8, the captains will each make two captains picks to round out their team for The Presidents Cup. We'll start with Greg Norman. Just to remind everyone, I'll read down quickly the list of the ten players who automatically made the team in order of their qualifying: Geoff Ogilvy, Vijay Singh, Camilo Villegas, Retief Goosen, Ernie Els, Angel Cabrera, Mike Weir, Robert Allenby, recently crowned PGA champion Y.E. Yang and Tim Clark. Captain Norman, would you like to make a few opening remarks about how your team came together over the past couple of weeks?
CAPTAIN NORMAN: Yeah, thanks, Laura. Good morning, everybody. Obviously the team came together in a dramatic fashion on Sunday afternoon. I think the victory of Y.E. Yang over Tiger Woods as absolutely phenomenal. I think it was great for the game of golf and obviously great for the International Team and the Presidents Cup. There's always going to be someone; Rory, was a very energetic part of that Top-10, as it stood just in the PGA Championship, he was a very enthusiastic supporter of where The Presidents Cup is going, and unfortunately he dropped out. So it just makes the position of myself and the final two picks an interesting one. If I look at the Top-10 players from the International Team, I've got a very, very well balanced team, a mixture of a lot of experience in there and a mixture of some rookies. And as a scan down and look at the U.S. Team, I see it's exactly the same way. They have the balance of the two teams from The Presidents Cup past experiences; it's very, very similar in a lot of ways.
So from Freddie's perspective and my perspective, we both have teams that look to be easy to balance. My job is a little bit more difficult obviously because of the language barriers. I spoke to Y.E. Yang yesterday about his victory and about The Presidents Cup upcoming, and the importance of what his victory did for the game of golf after The Presidents Cup, so he was very, very excited about that in his own right. So from my perspective as captain, it's starting to come together. It's been a long road to get to this point. I'm sure Freddie feels the same as I do. We've given a lot to make sure this Presidents Cup coming up in October is going to be a successful one. We have both put a lot of energy into this to make sure the harmony of the event and the growth of the event is in the forefront of both our minds.
MODERATOR: Fred, before we turn it over to you, let me read quickly the Top-10 that made your team in order of qualifying: Tiger Woods, Phil Mickelson, Steve Stricker, Kenny Perry, Zach Johnson, Stewart Cink, Sean O'Hair, Jim Furyk, Anthony Kim and Justin Leonard. Fred, would you like to make some comments about how your team has shaped up?
CAPTAIN COUPLES: Sure. I think before I talk about my team, I think both teams, it's very exciting that Greg has two guys who have not played on the Presidents Cup International Team, and I have two guys who have not played; one of them being Anthony Kim who has been on The Ryder Cup, but he and Sean O'Hair, and with a little bit of luck, we will have all four major winners in San Francisco, which is very exciting. And like Greg just said, the way Y.E. Yang won on Sunday was some incredible golf, and the only really time I saw him play was hitting quality shots winning what I consider a pretty tough golf course down in Florida when he won. So great to see him there. As far as my team, you know, it's the same -- pretty much the same cast of characters, with Woods and Mickelson, Stricker, Perry, Cink, Furyk and Justin Leonard, who seem like they are on every Ryder Cup and Presidents Cup Team.

So as Greg mentioned earlier, he does have a language barrier, but he's got guys that bomb it. I've got guys who hit it a long way and feel like they are great putters. And I'm just excited to, you know, see it come down to the wire with Lucas Glover who is now 11th in points, who still has a shot at being picked, being so close to playing some phenomenal golf to work his way on to the team. And at the same time, it looks like with Y.E. Yang's win that Rory Sabbatini got bumped down. Those are the tough things about making these teams, and that's pretty much what went on the last couple of weeks for me. But I do like the team, and as Greg said, we have had a fun time doing this. We are trying to do it the correct way, and my guys have been texting and having fun with them and picking on them, and you know, they all fire back, so I like that spunk.

Q. Greg, obviously Y.E. Yang was 36th in the points before this weekend, curious how much, if at all, you had thought about him as a potential team member, and given the way pairings are done, would you consider hooking him up with Tiger? He had kind of an amusing answer when he was asked about a rematch; he said he had no interest, he would rather be remembered as the guy who beat him in the PGA.

CAPTAIN NORMAN: (Chuckling) Well, okay, from what I read, too, he's got a pretty good success rate against Tiger. Didn't he win the HSBC over there in China?

Q. He did; exactly.

CAPTAIN NORMAN: He's obviously showing the fact that he's not intimidated by the No. 1 player in the world. Watching the golf on the last day was very, very impressive with the way he held his composure and the shots he made. It seems likes he hit the ball very solid under very, very tough conditions, not only his play, but from a pressure aspect. So from my aspect, I have always had him in my thoughts. I've kept a list of the top-40 and everyone who has been on that list. And when he won at the Honda, that's a tough golf course there, as well, playing conditions, hard conditions, which he played very, very well. He is the type of guy who if he went up against Tiger Woods, that would be great. I was just happy he worked his way on to the team and his performance coming up there in San Francisco is going to be equal to the performance he put in at the PGA, I'm pretty sure of that.

Q. Good morning, Greg. My question is about Adam Scott. I'm sure at the start of the year you couldn't envisaged him not being on the team, but at the same token right now, it would be very hard to pick him. So my question is what does Adam need to do in the next three weeks to justify having a chance of being picked by you?

CAPTAIN NORMAN: Well, first of all, yes, it was a surprise. It is a surprise. I'm sure it's a surprise more to Adam than it is to me. You know, I don't know what happens in somebody's game of golf. I'm not with him every day. I don't speak to him that often. People can guess or make assumptions or try and read into it a little bit more than what it is. To me it looks like Adam has just lost his confidence with his putting. If you don't believe you're going to make a putt, that's going to really trickle down into the rest of your game. It affects your iron play and it affects your driving.

From what I've noticed of him, his swing looks very down. Obviously he's made some adjustments with his swing coach going forward, so there's going to be to have to be a transition time for Adam to settle in with that. I'm very, very happy that he decided to play this week in a PGA Tour event in Greensboro. I think that's good for him. There's no better way of coming out of a slump than working your way out of a slump. It doesn't just happen. You have to work your way. So he has time ahead of him. He's doing to play a few golf tournaments up to September 8. I will be monitoring him and looking at the stats and seeing if he's getting a bit more comfortable on the greens. From what I've heard at the PGA, they were very awkward greens to putt because they are a combination of bent and poa, so if you don't have a lot of confidence in your stroke, you are going to look like it's worse than what it really is. Freddie and I have seen greens like that and they are tough to putt. You know, I will be monitoring Adam, of course. He's a super phenomenal player. He's a great team member. But you know, there are a lot of other great players out there, as well, who very much deserve to be on the team. So it's going to be a tough pick. The two picks that I've got coming up, Adam needs to just go back to work and get his confident back in his game.

Q. How do things stand with Phil? You got any idea about his availability? He's been kind of non-committal about anything beyond playing in the Barclays, and as I understand it, I guess if he doesn't play, you get an extra captain's pick; is that correct?

CAPTAIN COUPLES: It's correct. And then it depends on his decision of when that will be, and if there's someone on the phone who knows the timing of that, they may give you the perfect answer to that. When Amy was diagnosed, the first thing wasn't really whether he was going to play in the Presidents Cup or not; it was how she was doing. And I did play a practice round Wednesday with Phil at the PGA, and to be honest he was excited to be out there. He has not played much golf and that's probably the problem in what he's doing, but he knows where he needs to be. And in the Presidents Cup, certainly, there are more important things to do than worry about playing in October. But I believe in my heart he's going to play, so we want him there. We want Amy there. If he's listening to this, I don't think I'm saying anything wrong, I'm counting on him being there and I think he wants to be there.

Q. And for Greg, on paper, Greg, it's the first time in a while I think the International Team looks like the underdog. I was wondering if you could speak to that, although I guess the Americans were the underdog in The Ryder Cup last time around and it worked out pretty good for them.

CAPTAIN NORMAN: I just want to -- I'll get to that question, but I just want to make a comment on what Freddie just said about Phil. You know, there's a lot of important things in life that go on, and we all as players hope that Phil will be at The Presidents Cup. But we also hope that everybody understands and respects that if he's not there, there are circumstances way beyond the decision he has made to be there or not to be there. Freddie, I feel for you, and I hope he is there for you, for you as a captain, as well as your team. I just wanted to make that comment. We all think about Phil, we all think about Amy, and we want to make sure that their lives are in the correct and most positive position they can be going forward.

With the answer to your question, you know, I don't actually ever believe in underdog in the game of golf, because the game of golf is such an equalizer. You can play the best player against the world against No. 500 if you want to, and I can go out there and play a guy with a 20 handicap and he can beat me. The neutralizer is the game of golf. And as we go forward, it's very hard to call it. I think they are very well balanced teams. The interesting one is for Freddie. He's got a major winner at No. 11. No. 12, he's got Brian Gay who I believe has won a couple golf tournaments. Hunter Mahan is a great player; Nick Watney. You can keep going down the list. Same with my list. You've got guys who -- I have to go down to No. 40 to try and find two guys that I really think are going to be supporting team members of my team. So to really directly answer your question, I don't believe in underdog. You've got to make sure your team is balanced. You've got to make sure your team is excited, and you want to make sure your team is going to go out there to do what they do best and that is just to play their best golf, and if they do that, then the victory will come their way.

MODERATOR: Just to clarify Fred's comment, that is correct, if Phil were to withdraw between now and the start of competition on October 8, Fred would have another captain's pick.

Q. You're in Greensboro this week, obviously you've got a couple of guys in the tournament here that are still being considered for your team. Greg said he's looking at potential 40 players. What is your -- are you looking at a handful of players, and if you would speak directly to Glover and David Toms.

CAPTAIN COUPLES: Yes, well, I think Lucas has some family ties here, and Toms, he's playing here. And to be honest, I got in late yesterday and I don't really know -- I know Hunter is not playing here, but there's the Dustin Johnsons and Jerry Kellys and Chad Campbells. I will find out; I'm going out to the course later today. As Greg said, this is all interesting. The teams came together; underdogs or no underdogs, he's got some incredible players, and I do, too. You know, I was a captain's pick once, and I didn't really look at it any differently because I didn't know what Jack Nicklaus was saying to the other six or eight guys that could have had a chance of being picked.

But that's the main thing in my mind. And you know, Lucas Glover is a U.S. Open Champion; not only did he have a shot at winning the PGA, but he knew -- he told me he knew he needed -- where he needed to be, and he came up just short with not many pars on the 18th hole, let alone birdieing it. But basically, you know, I think we kind of know what direction we can be going. Brian Gay has had a phenomenal year. Any time you win two events, and I have not talked to him in a little while, maybe at the British Open, and told him, you know, just keep it going. But with Greg's help and mine, we have got three more events, instead of having the picks today or yesterday, and I think a guy could make -- they are huge, huge events.

You come into Greensboro on a very nice little golf course, I believe it's not really long. It may not be Harding Park but a lot of wedge game and a lot of putting, and then you go to two tournaments that have the strongest fields of the year possibly, and that will help Greg and I. Anyone who can cruise through there and play well will get another look. But to be honest, not fooling around, I've probably got five or six guys, and that would put me right down even to the David Toms and the Chad Campbells if they can go out and play, and I think that is kind of a blessing to give these two picks much more consideration. That's three weeks of golf and I think that favors Greg and I.

Q. It's been reported that you said Hunter Mahan would be on your team sort of one way or the other, either qualifying or as a captain's pick and obviously he's one of those five guys that you're looking at, and I'm just wonder being if you can talk a little bit about that and if you can talk about what can separate guys like Hunter and Brian and Lucas in two spots.

CAPTAIN COUPLES: Exactly. Well, the numbers are right there, and as I've said, you know, if they all continue to play the way they are playing, then Brian Gay has got to step it up. I believe, he won't tell me, but I believe that Brian Gay might be a little injured. I've heard that Brian Gay might be a little injured. He's played -- it's hard to say. He's played poorly lately; whereas Hunter Mahan has played some incredible golf. And Lucas Glover has had a fantastic summer, and almost won down the road earlier in the year at Charlotte, didn't win the U.S. Open, just finished fifth at the PGA. He's put together some strong rounds. But you know, I've got some guys that you know can string a win and go, and you know, before when I was talking to a couple of people, the obvious ones to me would be Lucas and Hunter with Brian Gay, and anyone else having an outside shot. And you know, in three weeks anything can change, but these guys know. And to be quite honest, anyone out there; that Jerry Kelly goes, second in one event and wins at The Barclays, will probably be playing some of his best golf two weeks before the Presidents Cup.

So Greg and I, we have our hands full, but we are going to be looking. And when he was talking about Adam Scott at the beginning of the year, he and I were teasing each other, and I was, of course, excited about being our captain and excited about having him on the team. And I just texted Greg the other day, and he's trying harder to be on this team than he is playing in these events. We all go through stretches and it's just bizarre to me and I will see him this week, too. You know, nothing is easy out there. Greg has got Mathew Goggin, who has had a great summer, and K.J. Choi who played well all the time. I just need the couple of guys that I thought would be probably 80 percent on the team, and that would be Lucas and Hunter. And people ask, you know, instead of saying, well, geez, I don't know; it's pretty obvious that Lucas Glover is a U.S. only champ and great players, pretty simple to say his name. So that's how I went about that. But it could change in three weeks. I don't foresee anyone losing their game that's playing well, and there's a lot of golf to be played from here to The Presidents Cup for sure.

Q. As Fred had said over the weekend, and he just said in his answer, he's looking at four or five guys for those two captains picks, I was wondering if you can look at your list, and you said going down to 40 you're kind of keeping track of them, but is there a handful of guys you're maybe most focusing on for those two picks?

CAPTAIN NORMAN: There's more than a handful. There's probably about ten to 11 guys that I'm focusing on. I've got a little bit of a different dilemma than Freddie. I've got the language barrier that you have to put into place there. I've got to look at players who have been with players in the past and how many times have they played together, whether in a tournament or practice round. It's easy when you look down at the American list, you know that there's a very good chance of most of these guys have played against each other in tournaments on a very consistent and repetitive basis. I, on the other hand, have the dilemma of trying to balance out, okay, do you put two guys from one nation together because of the language barrier. That's when you look at that in four-balls, it might be too difficult and maybe it doesn't really make any difference, and going into the foursomes then you have to look at their performances. And then you look at K.J. Choi who I think is a great clutch player, his performance under pressure and you look at his track record in the Presidents Cup is very good. So I've got that dilemma to take into consideration, as well.

So you know, it's interesting how my dynamic is just a little bit different than Freddie, but Freddie is 100 percent correct. A lot of the guys who are on my to-be-watched list are playing in the next couple of weeks. They have got every chance of stepping up to the plate. And Freddie is 100% correct. There might be some players who played well at the beginning of the year and starting to not show the form that they need to play, and the players might be showing form and just step right up and say, here I am, I want to play, my game is really sharp, look at my last three weeks' performance and I want to be on this team and put me up for consideration. It's interesting. I think the most crucial time for both Freddie and I is really the next three weeks. We couldn't do much about the Top-10, but now we can do a lot about the rest. So you're starting to follow guys and you speak to certain individuals out there who watch what's going on. You might be able to speak to some of the caddies. Freddie is absolutely right; a player is not going to tell you that he's hurt, but a caddie might say, hey, my player is hurt and that might be a different way of finding out things. So we have to be on top of the ball. So really, I have more than five or six. That's going to be the toughest part for me.

Q. Philosophically if it comes down to someone who plays well the last couple of weeks or someone who has a track record like you mentioned, philosophically which way do you think you would lean, which is more important to you?

CAPTAIN NORMAN: The player going in with form, and that doesn't necessarily have to be a player with a good track record in The Presidents Cup. It could be anyone who has never played The Presidents Cup before and who is young, who is dynamic, who shows no fear. Even though Y.E. Yang is not young, he showed no fear. He really has not been in that corral before, so he handled himself very, very well. There might be other players coming through playing in these big events coming up and say, okay, I'm not afraid to step up to the plate. I think will, the significance of going back to the PGA with Y.E. Yang and Tiger, I think that was a great moment in professional golf for a lot of players to sit back and watch how that whole thing transpired and to show that if you go out there and play and just play the golf course and not get wrapped up in who you're playing, that you can get the job done.

I think in the past, there's nothing been better than having the intimidation factor, right, Freddie? That's part of the game of golf; if you can go out there knowing that you have the edge because you have the intimidation, you know what, more times than not you're going to win. But if you go out there as a player just to play the golf course, and perform the best you can on that golf course, with what you have, things like what happened on Sunday is going to happen. And I see a lot of guys on my team very much like that who could have been a great lesson for that.

Q. I'm wondering, this has been a great event, a week, a platform to kind of grow the game around the world and with that in mind, I'm wondering if -- I hate to call it political reason, but a guy like Jeev Singh from India, a country that's kind of on the cusp of maybe taking up the game and breaking out and a billion people down there or whatever the actual number is, whether he might merit a different level of consideration because of what he might bring to the table from a promotional standpoint, in addition to the fact that he's a pretty good player and he's 12th on your points list and probably wants to make this team more than any of the guys who actually did. I mean, he was on pins and needles the last couple of weeks.

CAPTAIN NORMAN: Yeah, exactly and we've got to be careful not to bring politics into this. You're 100 percent both right in your assessment on it. The game of golf is a global game. We try to take the Presidents Cup and the game of golf, and look what happened with Y.E. Yang and K.J. Choi, South Korea now is at the top of the heap from the international countries for the representation of great golfers. I think that's phenomenal. You can only go back a few years and see the number of Australians that used to be on the Presidents Cup and the number of South Africans on it and now look at it; we have the opportunity, very much a cross-section of countries represented, which I think is phenomenal.

And then you've got to take that into consideration. There's no question about it. You've got to take into consideration of where Japan is and how Japan has started to produce some of these great players like Katayama and Ishikawa, the young kid coming out right now. Just take a look at Thailand, you have Jaidee who is starting to show some form, as well. Again, you have to look at that, but as you put a team together, you want to put a team together as players, not put a team together as saying, okay, I'm going to do this for the country of whatever, because I think it will be great for the game of golf. I think the exposure that The Presidents Cup is going to give on a global basis is going to be great for that. Just like what happened with the Olympics, golf being announced in 2016 in the Olympics, everybody benefits. And just because you might be in a different country than that country in particular, golf just got a huge boost in the arm for that, and we are all going to be the benefactors of that.

So I've got to approach this from the level of being a captain, putting the best team together. And yes, there are going to be some detractors when I announce my two. There are going to be some people who felt like, 'I should have been on that team,' or a country saying, 'Well, why wasn't my country represented.' That's the tough responsibilities that I have to have in this situation. But in the end of the day, there's more than one Presidents Cup. There's going to be another one, and it should be -- as a player or a country is not represented, it should be a stimulus for the country to go out and promote the game and make sure the effort going forward, that future international Presidents Cup teams are represented by their country.

Q. If I could change gears a little bit here, you played last week and you're playing again here in Greensboro this week, I'm assuming to prepare for a jump at the Champions Tour, first, how are you playing, and second, a little differently, do you feel with Tiger's loss last week, there's a different feel to the sport this week, has anything changed?

CAPTAIN COUPLES: Has anything changed; I've been watching and reading and listening, and you know, I think it's -- well, I think there's two things. I think it's a shock that he didn't win, and I think it's a shock at how great Y.E. Yang played; and when I say "great," I don't really know if I consider that he really missed many shots. And I played on Sunday. It was windy the whole week. It was a very, very tough course. We can sit here and say, you know, trying to get all of these major, you know, Tiger is closing in, what a great opportunity, and he didn't make many putts, if any. But the other gentleman played a phenomenal round of golf. And if you look back, yeah, he hit in the bunker on a 250-yard par 3, got it up-and-down.

But other than that, you know, he hit every golf shot right at the flag and played well. So I'm not -- if I'm Tiger Woods, I'm very disappointed. If I'm the golf world, I think it's a great win. If I'm a Korean player out there looking at that, I think it's just the greatest thing that ever happened. But as far as he was not going to go 20-for-20 or however many majors he's going to win. That 14-out-of-14, or whatever the numbers are, they are just staggering, and when something happens, we make it like the world is going to come to end. And I think Tiger will be at The Barclays ready to go, and he'll be disappointed that he didn't get his 15th major. And as far as getting a real quick question for me, yeah, I hurt my back at Canada. I wanted to be playing a little bit to see the guys, and I took four weeks off because of it. And I went to the PGA to play and actually made the cut. Was scheduled to come to Greensboro and hopefully the two FedEx Cup events. I'm in the first one at Barclays. I'm going to have to play fairly well to get in the second. As Greg said earlier, I think it was great for the golfing world, I really do, and I know Tiger is sitting there thinking, you know, he's not going to -- I mean, that was a chance of a lifetime to get his 15th. You know, the guy really played a phenomenal round of golf. I think if Tiger makes a putt here or there, it's different, but he didn't, and the other guy hit quality shots.

Q. Another question for you, forgive me for being a little parochial; there's been these four Australians on The Presidents Cup Team, are you surprised there's only two this year?

CAPTAIN NORMAN: Yes and no. I think it just shows you the balance of the game of golf on a global basis. There was a time when there were a lot of great players at the top of their games in Australia. It just goes to show you, has Australia dropped back of the quality of players? No. It just show us that the quality of players on a global basis have stepped up. And we are going to continue to see this, because from a business perspective, I see the extension of the game of golf in places like India and South Korea and China and Thailand, Vietnam; I go going town to South America a lot. We are building golf courses in these places faster than anywhere else.

Matter of fact, China is a country that is growing -- there will be more golfers in China by the year 2020 than there will be in the United States. So what does that tell you? That tells you that China will be a dominating force in the game of golf in the next 20 years or 20 years from now. So I expected this ten, 15 years ago when I saw what was happening to the game of golf from a business development standpoint on a global basis, and this is the product of it. You're seeing great players, Jaidee coming out of Thailand and Y.E. stepping up and Ishikawa coming out of Japan and Jeev Milkha. South African is going to be the great benefactor, as well. If you go down this list, you will see a lot of young South African players that people don't really pay attention to. And it's just a message to the younger Australian players; hey, I was pretty good, but for me to get better, I've got to become a better player and step up to the plate.

So it's just going to be a great barometer to watch what's happening to golf on a global basis, and just watch out. Three countries in the world, there's China, there's India and Brazil, Argentina, actually four, basically account for a third of the population of the world, and those parts of the world have been growing so fast in the game, so you can only imagine what is going to happen to the younger players coming out in a decade or a decade and a half.

MODERATOR: I'd like to thank both Greg Norman and Fred Couples for taking some time with us. We will be sending details on the September 8 captain's pick announcement in the near future. Thank you both and we will see you soon.

The transcript for the above interview is courtesy of ASAP Sports.