Boulder City Offers Top-Notch Golf Away from The Strip's Glitz
By: Steve Habel
There is a certain crowd that really revels in being in the midst of the lights, sounds and glitz of the Las Vegas Strip - and that's okay with me. Vegas is a little like an adult theme park, just louder, brighter and a lot more over the top.
Then there's a group that would rather stay out of that harsh radiance, eschewing flash for a trip back to what Nevada used to be while mixing in a little bit of that opulent present-day luxury for which Sin City is so renowned. These folks will find a respite from the long and dusty road a bit to the south and west in Boulder City and the waterside communities that border massive Lake Mead, all within a half-hour's drive from the eastern limits of Las Vegas.

Hoover Dam (formerly known as Boulder Dam) is the whole reason for the existence of Boulder City and Lake Mead, the largest reservoir in the United States. Boulder City was initially created to house the workers who built Hoover Dam and, as such, was an integral part of the successful completion of the Boulder Canyon Project, the damming of the Colorado River and the creation of Lake Mead.

Founded in 1931 in the midst of the Great Depression, Boulder City was conceived and constructed by the federal government as a "model" city where the American people could find hope for a better future.

The future is now, and things are going pretty much as planned. Boulder City is known as a clean, green oasis in the desert. With a growth-controlled population of slightly more than 15,000 - and no gambling, the city's residents enjoy a quaint, small-town atmosphere with historic charm and an excellent quality of life.

Boulder City has three fine golf courses: Boulder City Golf Course, Boulder Creek Golf Course (both owned by the city) and the excellent Cascata Golf Club, an ultra-private, plush track about two miles out of town on land owned by the city. We had a chance to tee it up at all three courses this spring, when even afternoon golf in the desert is not too extreme.
Boulder City Golf Course
Don't take Boulder City Golf Club for Granted

We started our Southwestern Nevada tour at the city's namesake track, the suburb and sneaky-tough Boulder City Golf Course. Designed by former U.S. Open champion Billy Casper and David Rainville in 1973, the 6,606-yard par-72 venue includes hundreds of mature native plants, tree-lined fairways, expansive greens and several critical water features.

The park-like layout makes for plenty of fun shot-making opportunities. Built to entertain and challenge players, the course allows for a pleasing and walkable round, something we always like to do when given the chance.

Operated by the Boulder City Parks and Recreation Department, the course's greens and fairways are as plush and well-manicured as any top-ranked resort facility. Even shots off the fairway are apt to find a good lie, but there are so many trees that wayward drives will call for a bit of imagination to reach the putting surface.

Boulder City GC has four par-4s that are less than 400 yards (three are on the back nine) and on two of those - the 275-yard eighth and 338-yard 11th - you may be tempted to go for the green. It's best to use a little course management though. On No. 8, a two-tiered green is fronted on the right by a rock-braced pond with a central fountain. The target is small with plenty of trouble to catch even the best shots. The 11th is an uphill dogleg-left that narrows at the green to grant you tough lies if you miss your target.

Three short par-5s - the first, the 12th and the 16th, playing at just 490, 481 and 504 yards, respectively, offer chances to score. A solid drive on the downhill 12th will leave a long-iron or fairway metal to the green, though the putting surface is fronted by a streambed that is occasionally filled with water. The 16th plays uphill, with the fairway pinched by bunkers on both sides at the landing area, making the drive a crucial shot.

Boulder City GC has its bite as well, thanks to the 418-yard third hole (with its small green and bunker in front for protection), the 416-yard sixth (with a narrow landing area guarded by sand left and a pond right), and - most notably - the 452-yard par-4 15th, which is long and straight and asks for shots that are both.

The par-3s, especially Nos. 14 (190 yards) and 17 (186 yards) can spoil your round if accuracy is an issue. Try to get a shot back on the 384-yard closer, but the approach must avoid the three bunkers around the green.

The course - with a rating of 70.4 and a slope of 117 from its back set of three tees - also offers nice practice and chipping greens and a driving range (with both grass tees and mats). All are within walking distance of the 5,000-square-foot clubhouse, which houses a snack bar that serves up some of the best burgers in the desert.

Boulder City Golf Course has been voted "Best Bargain Course in Southern Nevada" three years in a row by Vegas Golfer Magazine, and was presented with the Vegas Golfer Fairway Award. Considering all the more-ballyhooed options in the area, that's saying quite a bit. For more information, visit www.bouldercitygolf.com.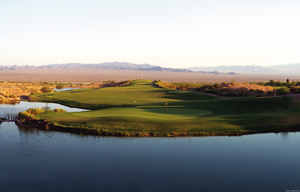 No. 6 at Boulder Creek's Desert Hawk
Lots of Room to Roam at Boulder Creek

Just down the road from Boulder City GC on a house-free 420-acre parcel of land, architect Mark Rathert - who's designed courses around the country as well as in the Far East and in Europe - crafted Boulder Creek Golf Course, a 27-hole facility that combines fair with flair. Such additional acreage (three times that of many new courses) lends considerable variety to shot values, while offering undisturbed views all the way to Bootleg Canyon and the three mountain ranges encircling Boulder City.

All that land also allows for wide, forgiving fairways, six sets of tees, and huge bunkers and greens. Mating two of the three nines - Desert Hawk, Coyote Run or Eldorado - in any configuration, results in an 18-hole test of more than 7,500 yards. Each side offers a broad array of desert-themed holes; some are laced with pesky arroyos, others have split-fairways framed by waste areas and native grasses, and others (especially on Desert Hawk and Coyote Run) bring water into the picture.

Desert Hawk winds through naturally rolling terrain. Combining lush oasis and dry desert, this nine gives the chance to use all clubs in the bag and tempts players to unleash monstrous drives and follow them up with shots off generous fairways.

Beginning with the 437-yard, dogleg-left first (which asks for a tee shot over water to a landing area with two trees in mid-fairway and bordered left by a deep bunker), it's immediately apparent your game must be in shape to succeed here. No. 2 has an odd, island-like fairway left of the landing area, but playing over here gives you a chance to have a straight shot into the green rather than having to cope with the funky "S-shaped" space around the putting surface.

The fourth - the third-toughest hole on this side - is a Holy-cow-that's long 250-yard par-3 into the wind. No. 5 is a 533-yard par-5 that plays downwind, but from the back tees you can swing all you want and not hit into an arroyo that crosses the fairway and continues along the left side, peeking out close to the green to catch a poor approach.

The seventh is the toughest hole at Desert Hawk. At 487 yards, this par-4 sports another split-fairway that involves choosing left of right off the tee as middle is high grass and deep trouble. No. 8 is another long par-3 (225 yards), and the ninth, a 480-yard dogleg-right over water and sand, requires your best effort to avoid a huge score.

Desert Hawk extends 3,843 yards from the tips; that's a whole lotta golf, folks.

No. 9 at Coyote Run
Boulder Creek GC's Coyote Run nine welcomes golfers with broad fairways. But arroyos and bunkers are prominent throughout. There are 41 bunkers on the Coyote Run nine, including seven each on the first and second holes.

Coyote Run's best tests are its long par-4s - the second, fifth and ninth. No. 2 is intimidating off the tee as four bunkers lurk near the landing area, with the largest waiting for any ball hit into the middle of the fairway on the 443-yarder. At the 455-yard fifth, length is the key, as is avoiding a bunker left of the prime landing area. And on the ninth, a 469-yard beauty with a creek crossing the fairway and water and sand engirding its three-tired green, aim left of the split landing area for the best chance at par.

Coyote Run is also highlighted by the 635-yard par-5 seventh, and the dynamite, 179-yard eighth, which plays over water and sand to a green framed by palm trees and a bunker.

With a mixture of smooth, subtle elevation changes and scads of scenic landscape, the 3,785-yard Coyote Run offers a wonderful outing.
Beautiful vistas, colorful wildflowers and smooth beach-like bunkers add to the lure of the Eldorado nine. It is a pretty yet diverse course that rewards long drivers. Despite having no water hazards, this side has trouble along its fairways and deep bunkers.

Beginning and ending with its two par-5s (a 595-yard downwinder and a 577-yarder), Eldorado's best features are three straight par-4s. The 482-yard fifth veers right off the tee and into the wind and its green slopes severely from back to front. That's okay for the required long-iron approach, but anything above the hole is a difficult two-putt.

The sixth (441 yards) also heads into the southerly breeze and curls left and over a hill to a green atop a ridge. The 442-yard seventh (still into the wind) has four bunkers in the landing area and additional bunkers before and behind the green. Any shot that meanders to the right on the approach will roll down into a sandy and rocky waste area marked by three trees.

Eldorado (listed at 3,739 yards from the tips) contains the easiest set of par-3s of the three layouts at Boulder Creek. Just don't take the 191-yard eighth lightly: choose enough club to ensure your shot clears the three punitive bunkers that front the putting surface.

The three course ratings and slopes at Boulder Creek are: Desert Hawk/Coyote Run - 75.8/142; Desert Hawk/Eldorado - 75.4/136; and Coyote Run/Eldorado - 75.1/137.

Opening to rave reviews in 2003, Boulder Creek Golf Club delivers a fabulous golf experience in a desert setting. The facility has hosted many high-level events, including the Clark County Amateur Championship in November, the 2006 Nevada State Amateur Championship, and the UNLV Girls Golf Spring Invitational.

For more information, visit www.bouldercreekgc.com.
Cascata will Knock your Socks off

Once we were welcomed through the security gates at Cascata Golf Club - a sumptuous Rees Jones-designed track owned by Harrah's Entertainment and usually an amenity for their high-rolling gamblers, we quickly understood what real over-the-top luxury golf is all about.

Highly-acclaimed and often talked about in hushed words, Cascata opened in 2000 and is considered among the world's top golf courses. The facility was named from the Italian word for "waterfall," appropriate since a 418-foot, man-made, switch-it-off-and-on cascade plunges down the side of a mountain to form a thundering river that flows through an amazing 37,000-square-foot clubhouse.

Set among dramatic scenery, Cascata was designed to be as private as private can be. The course involves desert, the 3,600-foot Red Mountain - over which you play and return (all the holes go north to south, or vice versa), verdant fairways, sparkling lakes and crystal streams.

After meeting up with a forecaddie - waiting inside the clubhouse by your golf cart - you drive out the building through two huge automatic doors that open up to a splendid and large practice area and driving range. The par-72 course, which plays a manageable 7,137 yards from the tips, is off-the-charts gorgeous, but it is much more than just a pretty face. Your entire round likely will be played without ever seeing another golfer or another hole. Wildlife is abundant, the vistas are stunning, and the golf is even better.

Immaculate fairways, greens and water hazards cut through rock on each hole, providing a spectacular contrast to the desert. The key to scoring at Cascata, which has a rating of 74.6 and slope of 143 from the back tees, is to keep the ball in play. Despite their sometimes intimidating appearances, the fairways are generous and receptive.

Cascata's par-4s are varied in length and width. The par-3s range from long (the 216-yard fourth and 212-yard 15th) to medium (157-yard seventh and 165-yard 12th), and the par-5s offer a couple - and maybe three - chances to get home in two.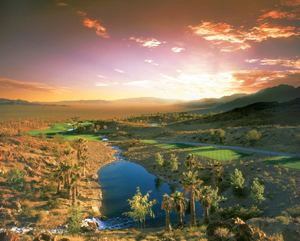 Cascata Golf Club
Jones's design allows you to ease into a round. The 367-yard par-4 first plays uphill but downwind to a peaked green with a false front. The second is a par-4 that's a bit harder and longer, and its green - blasted out of the mountain and on a perch - is surrounded by five bunkers.

The third is the longest of the par-5s at 561 yards and heads into the wind, and No 4. has a chevron-shaped green with water front-left and a deep bunker back-right.

No. 7 - the shortest hole on the course - may be the most picturesque at Cascata. It's a simple-looking 154-yarder, but it's not a pushover due to a creek that flows in front and left of the green. The edge of the mountain is on the right side of the green and bunkers wreak havoc. This is a hole you might find on the moon.

The front side at Cascata concludes with a 451-yard par-4. Next up is the downhill-heading, 466-yard par-4 10th. Other beauties include the sharply turning, dogleg-left, 469-yard 13th and the 489-yard 17th, one of the most beautiful and difficult holes you will ever play.

Jones may have saved his best for last. With a tee sitting some 200 feet above the green, one's drive is the key on the 559-yard par-5 18th. Strong players can challenge the dogleg-left by cranking a drive over the corner of a mountain. Hit it on the right line far enough, and you have a chance to reach the green, which is guarded on the right by water. Push your approach and you could find the stream that feeds into that pond. It's a great finishing hole because it is pretty, makes you think and you have an opportunity to finish with a satisfied feeling.

Creating the course was no easy task and playing it is a challenge as well. A round at Cascata costs $500. The tariff includes the forecaddie and the club's world-class amenities - including a personalized locker for the day, full use of the practice facility, a personalized bag tag as well as complimentary snacks and non-alcoholic beverages from the cart.

Cascata has won just about every award there is and playing it is both and honor and a privilege. If you ever have $500 to spare, tee it up here and get pampered. For further details, visit www.harrahs.com/golf/cascata-golf.
Forever Resort's Houseboat on Lake Mead
Accommodations in Boulder City & Lake Mead

During our Nevada adventure, we spent evenings at three fantastic and very different locations. We spent a night at the cozy and quaint Milo's Inn at Boulder, a local bed and breakfast. This establishment has just four rooms (named Bordeaux, Tuscany, Chianti and Beaujolais), so when you stay here it feels like you've been somehow teleported to an Italian villa.

Milo's Inn at Boulder (www.milosinnatboulder.com) features a courtyard with a goldfish pond and waterfall, fire pit, and flowers and grapevines growing on trellises. There's a private massage room for the local on-call masseuse, or you can have the treatment in your own room if you wish.

The package includes a made-to-order breakfast. Start your day with locally roasted coffee, juices, organic granola, fruits and cheeses. Then, depending on when you stay, guests can move on to enjoy homemade peaches and cream croissants, Silver Dollar pancakes, quiche or Grand Marnier French toast, prepared fresh by proprietor/chef Stephen Gay.

We spent two nights at the historic Boulder Dam Hotel (www.boulderdamhotel.com), which was built in the 1930s and has welcomed scores of celebrities, business tycoons, government agents and politicians over the years. The 20-room hotel has been beautifully remodeled to preserve the style of its era and to remind visitors of a more genteel time. We stayed in the fabulous Art Deco Room, and enjoyed great breakfasts and a lunch at the hotel's restaurant.

The highlight of accommodations was a night as the sole occupants of a luxury houseboat moored at the Callville Bay Marina on Lake Mead. The 70' x 16' Millennium houseboat has to be one of the finest rental craft you'll likely find. With room to spare, the craft sleeps 12. It has four private staterooms, six queen beds, two full baths, a wet bar, sun canopy and even a big hot tub on the top deck.

Our houseboat also had a large living area in front, a salon with a ceiling fan, dining table and chairs, a fully-equipped full-sized kitchen with two refrigerators, a breakfast counter and flat-screen televisions everywhere, including on the top deck.

If you like boats or just want a real taste of luxury on the water, this houseboat is truly a slice of heaven. For more information about houseboats on Lake Mead and elsewhere in the area, visit www.foreverresorts.com.
Steve Habel is one of Cybergolf's national correspondents, contributing news stories, features, equipment and book reviews and personality profiles from his base in Central Texas. He is also the managing editor for Business District magazine in Austin and works as a contributing editor for Horns Illustrated magazine, a publication focusing on University of Texas sports. He also writes a blog (www.shotoverthegreen.blogspot.com), which features news on golf and the Longhorns.