Brandes Wins Pacific Northwest Men's Mid-Amateur
Tom Brandes continued his impressive summer. The Bellevue, Wash., resident closed with a 1-under-par 70 to capture the 28th Pacific Northwest Men's Mid-Amateur Championship, conducted by the Pacific Northwest Golf Association (PNGA) at Columbia Edgewater Country Club in Portland.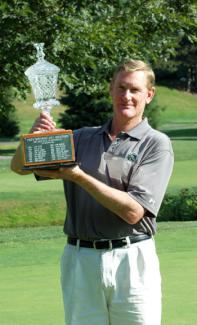 Tom Brandes with Mid-Am Trophy
Brandes entered the final round trailing second-round leader Bill Winter of Portland by a stroke, but the deficit quickly disappeared after he made a birdie on the par-5 first to tie for the lead. The two remained even through seven holes before Brandes took his first lead with a par on the eighth, following a double-bogey by Winter.

With the momentum on his side, Brandes seized the opportunity and made birdie on the par-4 ninth. "I hit a good drive into the fairway, then a firm 9-iron," Brandes said. "You don't want to be short there because the pin was tucked near the water. I made sure to miss long. I was just trying to lag the putt because Brad (Karns) had a similar putt and rolled it past. I hit it good and it was a lag that went in."

Faced with a three-stroke deficit with only nine holes to go, Winter responded with a birdie on the 10th. "Bill birdied in front of me and I said 'Let's knock this in,' " said Brandes. He did just that, draining his birdie to maintain the lead. "The greens are tricky here, but so perfect and pure. The golf course was fabulous."
Winter refused to give in, posting birdies on Nos. 10, 14, and 16. "I wish I had those two holes back (his double-bogeys on eight and 13), but I battled back," he said. "But (Brandes) is just not going to make any mistakes."

Brandes remained cool despite back-to-back bogeys on 11 and 12 and saw his lead slip to a stroke. The double by Winter on the 13th was followed by a birdie from Brandes at 15, which effectively sealed the deal. When the pair traded pars on the final two holes, Brandes breathed a sigh of relief.

He capped another impressive, grueling week with a three-day total of 5-over-par 218 to earn a two-stroke victory over Winter, who finished in second after a 2-over-par 73. "The greens are beautiful," Brandes said of the Columbia-Edgewater's putting surfaces. "I had not played here before, and I came down to play in this championship to play this course and it exceeded my expectations."
With the win, Brandes became the first player to win the Washington State Men's Mid-Amateur and Pacific Northwest Men's Mid-Amateur the same year. He also won the 2012 Pacific Northwest Senior Men's Amateur in June and 2012 Washington State Champion of Champions in May. Next up for Brandes is a trip to Galloway, N.J., as he was selected to represent Washington State in the 2012 USGA State Team Championship next week.

"I thought last summer was pretty good but this summer was even better," said Brandes. "I did make a little change to drive it straight and controlled and I'm just getting it done."

Brad Karns of Vancouver, Wash. finished alone in third at 11-over-par 224. The round of the day was posted by Matthew Hennick of Kenmore, Wash., who vaulted into a tie for fourth after a final-round 2-under-par 69, the only round in the 60s during the entire championship. Also joining him in fourth at 12-over-par 225 is Alex Stamey of Mill Creek, Wash.
The above report is courtesy of the PNGA. For more information and all the results, visit www.thepnga.org.