Branson Performs On-Stage & On the Course
By: Joel Zuckerman
Millions of visitors flock to Branson, Mo., every year. For the overwhelming majority, playing golf isn't their first, heck, isn't even their fifth priority.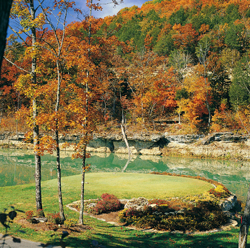 Fall Color at LedgeStone
That mindset is destined to change in the years to come. The golf product in this region of the Ozarks, in the southernmost part of the state and close to the Arkansas state line, is exceptional, albeit little-known. Courses such as Branson Creek, which is considered the finest in Missouri, the Payne Stewart Golf Club, which is not only a great test of the game but also a lively testament to the legacy of the late PGA Tour star, and other destination courses such as LedgeStone and Murder Rock are among the highlights.

In a certain way, Branson is remindful of other Midwest micro-destinations this correspondent has had the pleasure of discovering in recent years. To cite three such examples, places like Gaylord, Mich., the Upper Peninsula of Michigan and the Brainerd Lakes area of Minnesota, much like Branson, originated as hunting-fishing-camping regions full of natural beauty, and ideal for simple, few-frills, back-to-nature family vacationing.

Those upper-Midwest destinations evolved to include championship-caliber golf, and Branson is moving in much the same direction. But the Missouri hamlet has an additional asset that the other destinations could never dream of: A cornucopia of live entertainment venues, by day and by night, featuring comedy, music, magic, variety, ventriloquism, acrobatics and more. It's not Broadway, it's not Vegas, but it's not bad at all. It's family-friendly fare, G-rated or PG at the most, with no burlesque or skimpy costume element to be found. But it is lively and worthwhile entertainment to be certain.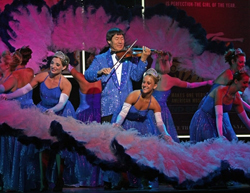 Shoji the Entertainer
Known in some circles as the "Live Music Show Capital of the World," Branson offers 50 live performance theaters, three pristine lakes, a popular theme park, numerous other attractions and museums, and a dozen golf courses. Despite the surfeit of fine courses, only about 3% of visitors to the region actually tee it up. So while the hordes of tourists watching the shows are mostly oblivious to all the fine golf available, the performers they pay to see are fully aware and appreciative of the tremendous green-grass assets in their midst.

Shoji Tabuchi is both an avid player and an entertainment icon in Branson, wildly popular with sell-out audiences, who revel in his unique appeal. It's not hard to fathom why. How often does one encounter a classically-trained Japanese violinist-turned-fiddle-player who cut his teeth in the Cajun style down in Louisiana for a decade after leaving the Far East? Then decided to build his own theater in Branson, where he performs in a rotating series of glittery sequined jackets that would make Liberace blush, playing behind his back, behind his waist, flying around the stage on wires like Peter Pan, backed by a troupe of singers, dancers and musicians, playing everything from foot-stomping country and western classics to waltzes, rock-and-roll to Broadway standards? The answer? Not very often!
"I began playing golf about 15 years ago," explains Shoji, in his heavily-accented English. "There weren't nearly as many good courses then as now. Branson Creek, Thousand Hills and Murder Rock are some of my favorites. I think the reason we don't see the golf traffic we should is because the marketing of golf in Branson hasn't been aggressive. More marketing, like what you see in Myrtle Beach or Scottsdale, would help a lot.

"My schedule can be very busy in season," adds the showman, with great understatement. In the 90-day period between mid-September and mid-December, Shoji has more than 125 performances scheduled. "I get out to Thousand Hills more than some of the others, because it's quicker to play, and I don't often have time to be out half the day. It's short, but it's tight, and tough, with plenty of trouble. I'm often paired with golfers who have been to my show previously, and they always remind me I play better fiddle than golf!"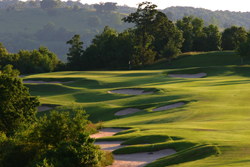 18th Hole at Branson Creek
Branson: Discover Golf's Ozark Mountain Oasis

Branson Creek doesn't play second fiddle to any course in Missouri. "Every hole out here is a magazine cover," states architect Tom Fazio, immodestly, but accurately. Branson Creek (www.bransoncreekgolf.com) offers boulevard fairways, lots of downhill tee shots, thoughtful doglegs, just enough of a watery presence, and conditions that are firm and fast. Managed by Troon Golf, Branson Creek is at the apex of Ozarks golf.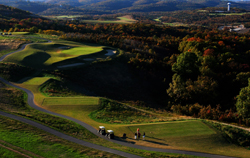 Aerial View of Murder Rock
Murder Rock Golf Club (www.murderrock.com) is named for the place where Civil War bushwhacker Alfred Bolin and his gang of evildoers were known to ambush travelers. The property occupies higher ground than neighboring Branson Creek, and though it literally looks down upon the golf course on the lower slopes, it's not quite up to the same standard and for one reason in particular.

Murder Rock features more uphill tee shots than most players would be comfortable with. Golfers prefer to launch the ball downhill, or at least on level ground. Upward-sloping tee shots are an acquired taste, and for players lacking a high-arcing trajectory, can be a source of frustration when a line-drive shot slams into the hillside and, even worse, sometimes starts trundling backwards towards where it was struck. However the course setting is rousing, with miles-long views and a series of extremely demanding par-3 holes.

LedgeStone Golf Club (www.ledgestonegolf.com) is one of the more unique offerings in the area. It's not particularly lengthy, not even 6,900 yards from the tips, and most play is conducted from the blue tees, just 6,400 yards. But there are numerous challenges, including blind shots, hairpin doglegs, precipice greens, and some stunning scenery, in particular the water features that come into play on the closing holes. It is firm as a tabletop, plays lighting-fast, and is a superb option for couples or families.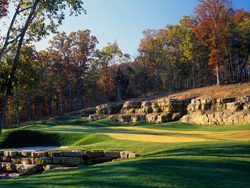 Third Hole at Payne Stewart GC
The Payne Stewart Golf Club (www.paynestewartgolfclub.com), named after the state's most accomplished golfer, is the most difficult course in the region. The playing tableau is gorgeous and dangerous concurrently, fraught with menace in the way of woods, water, steep drop-offs, thick stands of vegetation, and other ball-swallowing unpleasantness.

But what makes the venue so unique are the 18 separate stories about Payne's life and career, told on plaques adorning each tee box. Taking a minute to read and absorb these vignettes, brief slices of his life on Tour, with his family, some comical, others more poignant, are what makes this parkland tribute to the late golfer one of the true "must-play" courses in the region.
Another Branson Performer

Though Shoji Tabuchi and his magic fiddle have been ensconced in Branson for nearly 30 years, he's a carpetbagger in comparison to Brandon Mabe, or at least the Mabe family. Brandon is a third-generation performer at the oldest and among the most popular shows in Branson, the Bald-Knobbers, which is a comedy-music-variety show in the "Hee-Haw" vein. The show was originated by his grandfather and three of granddad's brothers, debuting in 1959. The 27 year-old father of four is also a former college golfer, and still maintains a mid-single-digit handicap due in part to his large presence off the tee, routinely swatting drives at or beyond the 300-yard mark.

"I started playing golf as a teenager, and even 10 or 12 years ago we didn't have the caliber of courses we have today," begins Brandon, who serves as CFO of the family enterprise behind the scenes, and takes the stage as a rhythm guitarist and vocalist come show-time. "There were some nice courses around like Pointe Royale and Thousand Hills, but certainly not compared to what we have available now. Each of our destination courses has its own unique personality. I think Branson Creek fits my eye the best, with very generous fairways, and generally flatter terrain. Payne Stewart Golf Club is unique, in that every hole has a plaque talking about a different episode or moment in Payne's career. You're up in the hills, the views are spectacular, the scenery is wonderful, but you are lucky to find a flat lie anywhere on the golf course! Ball-striking is at a premium."

Mabe feels the area, with its built-in tourist component, is ripe for a pro event, if not the PGA Tour, then at least the Nationwide or Champions Tour. "It's a great question, as to why we don't get more golf traffic around here. Many visitors are retirees who love golf, so it's a perfect fit. I think it's a matter of all of our shows, the theme parks and the lakes around here that takes precedence for them. All of those attributes are pushed more and publicized more than the golf, so I bet that many visitors just don't know about our excellent golf. I hope it changes though, because our golf courses showcase the area at its best, with the hills, valleys and beautiful scenery that make Branson such a great place to visit. I think the beauty and splendor of our area comes alive in our golf courses."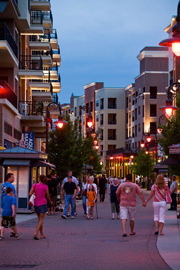 Night Life at Branson
About Branson, Missouri

"Silver Dollar City" is celebrating 50 years of family fun with events throughout the year and a new $7 million ride, "Tom and Huck's RiverBlast." The Shepherd of the Hills Outdoor Drama is also celebrating its 50th anniversary this year.

Branson is accessed via low-cost flights at the new Branson Airport (served by AirTran and Frontier airlines) and Springfield-Branson National Airport.

For assistance planning a Branson golf vacation, call 800/296-0463 or visit www.explorebranson.com.
Joel Zuckerman, called "One of the Southeast's most respected and sought-after golf writers" by Golfer's Guide Magazine, is an award-winning travel writer based in Savannah, Ga., and Park City, Utah. He has written five books, including the epic "Pete Dye Golf Courses" in 2008. Joel's course reviews, player profiles, essays and features have appeared in more that 100 publications internationally, including Sports Illustrated, Golf, Continental Magazine, Travel & Leisure Golf, Sky Magazine, Golf Connoisseur, Golfweek, Estates West, Millionaire and Golf International. For more of Joel, visit www.vagabondgolfer.com.