Brauer's The Wilderness Debuts at 10th Best Casino Course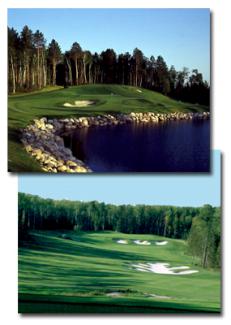 The Wilderness at Fortune Bay in Tower, Minn., has reaped another honor, being rated 10th among the Best 21 Casino Courses in the January 5-19 edition of Golfweek's SuperNEWS.

The Jeff Brauer-designed Wilderness had already achieved the trifecta of being named Best New Upscale Public Course for 2005 by Golf Digest, among the Top 10 Best New Places to Play by Golf Magazine and as one of the 10 Best New Public/Resort Courses in America by Travel & Leisure Golf. It also recently was named Best Course You Can Play in 2007 for Minnesota by Golfweek.

"For those who like their casino golf more rugged and less glitzy, there's the Iron Range region of upper Minnesota," wrote Architectural Editor Brad Klein. "There, the star is affixed to the Jeff Brauer-designed Wilderness at Fortune Bay, ranked No. 10 because of the thoroughly enjoyable way its holes utilize the vast open spaces, lakefront and rolling pinelands of the North Country."

"We are delighted with the ranking," said Kevin Leecy, chair of the Bois Forte Band of Chippewa, owner and operator of Fortune Bay. "The Wilderness is one more great reason for people to come and stay for a business conference or vacation time in northeastern Minnesota."

"We're thrilled," said General Manager and Director of Golf Joe Wisocki of KemperSports, speaking of the ranking. "The product speaks for itself. We have a great golf course and the Boise Forte Tribe has done a wonderful job expanding the casino and resort to make it a great combination. That includes adding 60 rooms to be opened June 1."
Last year was The Wilderness's third season and Wisocki said play has increased every year, including 11 percent in 2006, with between 60 and 70 percent repeat business.
Asked what golfers like the most, Wisocki said, "It's a bundle package. They love the playability and the course conditions and aesthetics. They don't just say, 'Wow! The views are so great!' It's playability for all skill levels, and they are tickled with the atmosphere and customer service."
In designing The Wilderness for Fortune Bay Resort Casino, Brauer weaved the layout through rugged, undulating topography, taking visual and strategic advantage of a bevy of granite outcroppings, towering pines and beautiful Lake Vermilion.
Only 25 miles away, in Biwabik, Minn., Brauer designed two other acclaimed courses – The Legend at Giants ridge and The Quarry at Giants Ridge. Golf Digest also named The Quarry as Best New Upscale Public Course for 2004.
Besides the golf course and casino, Fortune Bay features a 115-room hotel that overlooks Lake Vermilion and part of the golf course. Also on hand are a conference center, full-service marina, RV park, Cultural Museum and Heritage Center. For more information, call 800/992-4680, or visit www.thewildernessgolf.com.