Brauer's Work in Iowa Offers Great Golf on a Budget
By: Steve Habel
Iowans love great value in their golf, so when the developers were considering the building or expansion of course sites east of Council Bluffs and in West Des Moines, a familiar name - architect Jeffrey D. Brauer - quickly became the center of discussion.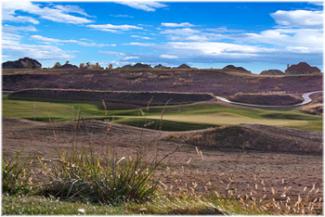 No. 6 Green at Bent Tree GC
Brauer, whose firm, GolfScapes, Inc., is based in Arlington, Texas, has built great golf courses for economical commissions across the nation. For examples, the Iowa developers only needed to look west to Nebraska at Highlands Golf Club in Lincoln and Woodland Hills in Eagle - both layouts that made the most of available terrain while providing challenging, fair play.

At the turn of the 21st century Brauer got the nod to design Bent Tree Golf Club in Council Bluffs (just 10 minutes east of Omaha) and Legacy Golf Club in Norwalk near the Des Moines airport. The two courses quickly became favorites as fun and well-priced venues.

"Both Bent Tree and the Legacy were built 'in-house' and were homemade," Brauer said. "To the connoisseur of golf design, some details are a little lacking in both tracks. They have, I believe, improved through the years. They are courses that everyone can play - and play relatively inexpensively, and that's what the owners wanted in both cases."

Brauer said Bent Tree (built in 2000) and Legacy (2002) were built for about $1.5 million each, with a total cost of about $2.5 million for each once everything was taken into consideration.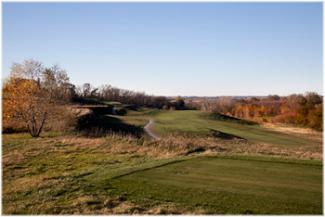 The 14th Hole at Bent Tree GC
Bent Tree Makes Use of Rolling Site

The hills east of Council Bluff, with land that undulates in a manner atypical for the Hawkeye State, provided Brauer with an interesting palate for Bent Tree. Thanks to its elevation changes and ever-present wind, the course is one of the toughest in the Omaha Metro area.

Bent Tree is actually the second life for its property. Part of the site was once a homemade golf course called Field of Greens, which had 18 holes squeezed onto land meant for just nine.

Set just four miles east of Council Bluffs, Bent Tree is nestled among southwest Iowa's Loess Hills region. It crosses 200 acres of heaving terrain that allowed Brauer to design holes with nearly 100 feet of fall from tee to fairway. As a sign of great golf design, Brauer routed the course with the wind in mind but added mounding that often disguises the direction of the breezes.

"It took me six seconds to decide we could build a golf course there," Brauer said. "It is very dramatic rolling farmland, with a number of terraces and wonderful native fescues and prairie grasses. It struck me immediately as a Scottish dunes-type course, so it is designed to play like Scottish links. We like to keep it dry and fast-running."

There's nothing artificial in Bent Tree's concept or design. Its topography and striking grasses and flowers strike a perfect balance. Working with the loess soil - a wind-blown silt that Brauer said "moves like butter" - he carved the first and 10th holes into a steep hillside, giving the 10th in particular that "Ballybunionesque feeling of enclosure."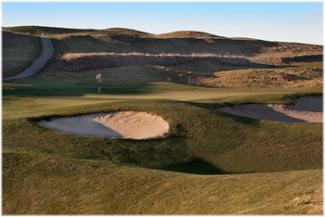 Bent Tree's 16th Green
In keeping with the Scottish feel, Brauer tried some "new-old concepts. Old concepts, but new for me - such as bunkers in the middle of the fourth fairway, to force a choice off the tee," he noted.

Playing 7,022 yards from its back set of five tees, par-72 Bent Tree carries a rating of 74.3 and a Slope of 135. The course plays a bit shorter than the yardages on the card because of its hard-and-fast conditions. A number of greens, however, are elevated and require shots to carry nearly the entire distance to the hole. The tees, fairways and greens are all bentgrass.

Bent Tree's terraces are an overriding theme. They don't interfere with play but add aesthetics. Despite its newness the course looks as though it has existed for decades. Most other golf facilities involve fairway-side housing, but the residences here don't detract from golf, which is compelling

There are plenty of opportunities to hit less than driver and still reach the greens in regulation. For example, No. 2 is a 375-yard, downhill par-4 with water protecting the putting surface. A 200- to 225-yard tee shot leaves a short- to mid-iron in. Several par-5s, like Nos. 4 (524 yards) and 9 (542 yards), are reachable with the right wind. The par-5s on the back, however (carded at 558, and 542 yards, respectively), are three-shot holes that work their way around hazards, bunkers, out-of-bounds and other nasty stuff.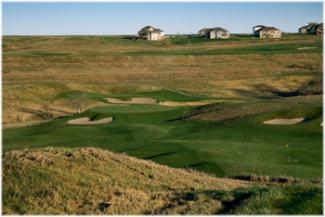 Bent Tree GC's No. 17
"We moved very little earth; in fact, the first and 10th holes account for about half of all earth moved," Brauer said. "When we routed Bent Tree, all the holes fit pretty well, except that it required No. 1 and 10 to go straight up a hill. By sinking the greens 25 feet or so I thought we were able to create some interest on those holes."

The best stretch is holes 13-16, which involve a par-3 (13) where the green is tough to hit and punitive if you don't; a long (440-yard) uphill and then uphill again par-4 (14); a downhill par-5 that finishes past the course's namesake "bent tree" at an elevated green (15); and the reachable (340-yard) par-4 16th, with terraced borders and abundant bunkering.

Bent Tree Golf Club is coveted for its ever-changing challenge and the need to use every club in the bag. It's also enjoyed by everyday golfers for its ample openness. This player-friendly combination gives golfers the opportunity to both score and enjoy the outing.

For more info, check out www.benttreegolfcb.com.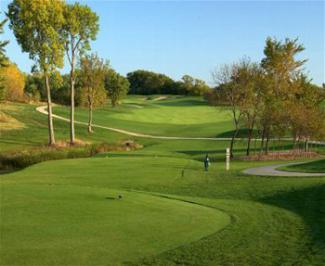 Legacy GC's 8th Hole
Legacy also Departs from the Norm

Many people think Iowa is as flat as a pancake and nothing but cornfields. But as evidenced at Bent Tree and at Brauer's Legacy Golf Club in the Des Moines' suburb of Norwalk, the state actually has great terrain for golf.

Legacy was established in 2002 by the Matt Manning family, which still runs the facility and the course, which is the centerpiece of a nice community a few miles from the Des Moines airport.

"At the Legacy, we started with a nice piece of rolling property," Brauer said. "In some instances, the hole corridors were already set, but I was able to make some tweaks to the layout and get a little more out of what we had."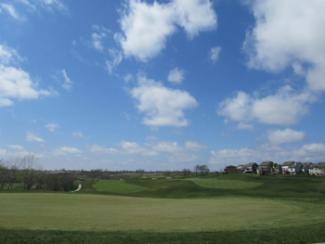 Looking Back Down Legacy GC's 18th
Like Bent Tree, Legacy is often buffeted by wind, but the closer proximity of homes to the course mitigates that affect to some degree. Playing to a par- 72 (in a 35-37 arrangement) Legacy is carded at 7,199 yards from is back set of four tees; the tips carry a rating of 74.7 and a 137 Slope. Putting surfaces here are sized to accept approaches and not too severe.

The par-35 outward half features six par-4s that demands a variety of shots, as many bunkers and water hazards enter play on five holes. The second, a 434-yard, downhill par-4, has a spectacular approach over a five-acre lake. The fifth (at 214 yards) and the seventh (167 yards) are a pair of one-shotters that put a premium on accuracy and putting.

The 517-yard par-5 sixth tempts some to go for the green in two and it is imminently reachable if the drive is as long as - but doesn't find - the huge bunker left of the landing area. The front side ends with two monster par-4s: the 469-yard eighth is uphill and lined by trees and bunkers, while the 466-yard ninth winds downhill along a fairway that concludes at about 300 yards from the tee.

The par-37 back nine is a stern test, with water hazards on every hole. It begins with two risk-reward par-5s (the 581-yard 10th and the 525-yard 11th). The two-shotters on the home half require pinpoint tee shots through the hilliest part of the course. Big hitters may take a chance at driving the par-4 13th for a chance at an eagle, but the putting surface is one of Legacy's toughest to navigate.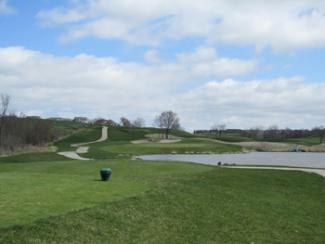 No. 17 at Legacy GC
Swirling winds over a large lake cause consternation on the tee at the two par-3s, the 189-yard 14th and 210-yard 17th. No. 17 provides a little more room for error, but if the pin location is set back-right and near the water, all bets are off.

The par-5 closer, a 611-yard monster from the tips, ends at a large amphitheater-style green that's 50 yards deep.

"I did some things here - like the back-to-back par-5s at 10 and 11 that I don't normally do," Brauer said. "The cross-bunkers on the fairway at 12 are also unusual for me, but I felt they were right for the occasion. The 18th, fourth and fifth holes stand out as personal favorites at the Legacy - it's a course I am very proud of."

For more information on The Legacy Golf Club, see www.thelegacygolfclub.com.
Steve Habel is one of Cybergolf's world correspondents, contributing news stories, features, equipment and book reviews and personality profiles from his base in Central Texas. He is also works as a contributing editor for Horns Illustrated magazine, a publication focusing on University of Texas sports, covers the Longhorns for CBS Sports, is regional editor for Texas Golfer magazine and files stories for Golf Oklahoma magazine, Texas Links magazines and Golfers Guide. Habel's main blog (www.shotoverthegreen.blogspot.com) features news on golf and the Longhorns, and another (www.checkinginandplayingthrough.blogspot.com)chronicles his many travels, on which he has played more than 350 golf courses since 2009. Habel is a member of the Golf Writers Association of America and the Texas Golf Writers Association.