Briggs Ranch: Fazio Magic in the Alamo City
By: Steve Habel
When Briggs Ranch Golf Club was conceived back at the turn of the 21st century, its developers wanted to make sure the first private facility built in almost 25 years in greater San Antonio would be unique, challenging and unforgettable.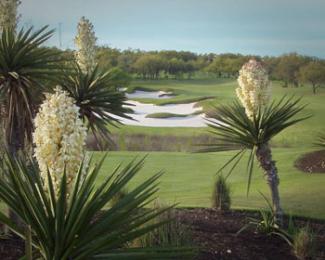 Native Plants Enhance Experience at Briggs Ranch
Thanks to a wonderful piece of ground, the handiwork of golf architect Tom Fazio and the use of costly sodded turf, they succeeded on all counts. In just nine years, Briggs Ranch has established itself as one of the top courses in the Lone Star State and among the nation's best tracks in a residential development.

Briggs Ranch is located southwest of the Alamo City - a mere 20 minutes from the popular Riverwalk - on rolling terrain where the Texas Hill Country and Coastal Plains begin to merge. The site is void of cedar trees, and instead is dotted with stands of large live oak, persimmon and mountain laurel.

Fazio optimized the natural terrain, creating a layout that seems to be in continuous motion as it takes advantage of the slopes and washes that run through the 2,200-acre property. Briggs Ranch features large, undulating bentgrass greens - rare for South Texas, and Fazio's bunkering is a prominent feature of the 7,247-yard, par-72 test.
Despite being so close to the second-largest city in Texas, Briggs Ranch is surprisingly devoid of urban sprawl. Even the massive homes seen from the course are unobtrusive thanks to considerable setbacks and the way they blend into - and even accentuate - the golf.

Fazio was given free rein here, and he was drawn to the site by its beauty and the topographic variety. "We were shooting for that 'wow' factor," Fazio said. "We want golfers to be able to come here and say 'I've never seen anything like this before.' "

Of all the most enduring aspects of Briggs Ranch, the best may be its playing surface. Fazio and the course's developers made a wise decision when they opted to sod - that's right, sod - the entire course with Zeon Zoyzia, a turf that feels like your ball is perpetually on a tee. The cost for this extra step is around $15,000 per acre; the course occupies 100 acres!

"The lies offered by Zeon to date have no comparison," said Carter Speer, Briggs Ranch's president. "The downside to Zeon fairways comes when you have to be a guest or play in a tournament elsewhere and are relegated to 419 or some other variety of Bermuda grass."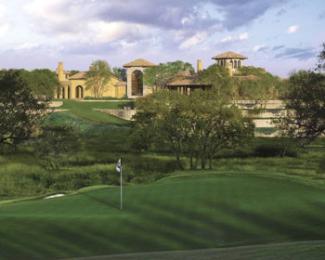 Briggs Ranch Golf Club
How impressive is Briggs Ranch? The course has been chosen by the United States Golf Association as the site of the 2012 U.S. Women's Mid-Amateur. This will be the first national championship at the club, which has hosted sectional qualifying for the U.S. Senior Amateur and U.S. Junior Amateur, and local qualifying for the U.S. Open.

Briggs Ranch also hosted the 2010 Texas State Team Championship and the 2008 Texas Grand Slam, which featured Mark Brooks, Justin Leonard, Tom Kite and Ben Crenshaw. The course has also held the pro-am for the Champions Tour's AT&T Championship.

We were lucky enough to tee it up at Briggs Ranch on an Indian summer day in mid-November. It was an experience that won't soon be forgotten.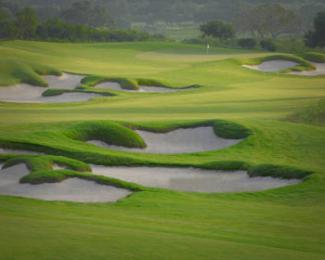 A Bunker Complex at Briggs Ranch
Bring all Your Shots Here

Briggs Ranch is not excessively long or punitive, with a rating of 74.3 and a relatively modest slope of 131 from the tips. But the roll of the land, the ever-present Texas wind, Fazio's cunningly placed bunkers and elevated putting surfaces with demanding roll-off areas require accuracy and length off the tee, and precise approach shots.

There are plenty of gentle doglegs in both directions, always with bunkers awaiting wayward shots or tempting you to take a more aggressive line.

Briggs Ranch has four par-4s that extend 440 yards or farther - including the hit-you-in-the-mouth-right-at-the outset, 455-yard opener, with each extending in a different direction. The four par-3s vary in length from the 198-yard eighth to the 212-yard third;all must be played over perilous areas to tilted, bunker-impinged greens.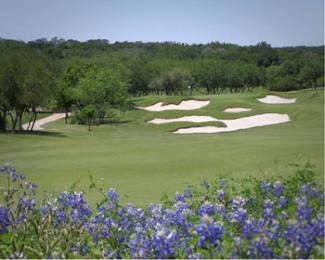 10th Green at Briggs Ranch
The par-5 fifth, a downhill, uphill dogleg-right of 510 yards, is reachable with a pair of great shots, but the green surrounds are tricky, so beware. If there's a backing wind, you can even try to get home in two on the 562-yard par-5 seventh; just steer clear of the huge, deep bunker right-front of the green. Both the par-5s on the back nine - the 595-yard 11th and the 603-yard 13th - are true three-shotters.

Each nine has short par-4s that are guarded well by sand. On the 345-yard fourth, the hole heads uphill and winds between bunkers, while on the 314-yard 14th, a drive that moves right to left must avoid sand along the left of the entire landing area.
Kudos Aplenty

The discriminating golfer always appreciates the old-school idea of a golf-only facility. Briggs Ranch is one of those and it's been lauded ever since opening in 2001 on the day after Christmas. It was named the fourth-ranked "Best New Private Course of 2002" by Golf Digest, placed No. 38 among "Golfweek's Top 100 Best Modern Courses" of 2007, and recently earned notice as the 28th "Best Residential Course in the United States" in Golfweek's 2011 listing.

Suffice to say, this is one course you'll want to pull any strings within reach to play. Adding to the allure is the clubhouse, which contains a giant 40-foot antique bar imported from "a famous South Texas ranch."

After all is said and done, the best thing about Briggs Ranch is that the course is fun while asking for your best. That's a complement that most courses should seek, and designers and developers would be wise to emulate.

For additional information, visit http://www.briggsranchrealty.com.
Steve Habel is one of Cybergolf's national correspondents, contributing news stories, features, equipment and book reviews and personality profiles from his base in Central Texas. He is also the managing editor for Texas CEO Magazine and works as a contributing editor for Horns Illustrated magazine, a publication focusing on University of Texas sports. He also writes a blog (www.shotoverthegreen.blogspot.com), which features news on golf and the Longhorns, and another (www.checkinginandplayingthrough.blogspot.com) on his many travels, which took him across the nation and to 105 different golf course in 2009. Habel is a member of the Golf Writers Association of America and the Texas Golf Writers Association.