Bringing Sexy Golfers Back . . .That's Hot!
By: Elisa Gaudet
Tom Brady & Emmitt Smith
How many times have you heard that golf is for boring old men? The demographic has shifted and golf is not just for your grandfather anymore. You may be surprised to find just who's hitting the links. Many of the tabloid and celebrity magazines have annual issues for the "sexiest man alive" or the "25 most eligible bachelors."
In honor of all the hunks and hot men who golf I've compiled our own "On the Lip" tribute to the "Marvelous Men who Golf." There are numerous young, good-looking, successful and talented men who golf. Topping our list is Tom Brady, quarterback for the New England Patriots, who grew up golfing in San Francisco and continues to hit the links when he's not playing football or spending time with his Victoria Secrets super model girlfriend.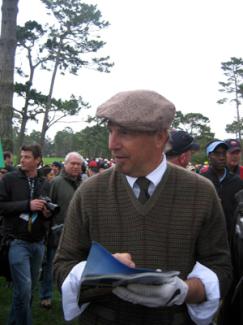 Kevin Costner
Mark Wahlberg, with a 7 handicap, is one of the few celebrities at Wilshire Country Club. Actor Matthew McConaghey, dubbed this year's No. 1 "Sexy and Single-Hottest Bachelor" by People Magazine, carries an 8 handicap. Mr. Sexy himself, Justin Timberlake is an avid golfer who plays in the Pebble Beach Pro Am along with Andy Garcia, a 9 handicap who won the AT&T Pebble Beach with Paul Stankowski in 1997.
Our favorite Dolphin, Jason Taylor, hosts his own celebrity golf tournament in Miami. Although he may not be the youngest, Kevin Costner is definitely one of the most stylish on the course and, with a 10.8 handicap, proves he's more than good looks. With a 25 handicap this player has other priorities, but George Clooney manages to slip a bit of golf into his schedule now and again.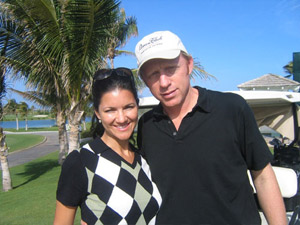 Elisa & Boris Becker
Winner of five gold, three silver and two bronze medals in the Olympics, swimmer Gary Hall Jr. has been seen hitting it long at the Miami Beach Golf Course. Emmitt Smith the three-time Super Bowl champion and the NFL's all-time leading rusher - and, don't forget, winner of "Dancing with the Stars," is an avid golfer who's determined to lower his handicap. For NASCAR fans, Carl Edwards is also a golfer, Poker players beware you may not want to bet against the single-digit handicapper, Phil Gordon. Surfers Kelly Slater, one of the best surfers of our generation, is intelligent and handsome and a very nice guy. Slater learned to play golf when his financial advisor suggested he give it a try. Ever since then, he says "I'm hooked." Cool sports super studs who golf include Wayne Gretzky, Boris Becker, Alex Rodriguez, Michael Jordan and John McEnroe.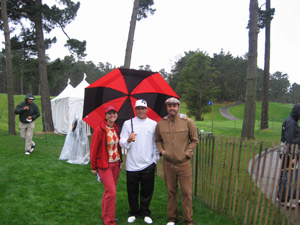 Elisa, Kelly Slater & Friend
There are numerous international celebrities who golf, including Miguel Luis, Bryan Lara, Edoardo Dalle Crode, Jorge Campos and Hugh Grant. There's also a list of fabulous golfing women, including Catherine Zeta Jones, Sharon Stone and Nicole Kidman.
Although she was not available for comment at the time of this article, even Paris Hilton would agree "golf is hot."
Elisa Gaudet brings a wealth of entertainment and golf experience to Cybergolf. Elisa has spent the past several years in the golf industry in the U.S., Latin America and Spain. She worked for the PGA Tour and the Tour de las Americas before founding Executive Golf International, a golf marketing company that works with clients to develop strategies using golf as the medium. Often referred to as the Maria Bartiromo (a business analyst for CNBC) of golf, Elisa says: "Golf, as a marketing tool, has been around for years. It's amazing how many new ways companies can align their brand with the golf market to reach their target audience. Our goal is to create alliances and establish cross-border relations." Elisa also worked in the entertainment industry for over 10 years, including five in Los Angeles as a model and actress. She can be seen at many celebrity golf events and often gets the inside scoop from PGA Tour players. For more information about Elisa, visit her websites at www.onthelip.com or Executive Golf International www.execgolfintl.com.