'Bromance' Brewing at Ryder Cup
By: Elisa Gaudet
Majestic Medinah is playing host to this year's Ryder Cup and the atmosphere is electric. It is truly difficult to simply describe the feeling and energy here. It's as if the following events collided into each other to create one event. Imagine if the 4th of July, the Olympics, the Super Bowl, a major soccer match in Europe and Halloween all meeting at a golf course.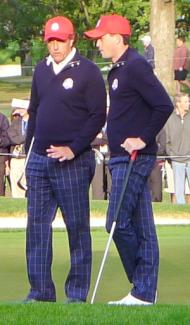 Phil Keegan
The stands are filled with passionate fans waving flags, chanting and cheering at such a high pitch you can almost feel the ground shaking. Throughout the year these same players compete against each other week in and week out. This week they're joined together by birthplace and divided by continent.

This is where it begins to feel like the Super Bowl or a European Soccer match. Two teams have a fierce rivalry and passionate fans. The players from each team are all wearing the same uniform and the display of patriotism by the fans is overwhelming, giving the feeling of an Olympics. Normally, golf is an individual sport but this week it is a team event. Symbolic of this are two major participants, Michael Jordan and Michael Phelps. Widely regarded as two of the greatest athletes in the world, Phelps excelled in an individual sport while Jordan in basketball. This week the golfers need to combine the best of both.

The most interesting part perhaps is the brewing 'bromances.' While this idea is not new, it's said that Aristotle's description of friendship is often taken to be the prototype of a 'bromance.' It is new for golf. Just as the great pairs that came before them: Ben Affleck and Matt Damon, George Clooney and Brad Pitt, Alfred Tennyson and Arthur Hallam; now Phil Mickelson and Keegan Bradley share a bond. The same look can be said of Phil Mickelson and Keegan Bradley. Their relationship in the Ryder Cup is a shared bond involving love of country and fierce competitiveness.

Like any great couple their pairing says "I have your back." We first saw that when the pairings were announced and then Friday at Medinah, the first day of the 2012 Ryder Cup. Their signs of affection are fist pumps and fist bumps. Phil smacks Bradley on the butt and gives him a few nudges to get him out of an intense state after a shot. After Bradley holes out on No. 15 for the win in the morning foursomes, there are more chest bumps and fist pumps.

Davis Love III, the Americans' captain, said it best in his opening speech: "I hope these Ryder Cup matches will encourage people around the world to try our great game, just as my father encouraged me to try it. And, in that vein, we should remember that these matches are not life and death. Golf has to be played with a certain spirit of graciousness or it's not golf at all. Captain Olazábal, you have embodied true class in the game all your golfing life. You have improved our great game, in your Masters victories and all your other wins, and in your spirited Ryder Cup play. As we Americans square off against your distinguished squad of Europeans, let's remember what we're doing here. In far too many ways, we are a world in turmoil. There are millions who live in poverty, who know hunger, who wake up to war. Nobody should confuse these matches with any sort of battle - except an athletic one. We start these matches on a note of friendship and we will end them the same way. In this world, we need all the friends we can find. These matches are about people coming together in the name of honest, fair and intense competition. That's why they are so loved."

This week we are acutely aware of just how fortunate we are no matter our birthplace. The sentiment we feel is a direct reflection of the players understanding they are fortunate to play the game they love while representing their country. The Ryder Cup is perhaps the finest example of feel-good golf and why we love the game, the competition and our country.
Elisa Gaudet brings a wealth of entertainment and golf experience to Cybergolf. Elisa has spent the past several years in the golf industry in the U.S., Latin America and Spain. She worked for the PGA Tour and the Tour de las Americas before founding Executive Golf International, a golf marketing company that works with clients to develop strategies using golf as the medium. Often referred to as the Maria Bartiromo (a business analyst for CNBC) of golf, Elisa says: "Golf, as a marketing tool, has been around for years. It's amazing how many new ways companies can align their brand with the golf market to reach their target audience. Our goal is to create alliances and establish cross-border relations." Elisa also worked in the entertainment industry for over 10 years, including five in Los Angeles as a model and actress. She can be seen at many celebrity golf events and often gets the inside scoop from PGA Tour players. In 2011, Elisa published her first book, "Two Good Rounds" (Skyhorse Publishing). Her story for Cybergolf, "Golf a Romantic Affair at Cabin Bluff," won the top prize in ING's 2012 Travel Writing category. For more information about Elisa, visit her websites at www.onthelip.com or Executive Golf International www.execgolfintl.com.