Bubba beyond The Barclays
By: Nancy Berkley
Bubba Watson's driver is custom-made by Ping with both a pink shaft and a bright pink club head. He's using that driver in this week's Barclays - the first tournament in the FedEx Cup Playoffs - at Bethpage Black in New York.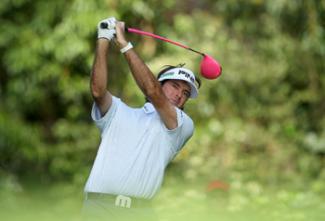 Bubba Hitting his Pink Driver
I also use one of the Bubba-pink drivers; it's among the 5,000 special-edition drivers made by Ping after Watson won the 2012 Masters. The manufacturer pledged $50 to Bubba's campaign, "Bubba and Friends Drive to a Million," for each one of the 5,000 clubs sold.

I spoke with Pete Samuels, Ping's Director of Communications, to learn a little more about Watson, his charity and the special-edition club. I was not surprised to learn that all 5,000 of them were spoken for or sold a week after the April press release. (I was one of the lucky purchasers.) The result is that $250,000 was added to Bubba's charity.

Bubba's driver and mine are far from the same. His custom-made club has a 7½-degree loft. Mine has a 12-degree loft, which helps me get the ball in the air more quickly. Bubba's has a very stiff shaft; mine is very light and flexible.

The grip on my pink driver is a standard grip used on the Ping women's G20 line. Bubba's is larger than those used on men's Ping drivers. He puts tape on the shaft before the grip, giving him a slightly larger grip than normal. According to Samuels that provides Bubba with the "feel" he wants. (Hmmm . . . maybe I should try that.)
In spite of differences in our golf clubs and skills, Bubba and I have a few other things in common. We share the sadness of losing a parent to cancer. I lost my mother to breast cancer many years ago; Bubba lost his dad to lung cancer in October 2010.

In spite of - or perhaps because of - our losses, I think we both enjoy sharing the joy and riches in our lives. Every time I pull that pink Ping driver out of my bag, I'm not only hoping to make a good drive but am reminded about how one person can make a difference.

A couple of days ago Watson was interviewed in a pre-tournament press conference about his chances in The Barclays. Quite a bit of the interview was devoted to the time Bubba spent during this week's practice days with one of the Wounded Warriors (U.S. veterans who suffered disabilities), with which Ping has been an early supporter (for more information, visit http://www.woundedwarriorproject.org/).
Without lots of PR or hoopla, the company provides wounded veterans who have completed their rehabilitation programs, under the supervision of Disabled Sports America, a custom-fit set of clubs and golf lessons from a PGA professional. The clubs have the Ping logo, the name of the veteran, and "Wounded War Veteran" embroidered on the bag. As Samuels confirmed, Ping's quiet efforts for disabled veterans are not about marketing, but about "giving back."

Another one of the questions posed to Bubba in The Barclays' interview was about his faith. Here's a portion of that Q&A.

Q. A lot of players have been winning who also have been open about their faith, and I wanted to know how you were progressing in your faith?

BUBBA WATSON: You know, being a Christian, it's hard, but that's not what's making me win. The Lord could care less if I win or lose. He matters how I play the game. Obviously a few years ago I was struggling with that. I was really angry on the golf course, and I've changed a lot, changed who I am as a person. But that's not what's making me a better player or whatever like that, because the Lord could care less how I'm playing, if I'm making cuts, if I'm missing cuts, could care less if I won the Masters or not. So that's not even part of the golf, that's just part of me as a human being, who I want to be off the golf course and what I want to be on the golf course, and then the wins are just lucky.
Bubba Watson believes in faith, religion AND luck. He recognizes that not everyone is lucky. According to Samuels, Watson and his management team decided about a year ago they wanted to raise a million dollars to give to those less fortunate.

Ping came aboard quickly. "Bubba Long in Pink" is a special program based on Bubba's drives, which average a whopping 315 yards. For every drive he hits in competition this year over 300 yards, he and Ping donate $300. Entering The Barclays he was four drives short of 300 300-yard drives, raising a total of $304,900 to date for his "Drive for a Million" charity pledge.

He expects to have four more 300-yard drives during The Barclays. That should be news! Bubba came into The Barclays in fifth place in the FedEx Cup standings. Whatever the outcome this week, Watson will still consider himself lucky. Good luck, Bubba.
For more information about his charitable efforts, visit www.bubbawatsonongolf.com.
Nancy Berkley, President of Berkley Golf Consulting, is an expert on women's golf and junior-girls golf. She is a frequent contributor to www.cybergolf.com/womensgolf. Her book, "Women Welcome Here! A Guide to Growing Women's Golf," published by the National Golf Foundation, is an industry reference on marketing golf to women and spotting trends within the industry. She offers information and advice about the golf industry on www.berkleygolfconsulting.com and is often quoted in national publications. She was a contributing editor of "Golf for Women" magazine and a founding advisor of "Golfer Girl Magazine." Her interviews with women in the golf industry now appear on www.golfergirlcareers.com. Nancy lives in Palm Beach Gardens, Fla., and is a graduate of the University of Minnesota, Harvard University and Rutgers Law School. After a business and legal career, she decided to write about the game she learned and loved as a teenager. She describes herself as a good bogey golfer with permanent potential.