Building a New Track: The Finished Product - Part 3
By: Jeff Shelley
The vagaries involved in designing and constructing a new golf course reared up their sometimes-ugly heads at Salish Cliffs Golf Club, a Gene Bates design developed by the Squaxin Island Tribe in Shelton, Wash., next to the tribe's Little Creek Casino in Mason County.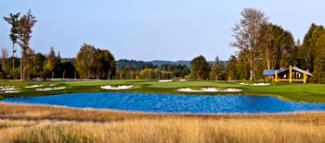 The combined 9th & 18th Greens at Salish Cliffs
(Photo by Brian Oar)
All the angst, fretting and waiting - similar to the emotions associated with childbirth - became things of the past after the course west of Seattle opened in September 2011, five years from the date of the first of three installments in this series. Seattle native Fred Couples was on hand for a gala grand opening September 17th. Couples, the 1992 Masters' champion and a longtime friend of Bates, served as the star attraction at the all-day, pay-to-play event for the public, hitting tee shots for the attendees during their rounds and hosting a clinic.


(The first two parts of this series can be found at http://www.cybergolf.com/golf_news/building_a_new_track_part_1 and http://www.cybergolf.com/golf_news/charting_a_new_course_west_of_seattle.)

In addition, Golfweek named Salish Cliffs as the nation's top course to open in 2011, and No. 8 overall, according to its 2011 "Best New Courses" ranking.

Unlike some new projects in today's economic environment, financing Salish Cliffs wasn't an issue as the Squaxin Tribe runs a profitable operation at the neighboring casino and hotel. After site prep began on the course on June 19, 2006, work was subsequently put on hold between 2008 and 2010 due to the sluggish economy and, more specifically, several other costly projects being undertaken by the tribe during that period.

"We were in the process of doing a lot of things at once and the economy wasn't very good," Ray Peters, Executive Director of the Squaxin Island Tribe, told me in August 2010. "We needed to build new infrastructure, a new water system and a second hotel tower. From a conservation standpoint, we're using a state-of-the-art wastewater treatment plant and a 25-million-gallon reservoir. We are not using full clean water to irrigate the course."

And the heavily wooded site, which features 600 feet of elevation change and dozens of steep declivities and towering heights, proved difficult. Though fully shaped and grassed, a portion of the par-72, 7,300-yard course was washed out by heavy rains this past winter, resulting in some reconstruction that postponed its opening until late summer 2011.

The tribe also wanted to be sure the turf was properly grown in, and they needed to install bridges, cart paths and entry roads along with completing work on the 8,000-square-foot, log-and-cedar clubhouse, which sits next to a deep ravine and features a wrap-around porch and mezzanine overlooking Nos. 9 and 18, which share a 15,000-square-foot green.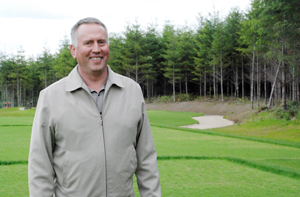 Ray Peters at Salish Cliffs.
An Eye for Detail

It's good that officials bided their time to ensure these details were properly attended to because Salish Cliffs is one of the best new courses to open in the Northwest over the past decade. Bates, who gained regional acclaim with the 2003 opening of the highly-touted Circling Raven Golf Club in Worley, Idaho - which got the attention of the Squaxin Island Tribe and led to his hire - has fashioned a great track on the Olympic Peninsula.

While Circling Raven occupies a whopping 620 acres, Salish Cliffs is more conventional, though each boasts well-segregated fairways. While that trait at Circling Raven has more to do with its vast footprint, the holes at Salish Cliffs derive their isolation by Bates' creation of tree-separated holes that stagger-step up, down and alongside the natural and machine-carved tiers on its hilly locale.

Located within a short drive from Olympia and about an hour-and-a-half from Seattle, Salish Cliffs boasts 16 holes encircled by dense forest, giving players a sense of solitude throughout the round. The 260-acre course - 130 acres of which are turfed - involves dense fairway-side vegetation, rock facings and wetlands, while at several points golfers can enjoy panoramic views of the Kamilche Valley (Squaxin for "Pleasant Valley").

All 18 holes and the driving range/practice facility feature T1 bentgrass turf, unusual for a Western Washington layout. Through various agronomic practices, the Jacklin T-1 creeping bent, which is "aggressive" against the invasion of the native poa annua, should be preserved as the playing surface well into the future. A welcome highlight of the course is the closely-mown, putt-able areas around most greens.

Salish Cliffs has five sets of tees; the black "tips" received a rating/Slope of 74.6/137 from the USGA, while the 5,313-yard forward tees come in with a 70.7 rating and 125 Slope.
"Watching Salish Cliffs Golf Club come to life is gratifying," Peters said in August 2011. "We knew this property had tremendous potential, and seeing it blossom the last few months has reinforced our belief that it will offer a unique playing experience."

All the fairways were plated with four inches of sand, which should assist drainage in an area that receives upwards of 60 inches of annual rainfall. When I played Salish Cliffs two weeks after the grand opening, some of the nascent fairways contained surface water, not uncommon for a new course that will need some seasoning for the drainage to sort itself out.

I was struck not only by the fun elements of the layout but the careful attention to detail: six miles of cart paths (wider than the industry standard and concrete), the wood-planked bridges, handsome cut-rock embankments around wetlands and creeks, classy on-course restroom, excellent signage and other accoutrements that go into a first-class golf course. This track was built properly and, in time, will only get better.

The "salmon-safe" layout features mid-sized greens averaging 6,900 square feet. During my round I found the putting surfaces fair and perfectly suitable for a clientele that will include conventioneers and guests at the nearby resort. I also like that the fairway and greenside bunkers aren't overly penal; average handicappers should be able to escape these low-lipped, white-sand traps.
Gene Bates at Salish Cliffs.
"(The tribe) wanted me to make it as good as Circling Raven," Bates said during my second visit in 2010. "I knew we had the foundation to make a good golf course, so all we had to do was take advantage of the site's opportunities."

And Bates did that at Salish Cliffs, which because of the distances between tees and greens and considerable elevation changes, requires a cart to circumnavigate.

Course Specifics

After opening with an ease-into-the-round par-5 of 532 yards and a drivable par-4 of 305 yards (all yardages here are from the tips), things get interesting at the third, a par-3 that extends a mind-boggling 291 yards from the way-back blocks. Though the distance is eased somewhat by its towering tee this hole - when ends at a huge green bunkered rear and left - is still a monster.

Another front-nine tester is the 405-yard par-4 fifth hole, a pretty left-bender bearing traps right and left at the turn before it ends at a raised green trapped right-front. The top-rated hole is the eighth, a 601-yard par-5 that curls leftward around a vast bunker. At about the 425-yard mark, the fairway bends further left around a trap to a smallish green bunkered left-front.

The ninth - a 409-yard par-4 - is a beautiful hole from the tee. But then it's time to get real and, from the more reasonable Players tees, which put the course at 6,312 yards, involves a 200-yard forced carry over scrub to find a fairway pinched both sides by bunkers. Water laps up close to the two traps along the left side of the ninth green, which is linked to the 18th by a slender neck.

Though this statement is probably arguable, I think Salish Cliff's back nine boasts a stronger set of holes, due mainly to more severe ups and downs than its predecessor and more variety. Particularly excellent is the 587-yard, par-5 10th, which contains a generally broad and straight fairway guarded by traps along the way.

The 445-yard 11th starts at a raised tee before descending past a crossing canyon. Another hazard bisects the fairway 160 yards from a wide green bunkered left-front and backed by a collection area. The highest point on the course - and best views - are found at the start of the 434-yard, par-4 12th, and the toughest hole at Salish Cliffs may very well be the 14th, a 437-yard doozy that requires a strong drive to have any chance for an approach to successfully arc over a wetlands fronting a wide-but-shallow green.

Looking up the 15th Fairway from Behind the Green
(Photo by Brian Oar)
The 15th took a lot of work - and deep pockets - to build. From an elevated tee, the drive must be long and powerful to span a 200-plus-yard forced carry over rock-fortified wetlands and a creek. Once past this juncture, the fairway rises steeply to a hill-cut green fronted by two cavernous bunkers. The second shot at 15 may be the hardest on the course.

The 16th is a sweeping dogleg-left of 455 yards, and the 18th is an excellent closer. This 537-yard par-5 begins with a tee shot through a tree chute. A bunker on the right is open for business for long hitters; another trap looms out along the left side of the fairway, which over its last leg bends rightward around the pond shared with No. 9 to a green guarded in front by a series of bunkers.

Peters is justifiably proud of Salish Cliffs, and he wants golfers to not get dissuaded from playing it by making the green fees too expensive. Unlike many new courses these days, no housing lots are planned around the course to offset development costs. Instead, the tribe will be relying on dedicated players from inside and outside the region to make the pilgrimage. "We're not going to have real estate on it," promises Peters.

The prime summertime weekend rates are $89, with that number significantly less in the off-season. "We want people to feel like they can access the course," Peters told me a year ago.

"It's a high-quality course but we're not going to charge as much as we can," he added. "It will be a regional facility and the choice for that group of golfers who want to get away not only to play a quality course but for our resort facilities. We really want local people to play, but also make it a regional choice for people to visit."

Five years after the first shovelful of dirt was turned, Peters and the Squaxin Island Tribe, with considerable help from the talented Bates, have winningly accomplished that mission.
For additional information, visit www.salish-cliffs.com.
Jeff Shelley is the editorial director of Cybergolf.