Bunker Remodel Completed at Mystical Golf's Wizard Course
Mystical Golf - the owner and operator of three 18-hole layouts in Myrtle Beach, S.C. - has enhanced the "Scottish feel" of its Wizard course by adding St. Andrews-style sod facing to five greenside bunkers and rebuilding 20 fairway hazards into pot bunkers.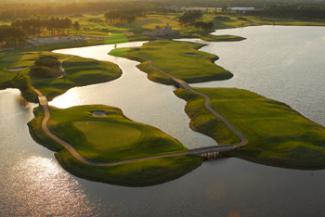 The Wizard Course
The 6,721-yard layout is now even more reminiscent of the wind-swept courses in the U.K. In addition to the bunkering redesign, the par-72 course features heather-grassed mounds, rolling fairways and elevation changes. Stone bridges and a castle-style clubhouse complete the facility's "Old World" ambience.

Mystical Golf continues to invest in improved maintenance practices and upgrades at its three diverse 18s. The company adopts a costly "rye program" of over-seeding during the winter and early spring on its other two courses, the Witch and Man-O-War, insuring verdant fairways year-round.

This attention to detail has led to regular accolades. The Witch was named in Golf Magazine as its "Best Bargain" in Myrtle Beach. Golf also called the 15th hole at Man-O-War, a par-3 of 173 yards, one of its five "Most Memorable Island Greens" in the game. All three courses are rated from 4 to 4½ stars by Golf Digest.
"We'll invest whatever it takes to provide the finest playing experience possible for our guests, and superior course conditioning is our calling card," said Mystical Golf's president and CEO, Claude Pardue. "Our primary goal is to exceed expectations and provide the best golf value in the U.S. bar none."

Mystical Golf offers numerous affordable stay-and-play packages with accommodations at its golf villas. For additional information, visit www.mysticalgolf.com or call 843/282-2977.