Butter Brook Opens Second Nine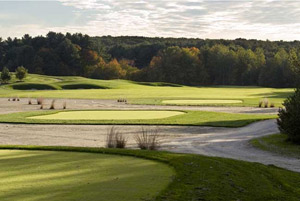 Strategy, playability and a wee nip of The Old Course permeate the new nine here at Butter Brook Golf Club in Westford, Mass. The new holes debuted over Memorial Day weekend.
A design collaboration between Mark Mungeam and Tim Gerrish, the back nine at Butter Brook - particularly holes 12 through 16, which play through a rehabilitated sand and gravel pit - provide a delightful contrast to the rolling acres of wooded terrain that comprise the front nine on this already popular layout in the northwest suburbs of Boston.
The full 18 at semiprivate Butter Brook (which also christened a new bentgrass practice facility over the holiday weekend) now measures a sturdy 6,702-yards from the back tees, and plays to a par of 72.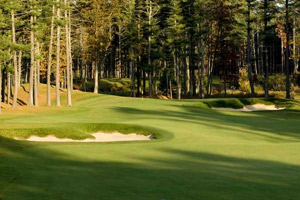 Owners Ed and Betty Kennedy (along with their son, head superintendent Edward Kennedy) have, for the past three years, fielded a steady stream of golfers eager to play and re-play Mungeam's initial nine-hole offering. Indeed, Butter Brook GC has developed something of a cult following. But the Kennedys have fielded singularly rave reviews from those who've had the good fortune to experience holes 10 through 18.
"Folks who've played the new nine have been extremely pleased with it - some prefer it to the original nine," Ed Kennedy reports. "I can't choose between them; it's like trying to choose a favorite son or daughter. But we are thrilled that the new nine is of equal quality while, in many ways, providing a completely different character and style. It's a great mix."
Any discussion of the new holes quickly turns to the par-4 13th. Located in the open stretch of reclaimed gravel pit and former farmland that encompasses holes 12 through 16, the 13th is visually striking because of the two barns tucked along its right side. Much like the 17th hole at St. Andrews, where the advised line is a blind tee shot over the "Black Sheds" (with a touch of a draw), the best driving choice at Butter Brook's 321-yard 13th is directly over one of the two barns.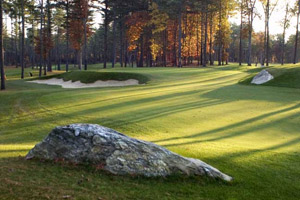 "It's a bit counterintuitive; it's tough to make yourself take that line - just as it is at St. Andrews," Mungeam says. "But the best play is directly over the barn. That makes it the fun hole it is. It was controversial, frankly, whether we should leave the barns. But part of our philosophy as a firm is to work with the character of the land. The strategy should fit the property, and those structures are key parts of the property."
"The carry is fairly easy from the regular tees but a challenge from the back," adds Gerrish, an associate architect with Mungeam's firm, Uxbridge, Massachusetts-based Mungeam Cornish Golf Design. "For good measure, a bunker guards the front of the 13th green, similar to the Road Hole bunker. It's an homage and a singular golf hole, all in one."
Kennedy was involved with much of the rough construction prior to the arrival of course-builder Agri-Scape Golf Course Construction; the owner takes particular pride in holes 12 through 16. "We hauled 500,000 cubic yards of fill and another 100,000 cubic yards of topsoil into that area," he recalls. "I guess I appreciate the new nine a little more because some of that property had already been graveled out and was in fairly poor condition when we started. You'd never know it to look at it today."
Working with Kennedy and Agri-Scape, the architectural team at Mungeam Cornish Golf Design fashioned holes 12 through 16 into an area of sweeping vistas, sandy waste bunkers, swaying stands of transplanted poverty grass, and a scattering of pine trees. Mungeam predicts this mix will take on an increasingly natural look over time.

"The visual contrast between the fairway grass and the sand is already quite striking," he says. "And the waste areas aren't mere eye candy. They come into play on a very strategic and practical level."

Mungeam and Gerrish also believe the 10th and 17th holes will become favorites among regular players. The uphill drive from the back tees on the 383-yard 10th must carry a pair of deep cross-bunkers jutting into the left side of the fairway. An approach from the right side is open to run-ons, but subtle rolls and hollows in the front-right chipping area - and sharp drop-offs left and rear - complicate that sort of shot.

The drive from the 17th tee resembles that of a cape hole with the fairway set diagonally to the player, who must decide just how much of the wetlands along Butter Brook he or she wants to bite off. "The more you carry, the shorter the shot into the green," Mungeam says. "A stone wall lines the entire left side. The green sits on top of a mound with bunkers left and right. Golfers have to know their capabilities. It is a true risk-reward hole."

The two nines at Butter Brook are distinct, but there are several factors that bind them together into a cohesive 18-hole course. The site's huge white pines, for starters. They line most holes on the front and several on the new back side. Another theme running though all 18 holes is the old world feel, personified by the strategic, scraggly edged bunkering.

"The credit for that goes to Tim Gerrish, our associate designer in charge of this project," Mungeam says. "He gave the bunkers a very dramatic look with jagged edges, never a straight line. I've kidded Tim a lot about having to be drunk to paint such uneven lines, but I know it takes a keen eye to get it right. As they mature, these bunker edges look even better - less manicured and more vintage."

Mungeam knows vintage. He was the architect entrusted by the USGA to refurbish and prepare Olympia Fields CC for the 1997 U.S. Senior Open and the 2003 U.S. Open. His original designs, at venues like Owl's Nest Golf Club in Campton, New Hampshire, and the new Golf Club at Oxford Greens in Connecticut, fairly well ooze a classic design sensibility.

Butter Brook stands up well in this sort of company with its new holes, but with original holes like the 430-yard 6th, a gorgeous dogleg right with water to starboard and a massive bunker-strewn hillock to port. Challenge the sand and good drives kick off the backside of the hill into Position A. The putting surface here sits exactly at grade and curls like a giant bentgrass comma behind a deep greenside bunker at right. With the pin up, you can bounce one into birdie range. With the pin back, forget it.

Like many putting surfaces at Butter Brook, the 6th would look great in black and white - just the sort of simple-but-strategic, Willie Park Jr. greens Mungeam worked with at Olympia Fields, or the Donald Ross/Wayne Stiles beauties he restored at the Country Club Pittsfield. Meanwhile, the 7th at Butter Brook - a spectacular par-5 whose ample fairway winds its way past several bunkers before bending left around a menacing wetland to finish at a punchbowl green - recalls Seth Raynor.

In short, the two nines at Butter Brook offer up enough old world charm for 27 holes. "The existing nine is both a strategic challenge and a lot of fun to play," Mungeam concludes. "Those were our primary goals. The back nine had to be equally challenging and just as much fun. We're confident it is just that."

For more information or a tee time, call 978/692-6560 or visit www.butterbrookgc.com.