California Dreaming – When the PGA Tour Heads to Southern California, So Can You
By: George Fuller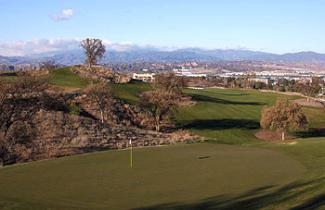 Like many kids who grew up in Los Angeles in the 1960s and 70s, I moved away. Northern California was my choice – Santa Cruz, Monterey, San Francisco, Half Moon Bay. The air was clean, the freeways less jammed, the people were real. There was a "there" there, to borrow a phrase from Charles Bukowski.

Now, after criss-crossing the globe on planes, trains and golf carts for 30 years, I'm back in the City of Angels. I've got to say, things are a little better. The freeways are still impossible, but the air is cleaner. The people? I like 'em. There's still a scent of fake on many of them, but by George, the kids are alright.
The public golf options have definitely improved since I last called Southern California home. (Not that I was square enough to golf in the '70s; I was too busy trying to be Jim Morrison.) Used to be that visitors to and residents of Southern California had precious slim pickings of quality golf courses. If you were in Los Angeles, you could play the Wilson or Harding courses at Griffith Park, and Rancho Park was not so busy in those days, but that was about it. Of course, members at Riviera, Los Angeles Country Club, Bel Air, Wilshire Country Club, or one of the other fine private clubs were set. But those looking for public golf – that was a different story.
Farther south, things were a little better. Torrey Pines in La Jolla, site of the PGA Tour's Buick Invitational, has been luring public golfers with its 36 spectacular holes since 1957. Now, with the opening of The Lodge at Torrey Pines, golfers have a good avenue of approach to those popular, scenic venues.
Another option, Los Verdes in Rancho Palos Verdes, opened in 1964. Always scenic and always affordable, Los Verdes is one of the best bargains for an ocean-view course in the U.S at $20-$25. Just 15 minutes from the Los Angeles International Airport, this facility boasts good turf conditions, mature trees, ocean views, and strategic shot values. The only rap is the long rounds. Because they put fivesomes out, rounds sometimes take six hours.
So today, while golf in Los Angeles itself is still problematic because land prices are through the roof and ample property for a golf course is scarce right in the city, there are many new courses from which to choose within an hour radius of the city.
The Pete Dye-designed Trump National Golf Club Los Angeles, formerly Ocean Trails Golf Club, is also in Rancho Palos Verdes. Perched above the Pacific coastline, this course was set to have its grand opening in July 1999. But fate intervened, and in June of that year – one month before opening – the oceanfront 18th hole fell to the rocks below in a landslide. It has played as a 15-hole course (two other holes were forced out of play because of the reconstruction) for the ensuing years, albeit the best 15-hole course in the world! Set to open in spring or early summer 2004, this tough, beautiful course will be one of the best in the state when fully open.
Also south of the city in Mission Viejo, Arroyo Trabuco is slated for a spring or early summer 2004 opening. Designed by Casey O'Callaghan and Tom Lehman, the course is laid out amidst Trabuco Creek and Ladera Open Space Reserve. Its concept is to provide a "high-end golfing experience at a competitive price." The 240-acre site occupies an old gravel pit (whose operations were shut down in December 2000), and several holes play around the old facility. The layout encounters quite a bit of rolling topography, which will make for some fun and memorable holes. The facility includes a wedding garden and a 250-seat banquet hall.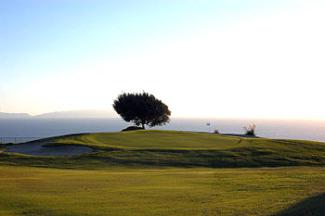 About an hour north of Los Angeles in Moorpark, near Simi Valley, two excellent courses have recently opened, Moorpark Country Club and Rustic Canyon Golf Club. Moorpark Country Club, a 2002 Jacobsen/Hardy design, is set inside the gates of an expansive residential community. It was rated as a "must play course" by GOLF Magazine in the January 2004 issue.

The layout features 27 holes that meander through canyons and arroyos, along creeks and ridgelines. Many of the challenges and shot values are created by this varied terrain. The course features some nice views of the surrounding valleys, and the Pacific Ocean and the Channel Islands can be seen in the distance on very clear days. The par-5 fifth hole of the Ridge Line nine is one of the longest golf holes in the United States. Named "Long Canyon," it measures 676 yards from the tips, though it is sometimes possible to get home in two with a little help from the wind. The par-four 13th hole of Creekside, named "La Bruha Verde," forces you to carry a canyon wall, and then traverse another arroyo to reach an elevated green. Played conservatively, you might make par; go for birdie, you could add a few more strokes to your score.
Rustic Canyon Golf Club also opened in 2002. A Gil Hanse design, this is another of the better bargains in the area, at $35-$50 for a round. A flat, links-style layout set in a valley, the design features big, undulating greens that players can roll the ball onto. The fact that they are big also means you'll get some long, curving putts. Chipping and putting aprons surround every hole, making it friendly for beginning or occasional golfers. There's not too much trouble off the tee, and there are no trees or water, but lots of bunkers keep you honest. Due to the affordable prices, this is a very popular course. Make reservations early.

In 2003, a TPC facility finally opened in Southern California, the TPC at Valencia, and what a delightful course it is. A hilly layout with some tough carries from the tees and to the greens, it is designed, as are all TPC courses, for tournament play, which means that the farther back you play the tougher the angles. While much of the course overlooks the burgeoning Santa Clarita Valley, there are also some nice mountain views.

But players come here for the golf experience. Expertly run and always in immaculate condition, TPC Valencia will put your skills to the test. Large putting surfaces feature a variety of pin positions, and it is a good idea to be on the same tier as the flag. The back nine narrows up a lot. Hole 14 and 15 are back-to-back par-5s that will keep you talking about the blind tee shots, narrow landing zones and tough greens. So tighten up your golf glove and go play the only TPC course in California.

There is a great deal happening in Southern California these days, and maybe even a "there" here. And, like a typical tee shot, much of the here and there is happening on the area's new golf courses.



Photographer and writer George Fuller has been covering golf and adventure travel for more than 15 years. His assignments have taken him throughout the United States, Asia, Polynesia, Europe and Mexico.

As an author, he has eight books to his credit, the two most recent being "California Golf – The Complete Guide" (11th edition, 2004, Avalon Travel Publishing) and "Discover Hawaii's Best Golf" (second edition December 2001, Island Heritage Publishing). Others include "Hawaii: Adventures In Nature," (October 1999, John Muir Publishing).

A former editor of "LINKS – The Best of Golf," he has contributed stories to many newspapers and magazines, including TIME, San Francisco Chronicle, Coastal Living, GOLF Magazine, Travel & Leisure Golf and others. Based in Marina Del Rey, Calif., George is a monthly travel correspondent for the PGA Tour (pgatour.com), and a Contributing Editor to The Golfer. We're very happy George is part of the Cybergolf team.