California's Ring of Fire – Golf in the Coachella Valley
By: George Fuller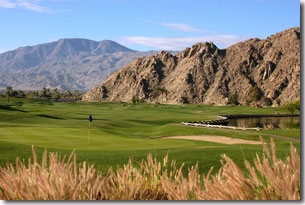 I was really starting to like the feel of my new sleeve of Nike Superflys. Friday, I played with one ball the entire round at Marriott's Shadow Ridge, the wonderful new Nick Faldo design in Palm Desert.

Saturday at the Pete Dye-conceived Stadium Course at PGA West, however, that sleeve was fast history. I was fishing through my golf bag by the 6th hole for those old yellow and pink balls I had stashed away for when times got desperate. Times were desperate. The 6th is a 223-yard par-3 over water called "Amen" in tribute to the 12th at Augusta. But it wasn't "Amen" I muttered as I wrote an 8 on my scorecard and bid farewell to my three Nikes.

Pete Dye-abolical, the Marquis de Sod – now I knew where he got that reputation.
Still, it's hard to beat playing golf on a spring day in the California desert. If you're looking for sizzling bargains – literally – the summer months down here are perfect for you. The price of golf and accommodations is half off from June through September. If you don't enjoy frying eggs on the sidewalk, though, visit between October and May.
The tough question any time of year is, Where to Play? There are more than 80 courses clustered throughout the towns that make up this golf-rich stretch of the Coachella Valley – Palm Springs, Palm Desert, Rancho Mirage, Indian Wells, La Quinta and Indio. More are being built every year.
Your father's favorite desert hideaway, La Quinta Resort & Club, is now your favorite hideaway. Generations of resort lovers have been coming to this four-star property since it opened in 1927. La Quinta – Spanish for "country retreat" – was the dream of Walter H. Morgan, the youngest son of a wealthy San Francisco businessman. Morgan's dream was to build a secluded retreat in what was then a dusty roadside town two hours south of Los Angeles. Not much was here. Even Palm Springs was sleepy then.
The original six adobe cottages Morgan built, though, had lasting appeal. Hollywood luminaries came to relax and enjoy the quiet serenity of their own little 'casita.' Regulars included Bette Davis, Clark Gable, Errol Flynn, Katherine Hepburn, Greta Garbo and Shirley Temple.
Today, visitors find more than 700 guestrooms at La Quinta Resort & Club. It is a bustling hive of ranch-style luxury, where families splash in pools and play on the bright green lawns that form the buffer between clusters of casitas. Colorful bougainvillea and lush landscaping make the resort grounds a relaxing stroll.
Several dining options are available on property, including Azul by Le Bernardin, where trendy seafood preparations are the norm. Try the lobster. Other choices include Morgans, a casual steakhouse, and Adobe Grill, where authentic Mexican fare is presented.

Golfers can play the Dunes and Mountain Courses, both Pete Dye designs. But don't recoil: neither await with whips and chains as does the Stadium Course.

The Mountain design is the more renowned of the two, and it's a very good course. It measures 6,756 yards all the way back, short by today's standards. But it plays longer than that. Accuracy from the tee is helpful, but hitting greens in regulation is the trick to scoring. Many putting surfaces slope away at the edges, and balls not precisely placed tend to slide into collection areas.

Women are not exactly treated like queens by the design. Several par-4 holes measure more than 300 yards from the forward tees which, combined with the difficult greens, adds up to lots of bogeys.

On the other hand, both ladies and gents are more than royally treated in La Quinta's highly regarded spa. Try the PGA Golfers Massage: a skilled spa therapist works and stretches the major muscles used (and sometimes irritated) in golf – the lower back, hips and legs.

The other option afforded La Quinta guests is to play at the affiliated PGA West courses. In addition to the testing TPC Stadium Course –which I guess we all have to play just to say we've played, daily-fee courses at PGA West include the Greg Norman Course and the Nicklaus Tournament Course.

A different type of experience is available at the three Marriott offerings in the area: Rancho Las Palmas (with 27 holes of Ted Robinson golf in Rancho Mirage), Shadow Ridge (18 holes by Faldo in Palm Desert) and Desert Springs, a JW Marriott resort in Palm Desert (36 Robinson-designed holes).

Marriott's Shadow Ridge is the best course among them. To put it in context, the development is chiefly about selling timeshares, as are many Marriott properties. But at Shadow Ridge, owners share the facilities with daily-fee players. That provides a country club atmosphere for the public golfer, and a much better facility at a fraction of the cost for timeshare participants.

It is a formula that works. Playing the course with Jim and Julie Pittenger, two owners from Nebraska out for a week of late March California sunshine, it was obvious how happy they were with the facility. "We come out here a couple times a year," Jim said. "Usually we play with friends at Vintage Club, Bighorn or other courses. This time, we played right here seven days in a row." Julie seemed to like it too, particularly since she kept striping the ball straight down the middle.

Faldo's design can play as long as 7,000 yards, but from the 6,600-yard markers it is very playable. There are some British design elements, such as a hidden green on No. 13 and natural areas fringing many of the big bunkers throughout the layout. It is a course that rewards good shots, and costs you a stroke on misplayed shots. In this way, it is rewarding to play and very fair.

A couple miles away is the JW Marriott Desert Springs. This large, convention-oriented hotel backs up onto a massive lagoon and pool complex. The busy meeting halls seem like they are always packed with people itching for their daily obligations to be over with so they can get out onto the two Ted Robinson-designed courses, Palms and Valley.

And why not? Robinson, who might just as well be known as "Mr. Desert" since he has designed so many courses in this area, did his usual magic here. Waterfalls, step pools, lakes, bullet-hole bunkers, sizeable greens and hundreds of palm trees are incorporated into both designs.

These are fun, not-overly-long courses that everyone will enjoy.

Finally, if you want to play an unhurried round on a fantastic course at a good price ($65-$95), seek out Oak Quarry Golf Club. This Schmidt/Curley design in Riverside is built in and around an abandoned limestone quarry. Roughly an hour toward Los Angeles or San Diego from the desert towns mentioned above, Oak Quarry is quietly one of the best designs in California.

There is no let-up in either the quality of the play or the beauty of the course – all 18 holes are memorable. Leave film in the camera for hole 14, "Spinel Slide," a 214-yard par-3 that plays off a ledge to a green in the bottom of the quarry. Massive white-rock walls rise skyward behind the putting surface, and a river runs to the left. It is one of the most spectacular holes – and courses – you'll ever play.

Contact Data

La Quinta Resort & Club: 760/564-7686, www.laquintaresort.com
PGA West: 800/PGA-WEST, www.pgawest.com
Marriott's Shadow Ridge: 760/674-2700, www.golfshadowridge.com
JW Marriott Desert Springs: 760/341-2211, www.desertspringsresort.com
Oak Quarry Golf Club: 909/685-1440, www.oakquarry.com

Photographer and writer George Fuller has been covering golf and adventure travel for more than 15 years. His assignments have taken him throughout the United States, Asia, Polynesia, Europe and Mexico.

As an author, he has eight books to his credit, the two most recent being "California Golf – The Complete Guide" (11th edition, 2004, Avalon Travel Publishing) and "Discover Hawaii's Best Golf" (second edition December 2001, Island Heritage Publishing). Others include "Hawaii: Adventures In Nature," (October 1999, John Muir Publishing).

A former editor of "LINKS – The Best of Golf," he has contributed stories to many newspapers and magazines, including TIME, San Francisco Chronicle, Coastal Living, GOLF Magazine, Travel & Leisure Golf and others. Based in Marina Del Rey, Calif., George is a monthly travel correspondent for the PGA Tour (pgatour.com), and a Contributing Editor to The Golfer. We're very happy George is part of the Cybergolf team.