Camelot on Cape Cod
By: Rob Duca
He could have been a member, phoning the pro shop at the Hyannisport Club to inquire if the first tee was open. He could have been an invited guest, strolling through the parking lot holding his golf shoes in one hand and carrying a change of clothes in the other.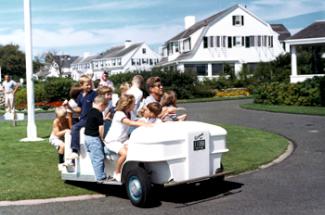 JFK & Kids on Golf Cart
(Photo Courtesy of John F. Kennedy Library & Museum)
John F. Kennedy certainly didn't act like the most powerful man in the world when he sat on a wooden stool in the bag room to lace up his shoes, or when he leaned against the windowsill of the pro shop and quizzed the young head professional about his life.

"He was just a regular guy," remembers Tom Niblet, now 81, and then the head pro at Hyannisport. "He was so affable that he made you feel at ease. You were energized just being around him. He had that distinct voice. He'd talk to me about the club, and he had genuine interest."

It was all 50 years ago, before that horrific November day in Dallas that changed America. The Kennedy family compound, located within walking distance of the golf course, was the "Summer White House."

Famous faces and influential power brokers were everywhere. A phone with a direct line to the Oval Office was installed at the Hyannisport Club, and JFK would attempt, as discreetly as possible, to stoke his passion for golf beyond the prying eyes of reporters and photographers.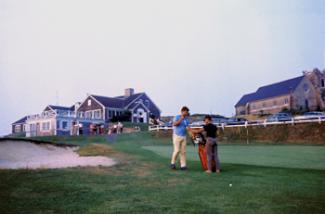 JFK Getting Ready for Pitch Shot
(Photo Courtesy of John F. Kennedy Library & Museum)
Although considered the most gifted of the golfing presidents, with a fluid, graceful swing, Kennedy refused to go public with his love of the game, considering it political suicide in the wake of Dwight D. Eisenhower's administration. Eisenhower had played a reported thousand rounds of golf during his presidency, and the last thing JFK wanted Americans to think is that he was like Ike.

Niblet recalls Kennedy once asking him about the presence of media at the club before he was about to play. "How do they know I'm here?" JFK asked Niblet as he changed into his golf shoes in the bag room.

"They sure as heck didn't find out from me, Mr. President," the pro curtly replied.

Startled at first, Kennedy looked up and then smiled. "I'm sure they didn't, Tom," he said.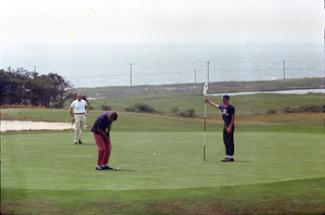 John F. Kennedy Putting
(Photo Courtesy of John F. Kennedy Library & Museum)
When Jacqueline Kennedy arrived later that day for a golf lesson, Niblet asked her to pass along an apology to the president for his brusque response. "Don't worry about it, Tom," she told him. "Of all the people he meets, you're one of the nicest."

Bob O'Rourke of Marstons Mills was once invited to play along for two holes with JFK's foursome. He stood by as Kennedy played the par-3, 196-yard eighth hole. "As I recall, he hit a 3-iron. Hit it pretty good, too," O'Rourke says. "He had a pretty good swing. But you could tell when he walked that his back bothered him."

Ed Semprini, 94, of Hyannis, who died last summer shortly after sharing his memories of the Kennedys at Hyannisport, recalled JFK and Bobby Kennedy slipping onto the course in the late afternoons with three or four clubs to play a handful of holes. "They did that quite regularly," he said. "I remember seeing him on the course one time and he asked me for a couple of tees. There wasn't any fanfare about it. Nobody else was around."

Of course, the president of the United States didn't go onto the course without proper security. Precautions were taken when he arrived for a round of golf. His clubs were stored in the bag room, and the Secret Service would remove them and turn the bag upside down before replacing them and handing them over. They would then retrieve their own golf bags - which held machine guns.
Niblet has rarely talked publicly about JFK since November 22, 1963. Even now, decades later, his voice begins to choke up as he remembers those heady times. In a personal memoir, he wrote: "When he died, so did a little bit of me."

The then 31-year-old pro met the dashing young president for the first time in 1961. He was preparing to lock up the pro shop when he spotted a couple strolling across the empty parking lot. The man had a walking stick and was arm-in-arm with the woman. As they approached, Niblet recognized the president and his wife.

"Jack, I'd like you to meet Tom Niblet," the first lady said.

"My knees were a little weak, but I was able to say it was an honor and a privilege," Niblet recalls.

Being president has its advantages, yet JFK would always phone to check if the first tee was open before coming to the golf course. He once personally called to cancel a scheduled golf lesson, telling Niblet only that "something came up."
"A few minutes later I saw Marine helicopters landing alongside the 14th fairway and an entourage of officials getting off. They were having some problems in Laos," Niblet says.

Later that day Kennedy appeared in the pro shop and asked the young pro if he was busy. "Get your sticks," he told Niblet, "and we'll go play."

A nervous Niblet scurried to the bag room to retrieve his clubs, only to find out that White House press secretary Pierre Salinger was on the course using them. With a borrowed set, he rushed to the first tee, where Kennedy and Chuck Spaulding, an investment banker, were waiting. "It's your honor, Tom," JFK said.

Despite his anxiousness, Niblet hit a solid drive. Spaulding then knocked it 10 yards further. At that point, Kennedy put his driver back into his bag, pulled out a 5-wood and hit his tee shot 175 yards down the middle. "I never wanted to be a big hitter," he said. "I just like to be with big hitters."
They played nine holes, a rarity for Kennedy, who usually only circuited Hyannisport's inside loop comprised of No. 1, 2, 16, 17 and 18. "I played pretty good, made a couple of birdies," Niblet recalled.

Afterward, Niblet thanked the president for inviting him to play. "Tom, we'll do this more often," JFK replied.

It was August 18, 1963. "We never had the chance," Niblet said.
Rob Duca is an award-winning sports columnist who wrote for the Cape Cod Times for 25 years, covering golf, the Boston Red Sox, the Boston Celtics and the Boston Bruins. He is now managing editor of Golf & Leisure Cape Cod magazine and has written for a variety of other publications, including Sports Illustrated, the Boston Globe, Yankee magazine and Cape Cod Life.