Cape Cod-Area Private Clubs Anyone Can Play
By: Rob Duca
You could linger for decades on a waiting list before becoming a member at Sankaty Head Golf Club on Nantucket. At Cape Cod National Golf Club in Brewster, the initiation fee reportedly exceeds the annual salary of most Americans. And for many golfers, the eye-catching views at New Seabury's Ocean Course might as well be a mirage they will never be able to savor.
Cape Cod National's 13th
But there's a handful of private golf courses on Cape Cod, the South Shore and Nantucket normally reserved for affluent members and their well-heeled guests that are occasionally available for public play. Here are five of the finest private clubs where membership isn't required in order to feel privileged.
br> Cape Cod National, Brewster

You won't find a grandiose clubhouse when you pull into Cape Cod National. There isn't even a roadside sign welcoming visitors. Only a black mailbox with CCN Golf stenciled in white provides any indication of the club's presence.

Named by Golf Digest as the fourth-best new course in the country when it opened in 1998, Cape Cod National is an astonishingly dramatic layout, with tree-lined fairways framed by 18-inch-high fescue, steep elevation changes, quick, subtle greens, and deep, penal bunkers. There isn't a private home to spoil the surroundings; it's just the golfer and course.

From the championship tees, which stretch to nearly 7,000 yards, there are four par-4 holes of more than 460 yards. Bunkers, hazards and fescue are ever-present, waiting to swallow loose shots.
Stay at the Wequassett Resort & Golf Club and you can book a tee time. For more information, visit www.ccngolf.org.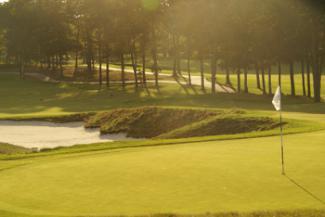 3rd Green at Cape Cod National
Sankaty Head Golf Club, Nantucket

Located at the tip of Nantucket in Siasconset, Sankaty Head is named after the red-and-white lighthouse that stands guard over the course. New England Patriots coach Bill Belichick has a home on the island and can often be spotted at the course. Jack Welch, former CEO of General Electric, and Bob Wright, former chairman of NBC, are titans of corporate America who are also members. Yet Sankaty Head is open for public play from Columbus Day to Memorial Day.

With its close proximity to the Atlantic Ocean and snaking, fescue-framed fairways, it is one of America's oldest links-style courses. Sankaty Head Lighthouse is visible throughout the front nine, looming in the distance as a beacon and, in some cases, as a target line for blind shots. Treeless and windswept, the course has remained virtually unchanged since its beginnings, yet is as challenging as it was in the days of hickory shafts and feathery golf balls.
For more information, visit www.sankatyheadgc.com.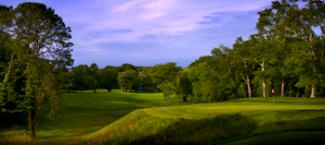 Plymouth CC's 17th
Plymouth Country Club, Plymouth

Opened in 1910, this Donald Ross delight plays to a par 69 yet is one of the state's stiffest tests of championship golf. With postage-stamp greens, rolling fairways and often windy conditions, this is a shot-maker's layout that demands precise approaches and an adroit short game.

Host club for the annual Hornblower Memorial Tournament, past winners include James Driscoll, Geoff Sisk, Bill Mallon and Fran Quinn, all former or present PGA Tour players. A framed photograph in the clubhouse portrays Henry Picard, an original club member and winner of the 1938 Masters.

The course opens with three relatively benign holes, which Ross viewed as a warm-up, before the challenge begins at the 399-yard par-4 fourth that features a forced carry over a ravine on the second shot. It concludes with the uphill 18th that plays much longer than its 386 yards.

For years, Plymouth was mainly about golf, with a modest, outdated clubhouse offering few amenities. It now has a sparkling facility completed four years ago, with a spacious grille room, 16-seat wood bar, flat-screen televisions, function room, and outdoor deck overlooking the fourth hole.
For more information, visit www.plyccma.com. Non-members can book tee times through www.elitetee.com.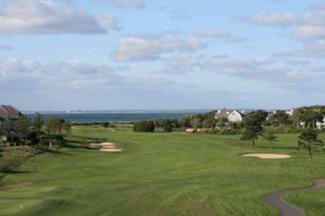 Fall Morning at New Seabury
The Country Club of New Seabury, Mashpee

At New Seabury's Ocean Course, you'll feel like you're playing alongside sun-worshippers. In fact, drives that stray too far left on the second and third holes could have you hitting your next shot off the nearby beach.

The first three holes parallel Nantucket Sound, providing views on a clear day all the way to Martha's Vineyard. It's no surprise that New Seabury was billed as the "Pebble Beach of the East" when it opened in 1964.

Not many courses rival the panoramic views of the Ocean Course's opening holes. The round begins with a straightforward par-5, often into a ferocious wind. When golfers reach the second tee, the beach is only steps away and waves can be heard pounding against the shore. It takes nerve to play a left-to-right fade off the tee, which brings the beach into play, but it is the best line of attack on the demanding 390-yarder.

The course begins shifting away from the water after the third, which doesn't make it any easier. The par-3 fourth requires a carry over a pond, and hazards lurk on the fifth, seventh and ninth holes.

In the end, the Ocean Course is exhilarating and exhausting, especially on a typically windblown Cape Cod day.
Tee times are available with a stay at the New Seabury resort. For more information, visit www.newseabury.com.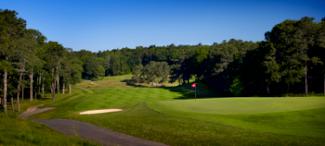 No. 7 at Plymouth Country Club
Ocean Edge Resort & Golf Club, Brewster

After an $8.5 million renovation by Jack Nicklaus Design, what was once a quirky, penal layout winding its way through woods and wetlands now provides one of Cape Cod's most enjoyable golf experiences.

The tight, fearsome fairways have been widened and trees cleared away, transforming the course into less of a survival test. Although the basic routing remains the same, many holes were reshaped, with new bunkers and greens complexes giving Ocean Edge that special, private-club feel.

With championship tees stretching over 7,000 yards, it is still plenty difficult. The 600-yard 17th - which demands a precise downhill tee shot, an uphill fairway wood to a narrow plateau, and a third to a well-bunkered green - remains one of Cape Cod's true knee-knockers.

Visitors to the resort can book tee times. For more information, visit www.oceanedge.com.

Rob Duca is an award-winning sports columnist who wrote for the Cape Cod Times for 25 years, covering golf, the Boston Red Sox, the Boston Celtics and the Boston Bruins. He is now managing editor of Golf & Leisure Cape Cod magazine and has written for a variety of other publications, including Sports Illustrated, the Boston Globe, Yankee magazine and Cape Cod Life.