Carter Morrish to Design New Nine at Saddle Creek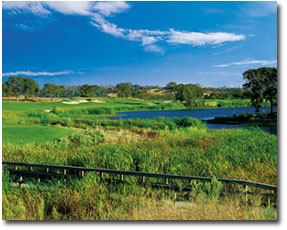 Saddle Creek Resort, a gated, 900-acre community in the foothills near Copperopolis, Calif., has announced that Carter Morrish will design a new nine-hole layout on the property's northern reaches. Morrish crafted the original 18-hole course.

Once complete, Saddle Creek will feature 27 holes of golf for its members, residents and guests. The new nine will blend with the original layout, which opened in 1996 and has been ranked as the No. 8 course in the state by Golfweek.

"I am excited about the opportunity to team with Castle & Cooke and Saddle Creek Resort to create an inviting, challenging resort golf experience," says Morrish. "We'll strive to maintain the look and feel of the original 18 holes by creating similar bunker patterns, stunning visual corridors and green complexes."

Son of former American Society of Golf Course Architects president, Jay Morrish, Carter cut his teeth with Wadsworth Golf Course Construction from 1986 to 1989, and with his father's firm from 1989 to 2002. Following Jay's retirement, Carter hung his own shingle – Morrish and Associates – to carry on the design philosophies and principles practiced by his father.
"Carter did an outstanding job with Saddle Creek Resort's existing 18 holes early in his career, and we are excited about the wealth of experience and savvy he brings to the design table for the new nine holes," says Al Martell, vice president of Golf Properties for Castle & Cooke.
Saddle Creek has emerged as one of Morrish's more decorated designs. For the third consecutive year, it ranked among the Top-10 courses in California in Golfweek's "America's Best Courses 2005" ratings, appearing at No. 9 on the prestigious list. Saddle Creek was also included on Golfweek's Top-100 listing of "America's Best Residential Golf Courses." The resort placed No. 40, ahead of esteemed residential courses Reynolds Plantation, PGA West, Isleworth, Hammock Dunes, Colleton River and other high-profile east coast properties.
In its December 2004 issue, Fairways and Greens magazine rated Saddle Creek one of the top golf resorts in the Western U.S., citing its course conditions, quality service, attention to detail, residential opportunities and bungalows. Most recently, Saddle Creek was included in the 2006/07 ZAGAT listing of "America's Top Golf Courses."
For more information about Saddle Creek Resort, call 800/611-7722 or visit www.saddlecreek.com.