Catching Up with 'Big Momma'
It was 1979, at the LPGA's Wheeling Classic, in the hills of West Virginia. JoAnne Carner was in the lobby of the big lodge, having a chat, when the girls started coming back from their practice rounds. They would come through the door, headed wherever, then spot Carner and veer over to the couch and shake hands or pat her shoulder, and say, "Welcome back, Momma," and so forth.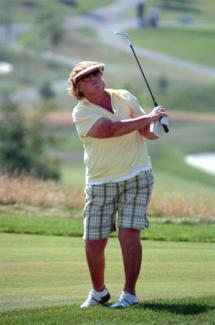 JoAnne Carner
Clearly, they were more than just happy to see her. They were relieved.

And this was a little bit crazy. JoAnne Carner - "Big Momma," the mother-figure, sister-figure and great pal who, by the way, was always ready to beat them to the money.

And they weren't the only ones relieved. Carner was lucky to be alive. All she did was squeeze the brakes of the motorcycle and it jackknifed on the Tennessee clay and pitched her over the handlebars. All she did was hurt both wrists. After a three-month layoff that left her stir-crazy and 45 pounds heavier, Carner was returning at the Wheeling. She was already robust and now she was more robust. She gave that great laugh.

"I remember my caddie," Carner recalls. "He said, 'Big Momma, you're not going to make it around these hills.' And I told him, 'Don't worry - if you can make it, I can make it.' "

Debbie Massey won that one, but that wasn't the point. Big Momma, then 40, and with her big heart and her big game, was back. The tour had its great light again, and Carner's march to the Hall of Fame resumed. Funny how it all got started.

It's safe to say that the original 49ers didn't go scratching around for gold simply because they admired blisters and dirty fingernails. That's called a self-evident truth. By extension, in case nobody ever thought about it, it's safe to say that amateur golfers turn pro for the money, which has to make JoAnne Carner probably the one exception in the history of the game.
She didn't turn pro for the money. She turned pro out of boredom.

She was one of the Gunderson kids who haunted a little nine-holer in Kirkland, Wash., then a rural outpost east of Seattle. Their dad was too busy being a carpenter to take up golf. From there, JoAnne would go on to become the "Great Gundy," one of the finest amateurs ever. She won a U.S. Girls Junior, added a Women's Western, and ran off an amazing five U.S. Women's Amateur titles in an 11-year span.

She won her fifth in 1968 without, she admitted, bothering to practice. Don, her husband, wasn't amused. When she tried the same thing in 1969, ". . . and got clobbered," she said, Don had enough.

Carner, now 72, still has a throaty chuckle at the scenario. "I was happy playing amateur golf," she said.

Maybe too happy, Don suggested. "I think you're losing interest," he said. "I think you need to go to the next level - pro golf."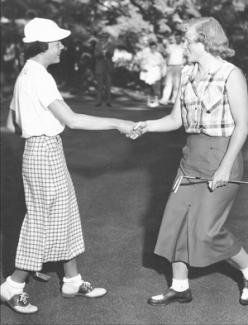 A Youthful JoAnne Gunderson (right)
& Longtime Adversary Anne Sander
at the Wash. State Womens Amateur
In a pursuit given to fragmented lives chasing across distances, Don and JoAnne were legendary, devoted, fun-loving and warm, traveling the land in a trailer. After Don passed away, remarrying was unlikely, she said. Another lingering illness was too much to contemplate. She didn't think of dating either, but left room for that. "That will change," she said, "when Sean Connery calls."

It was at the advanced age of 30 - advanced for the occasion - that Carner joined the LPGA Tour in 1970. But she was not an entire stranger there. In something of an embarrassment to the pros, as an amateur she finished second in the 1963 Lady Carling Eastern Open, then won the 1969 Burdine's Invitational.

Now one of the game's great amateurs was plunging headlong into the grinding world of Kathy Whitworth, Sandra Haynie and all the rest. A Hall of Fame career had been launched. She won 43 tournaments in just 15 years on the LPGA Tour.

She won two U.S. Women's Opens and showed she could breeze as a front-runner and also survive hand-to-hand infighting. She went wire-to-wire in the 1971 Open and beat Kathy Whitworth by seven shots. But the 1976 Open was a slugfest with Sandra Palmer. Carner nearly blew it with a 77 in the third round, but rallied with a birdie-par finish to tie. Carner was running away with their 18-hole playoff, going up by four through the 13th. Then she dropped five shots over the next three holes. Finally, she closed birdie-par to win, 76-78. She not only won the Open, but got immortalized as well as Palmer had said she was going into the playoff against Big Momma.
"The ground shakes when she hits it," Palmer said. It shakes when she laughs, too, which is often and easy. If the LPGA was looking for an ambassador, Big Momma would be the one.

First thing you do, throw a party. Carner loves to party, and while she's no walking stand-up like Lee Trevino, she always had a word and a smile for the gallery. The golf course couldn't hold her. Carner's Hall-of-Fame profile captured her neatly: ". . . a little Babe Ruth in her, a little Babe Zaharias, a little Walter Hagen and a little Shelly Winters, too."

A quick thumbnail of her game: Long off the tee, strong approach game, good with the wedge, iffy on chipping, wonderful with the putter.

Carner loves all of her 43 victories, but one stands as her favorite. "The U.S. Open is so hard to win - you have to do everything so well," Carner said in 2012. "But my high point was winning the World Championship of Women's Golf in 1982. That one put me in the LPGA Hall of Fame." It was her 35th victory and fulfilled the Tour's demanding HOF criteria. It was only her 12th year on the Tour.

Sometimes losing also shows you how good a golfer is. To wit: Carner lost in a playoff to Laura Davies in the 1987 U.S. Women's Open. She was 48. In 1993, she lost to Tammie Green in the Palm Beach Classic. Carner was 54. In 2004, she became the oldest to make the cut on the tour. Carner did it twice - at age 65. "I get with these kids," she said, "and I don't feel my age. I feel closer to their age."
Carner segued into the Legends Tour, the women's 45-and-over circuit, but didn't leave much of a mark. Maybe it put gas in her beloved boat, at least. The Legends started in 2000. She was already 61, well past her senior prime.

"I don't hit it as far as I used to, and I don't do the same things," she said, "but it's still a lot of fun."

She'll still go out and see the old friends, and have a bunch of laughs and still try to beat them silly. But sometimes the Legends interferes with her boat. She calls it JoAnne, a 42-footer. She takes it to the Bahamas a few times a year. New engines have cut the four-hour trip to about two or so, dock-to-dock.

She also loves just loading up friends and heading out to the placid seas to fish for dinner. "I hate to think how much it costs me a pound," she said of their catch.
The JoAnne sleeps six. "How many does it party?" someone wondered. Here came that laugh again. "As many life preservers as we can find," she said.

With a world pegged to preconceptions, the question of retirement often comes up.

Carner likes Julius Boros's answer. Big Julie had pretty much left competition and was making golf and fishing films. "Retire? Retire to what?" Big Momma says. "All I do now is fish and play golf."
Marino Parascenzo can assure you that hanging around with great and famous pro golfers does nothing to help your game. They just won't give you the secret. But it makes for a dandy career. As a sportswriter with the Pittsburgh Post-Gazette (now retired), Parascenzo covered the whole gamut of sports - Steelers, Pirates, Penguins, Pitt, Penn State and others - but golf was his favorite. As the beat writer for the paper, he covered all the stateside majors and numerous other pro events, and as a freelancer handled reporting duties for the British Open and other tournaments overseas - in Britain, Spain, Italy, the Caribbean, South Africa, China and Malayasia. Marino has won more than 20 national golf-writing awards, along with state and regional awards. He has received the Memorial Tournament's Golf Journalism Award and the PGA of America's Lifetime Achievement Award in Journalism. His writing has appeared in numerous magazines, among them Sports Illustrated, Golf Digest and Golf Magazine, and in anthologies and foreign publications. He also wrote the history of Oakmont Country Club. Parascenzo is a former president of the Golf Writers Association of America and is on its board of directors. He is the founder and chairman of the GWAA's Journalism Scholarship Program. He is a graduate of Penn State and was an adjunct instructor in journalism at Pitt.