Cate's Coastal Cache - Dramatic Work of Architect Blankets Southern N.C. Coast
By: Dave Droschak
Just out of college, Tim Cate accepted a job for one of the top landscape architectural firms in the nation and was quickly drawn into the game of golf. Residing on Hilton Head Island during the golfing boom of the late-1980s and early '90s can do that to a guy.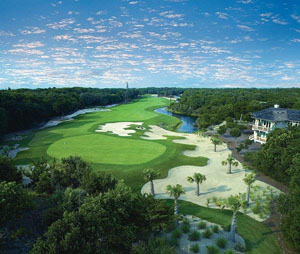 The Stunning Beauty of the 7th Hole at
Bald Head Island - Part of Cate's
$3.9 Million Renovation
It wasn't long thereafter that he was learning from one of the best golf course architects of his generation - Willard Byrd.

Cate worked for Byrd in the Southeast part of the country, mostly in the Myrtle Beach area, where he likes to tell a story of the early portion of his career - staking center lines for his legendary boss.

"Starting out with Willard, I would do a lot of things and one was flagging a golf course to clear," Cate said. "I was doing Wild Wing Plantation in Myrtle Beach and, man, you would have to climb over the top of these bushes. I was out in the middle of nowhere and had to measure distance left-to-right at each 100-foot station and put a flag up. Man, it would take you half an hour to go 100 feet.

"You were trapped in the woods and you didn't think you were ever going to get out of there. There were snakes and bears. It felt like 125 degrees in there. We would have Gatorade tied to our belts. It was unreal. You didn't think you were going to live through that stuff."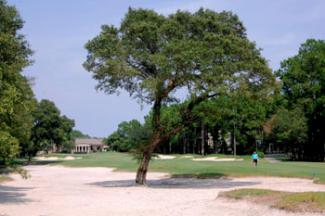 Cate Highlights a Live Oak on the 18th Hole
of The Players Club at St. James Plantation,
his Second Solo Design
(Photo by David Droschak).
Cate did live . . . and ended up thriving during a halcyon period of massive growth in the golf course construction era. Byrd chose Cate to open up a satellite office in Little River, S.C., and Cate moved to Sunset Beach, N.C., in Brunswick County.

It was a county that Cate would focus his personal portfolio of golf course design, with seven layouts or redesigns in Brunswick to his credit, including his most recent at historic Bald Head Island, where Cate worked his "landscaping" magic to transform the former George Cobb design into a golfing island paradise.

"There is no question it is probably one of the best golf courses you will ever play from a visual-stimulation perspective," said Bald Head Island Club's general manager Robert Norton. "It is just so pretty to play. It rolls from the dunes over a big dune ridge, through the maritime forest and then back to the dunes. It just feels good when you play it, and every hole is a good hole. At Bald Head I don't know that we have a signature hole - we have a signature 18. Tim created that for us."

Let's backtrack for a second. Cate left Byrd's firm in 1992 to begin a solo career, one that has been marked with a "wow" factor in his design work to include native boulders, waterfalls, colossal sandy waste areas, native grasses and a plethora of flowing flora on award-winning courses such as Cape Fear National outside of Wilmington; the Players Club at St. James Plantation (where he designed 27 of the 81 holes at the private club); along with Leopard's Chase and Tiger's Eye.
"At that time the area was growing so fast and people were doing so many golf-course developments there was enough work that I was able to do most of the higher-quality work in the area," Cate said of his southern North Carolina coastal connection.

Unlike Byrd's resume of more than 100 courses, Cate's portfolio is limited, much like his architectural idol and contemporary, the late Mike Strantz of Tobacco Road and Bulls Bay fame.

"I just wish I would have started (on my own) earlier," Cate said. "During Willard's lifetime he was able to pick and choose; there never was a shortage of projects. He never did experience any downturn like we've had in recent years."

Cate admits he learned a ton from Byrd, mostly about the mechanics of building a course. But when it comes to design, the two are polar opposites. Being drawn to courses designed by the likes of Tom Fazio and Strantz, Cate soon realized his own direction.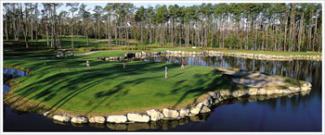 This Hole at Tiger's Eye Shows off Rock Work Cate
Creates on his Coastal Designs
"I really enjoy a little bit of flair in a design," Cate said. "When I would play a Strantz course I was really amazed at the creativity and the artistry he had. It was really just much more of an in-depth design style. Once you know the mechanics, putting all these new twists in and the visual interest on the design was an exciting thing to me. I started to pursue that."

Cate is also known for hiding cart paths (some of those winding through the forest at St. James Plantation are an amazing trek into nature), and combining large waste areas as both hazards and "drive zones" for players to traverse a hole.

"Having the carts drive through is just a very unique way of giving a lot of impact to the hole," he said.

More recent Cate courses use native bounders that are dug up from 60 feet below the coastal surface to offset elevated greens bordering water, creating a spectacular contrast on many occasions. "It is old marsh and compressed shells," he explains of the uniquely large, coral-like stones.

He also began adding elaborate landscaping to tee boxes, instead of grassing the entire area. The two elements soon became his design trademarks.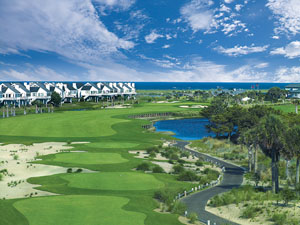 The 18th at Bald Head Island off the
Southern North Carolina Coast
"Those are the kind of things that we were doing to really emphasize where the landing area is and add drama on the shots into the green," he said. "Yeah, it's really nice to do and it's more fun and exciting, but it takes a whole lot more time and effort . . . and thought. You have to be creative to do that."

Cate's background with developers in Brunswick County led him from wetland location to wetland location, making him sort of the local expert on how to build golf courses atop difficult, if not uninspiring, tracts of property. Take Thistle, for example. Cate moved more than 1.5 million cubic yards of dirt to create that layout.

"The Thistle didn't even have one contour line on it. It was flat as a pancake," Cate noted. "We had to move a million cubic yards of dirt just to get it up out of the ground to drain. We've got acres and acres of ponds over there, and the last 600,000 cubic yards was to build the dune-like-looking things that broke up the holes."

Cape Fear National, a postcard-worthy layout, was equally challenging and further cemented Cate's reputation in Brunswick, the southernmost coastal county of North Carolina that borders South Carolina and is the gateway to Myrtle Beach golf.
"It is like most of my courses, which were a real challenge just to route through a site that was so riddled with wetlands; just really random shapes of land," Cate said of Cape Fear National. "You not only need a good routing plan but you have to provide real estate along the way, so finding a balancing act for that tract was a huge challenge.

"I tried to make it still payable even though there are some carries. I tried to keep the severity of that to a minimum and then tried to make the course visually pleasing from what was really a flat tract. We had to move a lot of dirt to give you a feel you're playing in some rolling hills and to give some different looks on holes. Every hole there had the potential to be real bland. We had to avoid that and pull out all the tricks."

Cate's name was a natural on the short list for Bald Head Island's redesign. The course - reachable only by ferry or private boat - was slated for just a green reconstruction before Cate used the artist renderings of David Tucker, a resident at St. James Plantation who had helped Cate in the past create golf images that don't yet exist.

"I came up with these concepts of holes at Bald Head and David Tucker did these color illustrations that made it look just like the hole that was going to be there," Cate explained. "He did two holes and that really sold the membership. When they saw that compared to what they had it was enough to persuade them to do a total redo."

"A committee was put together to look at architects, and we knew Tim real well by his work in and around the area, so he was sort of the frontrunner going in," Norton said. "But we did reach out and search for others. At the end of the day, Tim was the man."
Cate essentially opened up the course, built drama and created his signature kaleidoscope of color. "What we were really trying to do is re-naturalize the golf course," Norton said. "Our goal with Tim was to make it look like it was always part of the island and something that was built on the island."

Mission accomplished. After the $3.9 million Cate-crafting, Bald Head Island Club opened in May 2010 to rave reviews.

At 60, Cate is itching for more work, even if it's out of his comfort zone of Brunswick County. But, like most areas of the U.S., golf course construction has run smack dab into one of his signature boulders.

"It looks like it's going to be restorations and renovations," he said of the near future. "The price of golf and the play is going to have to come up to make all of these numbers work for any new construction.

"I live out on the island at Sunset Beach and have raised three young girls on the beach here, so it has been a good run."

Good indeed, with a flair for the dramatic.
David Droschak has covered golf in the Carolinas for three decades, mostly with The Associated Press, where he worked for 20 years as AP sports editor in North Carolina prior to launching Droschak Communications, a full-service marketing and PR firm based in Apex, N.C.

Dave, 53, has covered numerous major golf tournaments, including the 1999 and 2005 U.S. Opens at Pinehurst Resort, and is a longtime member of the Golf Writers Association of America. Dave will represent Cybergolf to provide coverage of the historic back-to-back 2014 U.S. Men's and Women's Opens at Pinehurst No. 2 in North Carolina's Sandhills.

Dave was honored with the Sports Writer of the Year award in North Carolina in 2005, and is currently editor of Triangle Golf Today (www.trianglegolf.com), a print and online publication regarded as the "No. 1 Source for Golf News in North Carolina." He is also golf editor for Pinehurst Magazine, an award-winning glossy publication.

Dave grew up in Penn Hills, Pa., about five minutes from famed Oakmont Country Club and was introduced to the game of golf as a caddie at Green Oaks Country Club in nearby Verona, Pa. Dave was the co-captain of the 1978 Penn Hills state championship baseball team, was a pitcher for the 1982 Atlantic Coast Conference champion University of North Carolina Tar Heels, and pitched professionally for two years in the St. Louis Cardinals organization. He is a member of the Penn Hills High School Sports Hall of Fame, which also includes NBA coach George Karl and former four-time Pro Bowl offensive lineman Bill Fralic.