Chambers Bay Tree Recovering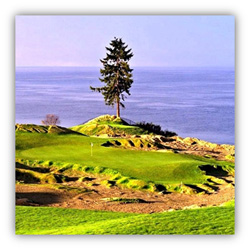 The survival of Chambers Bay's iconic Douglas fir seems assured following treatment and a preliminary root-health assessment. The tree was attacked by an unknown person with an axe late April 29 or early April 30.
"The tree is surprisingly healthy considering its stressful condition," said David L. Wienecke, Chambers Bay's superintendent. "This tree is a real survivor and shows no signs of decline now. The arborists who have visited the site seem quite confident it will survive the axe attack with proper care."
The news was welcomed by Pierce County Executive John W. Ladenburg, whose vision for a world-class golf course on Puget Sound was carried out in the design by golf architect Robert Trent Jones Jr. and his team. "We found out in a hurry that people care about that tree. We look forward to having it with us a long time," Ladenburg said.
The fir is the golf course's signature image, appearing in magazine, newspaper and television news accounts of Chambers Bay's numerous accolades, including the course's selection as the 2015 U.S. Open and 2010 U.S. Amateur site. It also is used in the course's advertising and marketing materials. The tree is home for bald eagles and a point of reference for golfers and walkers on the Soundview Trail, which traverses the course near the tree's location between the 15th green and 16th tee.
The University Place Police Department is investigating the crime. A reward is offered by Crime Stoppers of Tacoma-Pierce County, which can be contacted at 253/591-5959.