Changes, Changes, Changes Lead to Improved Courses
Larry Wimmers, head superintendent at Sycamore Creek Country Club in Springboro, Ohio, opened two new greens during 2004, marking an end to the most eventful 12 months of his tenure at this suburban Dayton facility. Lohmann Golf Designs had been retained back in 2000 to address the club's deteriorating bunker situation. But one thing led to another.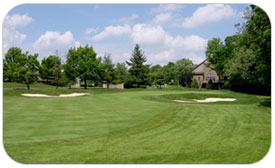 "The club's practice facilities soon took priority and became the driving force behind this project," explains senior architect Todd Quitno, who directed the Springboro job for Lohmann Golf Designs (LGD). "We rerouted several elements around the range – in essence to save the club from a major rerouting."

Everything but the bunker work flowed from the club's decision to enhance its practice facilities. Ditto for Riverside Golf Club in Chicago, where the range, parking lot and key bridge took precedence and ultimately dictated LGD's on-course changes.
"A lot of clubs, especially older ones, have backed themselves into corners with regard to land planning," says Bob Lohmann, founder and principal of Marengo, Ill.-based Lohmann Golf Designs. "Oftentimes we're introduced to these problems because we're on the property doing something else, something strictly course related. But we're increasingly busy with clubs looking to upgrade their course while simultaneously improving other amenities. That can create some real puzzles, but we're good at solving puzzles."
Witness Sycamore Creek, where a puny, iron-only range had been deemed inadequate and unsafe, positioned as it was along the club's entry drive. LGD rerouted the entry drive and today the range boasts a 30,000-square-foot bentgrass tee area. LGD also depressed and extended the range itself, using the resulting fill to build up protective mounding on either side. Today, drivers (not motorists) are fair game at the Sycamore Creek practice facility.
Across the new entry road, the 10th tee was moved to the far side of an existing creek, making room for three more club requests: a new practice putting green, bunker and chipping area, and cart-staging area. Lohmann also rerouted this creek, eliminating a large meander and the long-standing silt-accumulation problem that went with it.
These practice facility changes also obliged LGD to move the ninth green, which was re-sited to the north. The tees were adjusted to maintain the hole's yardage.
All this was achieved following the original directive: bunker renovations, which were extensive. In the fall of 2003, every bunker on the course was refurbished using a classic, flat-bottomed, grass-faced style.
The icing on the cake was LGD's work away from the clubhouse, where the second green and third tee complex had traditionally been susceptible to wayward shots from the fourth hole. LGD solved this problem by moving the second green south, across a creek, then moving the third tees even further south. "We actually built a great set of tees for Number 3 atop a bluff – a piece of property the club had acquired a while back in exchange for allowing the city to put a sewer line through," Quitno said. "The par-three third hole now plays 30 feet downhill. It's a far more exciting hole today."
Riverside GC Project

In Chicago at century-old Riverside Golf Club, the logistics proved even trickier. The clubhouse area here is one of a kind: The entrance, parking lot, practice facility, clubhouse, first tee and 18th green are located on one side of the Des Plaines River; everything else – 17 holes and the maintenance facility – are located across the river.

A remarkable arrangement, but not one without problems: First, the bridge which led golfers across the Des Plaines and back again was too narrow to accommodate modern maintenance equipment. Superintendent Shane Kissack was obliged to send his crews around Robin Hood's barn just to mow the first tee and 18th green. Second, the old parking lot was tiny; it held just 110 cars. Every-day parking was a hassle and big events impossible.

Enter Lohmann Golf Designs with a series of typically innovative design solutions that had little to do with "golf course design."

First, LGD flip-flopped the parking lot and practice range. The new, larger lot now holds 190 vehicles. Meanwhile, the new practice range has been extended and boasts a much larger (20,000 square feet) bentgrass hitting area. With its target greens and tee pads, the range itself also includes a four-hole short course designated for junior play – a Lohmann Golf Designs innovation now in operation at several other clubs across the Midwest.

And here's the kicker: With its sunken footprint and strategically placed depressions, the range also serves as stormwater retention for the adjacent parking lot.

Lohmann wasn't done. Under the direction of senior architect Quitno, LGD replaced the old 18th green with a 6,000-square-foot practice putting green. This necessitated a new 18th green, of course. Working with its sister construction company, Golf Creations, Lohmann created an entirely new, utterly dramatic, par-3 18th hole, complete with an elevated tee complex on the far side of the Des Plaines (raised above the existing flood plain height).

To the delight of Kissack, there's also a new, wider bridge spanning the Des Plaines. Bridge America of Alexandria, Minn., designed it; Riel Construction of Marengo, Ill., installed it. For its part, LGD sited the structure – in such a way that allows the club to swap the nines, should the members so choose.