Charting a New Course West of Seattle
By: Jeff Shelley
Gene Bates is making a solid foothold in the Pacific Northwest. The Florida-based architect has crafted what should be a second regional gem in Washington following his initial effort, Circling Raven in Worley, Idaho.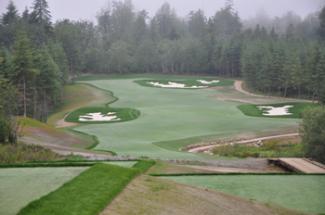 Salish Cliffs' 15th Hole
Now under construction near Shelton - on the west side of Puget Sound - is Salish Cliffs Golf Club. The 7,300-yard layout is being built by the Squaxin Island Tribe next to its Little Creek Casino in Mason County. Site prep had commenced back in 2007, but the economy, coupled with other tribal projects, slowed development of the $9 million golf facility and temporarily placed it on hold.

"We were in the process of doing a lot of things at once and the economy wasn't very good," said Ray Peters, Executive Director of the Squaxin Island Tribe. "We needed to build new infrastructure, a new water system and a second hotel tower. From a conservation standpoint, we're using a state-of-the-art wastewater treatment plant and a 25-million-gallon reservoir. We are not using full clean water to irrigate the course."

Peters firmly believes the wait will be worth it. "Those who have sneak-previewed Salish Cliffs are overwhelmed by the course layout and aesthetics," he said. "On the heels of the hotel expansion, the course will solidify Little Creek as the premier golf-and-gaming destination in the Pacific Northwest."

The project's temporary hiatus changed in spring 2010, when Golf Works out of Texas began construction anew on the course.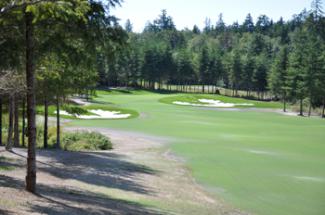 7th Hole at Salish Cliffs
Bates's working orders for Salish Cliffs were straightforward. "(The tribe) wanted me to make it as good as Circling Raven," the 63-year-old said of his heralded layout owned by the Coeur d'Alene Tribe in northern Idaho. "I knew we had the foundation to make a good golf course, so all we had to do was take advantage of the site's opportunities."

And what a site it is. Though Shelton, a town of about 8,000, sits at a mere 23 feet above sea level, Salish Cliffs' site involves over 600 feet of elevation change. Unlike Circling Raven, which sprawls across an astounding 620 acres, Salish Cliffs is more conventional, involving 260 acres - 130 of which are turfed - of up-and-down terrain southwest of the Squaxin's casino-resort facilities.

Both courses feature segregated fairways. While that trait at Circling Raven has more to do with its huge footprint, Salish Cliffs derives its sense of isolation by Bates's creation of tree-separated holes that also stagger-step up and down the natural and man-carved tiers on its hilly locale.

Bates remarked of his newest effort: "Salish Cliffs has the same secluded feeling as Circling Raven, but this is a more interesting property. And despite the elevation change, the holes don't play uphill very much."

Indeed, while Circling Raven is pretty much a cart-only course because of the distances between greens and tees, Salish Cliffs can be walked, with only three junctures - between the second and third holes, the third and fourth, and 11th and 12th - involving lengthy or ascending hikes. Bates hopes the tribe will offer cart service in these areas once the course opens by summer 2011.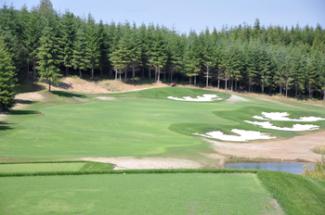 16th Hole at Salish Cliffs
During construction the entire course was plated with 4 inches of sand, which should assist drainage in an area that receives upwards of 60 inches of annual precipitation.

Salish Cliffs will be unusual for a Western Washington layout in that it will boast bentgrass tees, greens and fairways. Through various agronomic practices, the Jacklin T-1 creeping bent, which is "aggressive" against the invasion of Western Washington's endemic poa annua, should be preserved as the playing surface well into the future.

The "salmon-safe" layout will feature mid-sized greens averaging 6,900 square feet, a 10-acre driving range, six miles of concrete cart paths, and a relatively modest clubhouse that will offer scenic northwesterly views of the course and the forested foothills that define the nearby Kamilche Valley (Squaxin for "Pleasant Valley").

Besides tall grasses and trees bordering fairways, golfers will have to cope with 75 bunkers. These won't be the deep, penal traps found on some courses, as Bates opted instead for relatively shallow and large, multi-fingered varieties that should be generally escapable for the resort-playing and corporate clientele expected to frequent Salish Cliffs.

Also impinging play are wetlands and a few seasonal creeks on several low spots. The only significant water hazard is a large pond that enters play on the ninth and 18th holes. Otherwise, players finding themselves off the beaten path will encounter second- and third-growth timber, dense underbrush, and wild berries where deer and black bear also roam.
Among the more interesting holes - and there are many here - are the par-3 sixth, which features a beautiful green; the par-5 eighth, a sweeping left-bender that rises up an incline; the slightly downhill 11th, a par-4 imperiled by wetlands 100 yards from the green; and the 12th, a par-4 on the property's highest point whose landing area looks much narrower from the tee than its actual 40-yard width.

Others include the par-4 14th, which starts with a blind drive and ends with an approach to a smallish green fronted by wetlands; the lovely 15th, a 385-yard par-4 with a landing area guarded by white-sand traps and a hill-cut green bunkered front-right and left.

An interesting feature of the course is the tee at the 16th, which is shared with the eighth hole. At this point one observes fairways that head off to the north and east, an unusual but invigorating set-up. The 17th is a lovely downhill par-3, from where one espies snow-capped Mount Rainier to the southeast. The par-5 18th winds rightward around the lake along a bunker-guarded route.

Peters is a golfer who regularly plays courses throughout the Puget Sound area. "I play golf all over," he said. "I've also been fortunate to play a lot of Gene Bates courses. We really like Gene not only for his expertise, but he's such a great relationship person.

"I've been here since day one, so it's been very neat to see the transformation of the property," Peters added. "We could see early on that it had some elevations and topographical changes; even Gene was amazed at the potential landing areas, so we were pleasantly surprised.

"I will say this, this course will hold up. We're not going to have real estate on it. As I've seen the week-by-week transformation and the course, you really don't see other holes. So I'm real pleased with how that turned out. I'm also real pleased that each hole has its own flair.

"I've looked at the course as a golfer, and it seems like each hole is unique. One thing I like about Gene's work is that if you want to play the white tees there's strategy involved. All the courses I've seen that he's designed you have to think your way around them, regardless if you want to play the whites or the blues."

"The progress of the golf course's development is on point and on schedule," confirmed Bates. "Salish Cliffs promises unique, enjoyable and rewarding experiences for golfers of all abilities."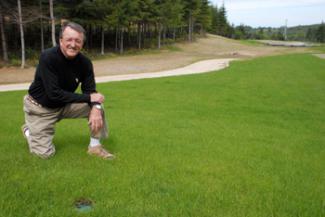 Gene Bates at Salish Cliffs
About the Architect

Bates is a fun guy and a joy to chat with about golf. Born in Ohio about an hour from Muirfield Village, he's been in the golf course-design business for 32 years. He gravitated to the trade after marrying the daughter of golf course architect Ron Kirby, one of whose most famous works is Old Head in Ireland. "I married into being a golf architect," Bates jokes.

He started out with Jack Nicklaus Design, serving from 1983 to 1988 as Vice President of Design & Construction Services for the North Palm Beach, Fla.-based firm. He founded his own company, Gene Bates Golf Design in 1988, and has been busy world-wide ever since.

In addition to dozens of solo projects, he's co-designed courses with Fred Couples and Johnny Miller. Bates, Couples and Couples' agent, Lynn Roach, co-own the semiprivate Westfields Golf Club in Clifton, Va. For more information about Gene Bates Golf Design, visit www.batesgolfgroup.com.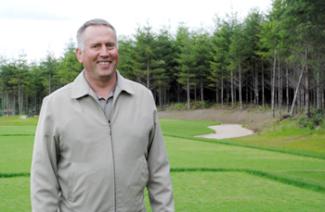 Ray Peters at Salish Cliffs
About Little Creek Casino Resort

Little Creek Casino Resort features nearly 190 well-appointed rooms along with a gaming casino with more than 900 slots and table games, including poker, blackjack, craps, roulette and Texas Hold-Em. Live entertainment - comedy, music and other shows - takes place in the tribe's Skookum Creek Event Center, which also hosts business and other events for up to 2,000 people.

"We think this is a destination resort," said Peters of Salish Cliffs and Little Creek. "We view this as a regional facility that not only will attract tournaments, but its playability will be for resort clientele. You need a great architect for that to happen."

Peters isn't quite sure what the green fees will be for the new course. "We want people to feel like they can access the course. It's a high-quality course but we're not going to charge as much as we can. It will be a regional facility and the choice for that group of golfers who want to get away not only to play a quality course but for our resort facilities. We really want local people to play, but also make it a regional choice for people to visit."

For more information, visit www.little-creek-casino.com or call 800/667-7711.
Jeff Shelley is the editor of Cybergolf and www.golfconstructionnews.com.