Cheer & Golfing in Reno-Tahoe
By: Jeff Shelley
The annual Tahoe/Reno Media Tour is one of the plum "assignments" for any writer, and why wouldn't it be playing golf in one of America's naturally wondrous areas and recording its many virtues? After a couple of previous deferred invitations, I accepted.

The 2013 version was the 15th annual of this writer-inviter, which I'd read about in previous years by Jim Moore, Steve Habel and Blaine Newnham, who chronicled their own "Tour" experiences for Cybergolf.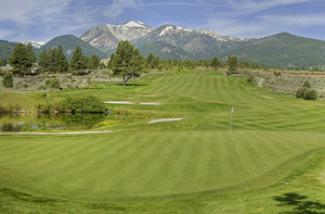 The First Hole at Montreux Golf & Country Club
And so I flew from Seattle to this alpine region of the West on June 2. The outing is unique in the annals of "fam" (familiarization) trips, most of which involve everyone clambering aboard the same bus or van and playing the same golf courses, after which we all eat in the same restaurants and stay in the same hotels.

Not so with the six-day (for business and personal reasons I cut short mine to four) Tahoe/Reno Media Tour. Each writer gets their own rental car, plays their preferred golf courses, stays in different hotels based on an individualized itinerary, and is on their own. The only common gatherings happen at night, when most everyone eats dinner at the same place.

Herewith is my travelogue about the 2013 Tahoe/Reno Media Tour. I'll leave it up to Cybergolf's other writers to wax poetic about the individual golf courses, though I'll certainly dip my toes into those waters as well. That's a requisite for any golf writer, especially when describing an area that boasts 50 courses in a 50-mile radius.

Sorry for the crappy title to this article. I was trying to make it be a nod to one of my favorite Hunter Thompson books, "Fear & Loathing in Las Vegas," but came up lamely, sad to say. My only connection to Hunter, as it turned out, was that we both drove around in Nevada.

Motoring in Reno

Some people are aware that the owners of casinos design the interiors of their gambling palaces in a deliberately haphazard manner in the hopes, allegedly, that guests get lost while searching for the bathroom, their hotel room, the car park, or a place to eat. Frustrated, many just say screw it and stick more coins in a one-armed bandit until the money runs out and they try to leave again.

I think the engineer who designed Reno's streets was a graduate of the casino interior design school. Admittedly, I was poorly equipped to navigate this city of 225,000. I was originally slated to bring our personal Garmin, and was all set until I tried - and failed - to preload the addresses of the 30 or so courses, hotels and restaurants on my Reno-Tahoe itinerary. As my wife - the Garmin guru - was out of town, I went to Plan B - MapQuest.

So instead of having a disembodied though reassuring female voice direct me hither and yon, I coped with an old-school stack of printed-out directions in 8-point type. Not a good idea, especially when it's 90 degrees, the windows are down on the rental Corolla and I'm barreling along at 70 mph on Highway 395 and Interstates 580 and 80 that encircle "The Biggest Little Town in the World."

For the first 36 hours I was all over the Reno map, heading back and forth to Montreux Golf Club, the Atlantis Steakhouse and John Ascuaga's massive Nugget Casino Resort, with many detours and U-turns along the way. I knew things were awry when I tried to enter the Nugget's parking garage; apparently, there was a livestock show in town and corrals needed to be built in spaces usually reserved for guests' cars.

I soon found out that when you play 36 holes a day and are on a strict schedule to be at far-flung places at specific times, it's wise to have a navigator in the passenger seat, whether real or virtual.

The Birdman

One constant throughout the trip were the NBA playoffs, with the Miami Heat waging war against the Indiana Pacers this particular week. The series went seven games. LeBron is LeBron, and Roy Hibbert is one big shot-swatting dude.

But the most fascinating character in the series - and throughout the championship, ultimately won for the second straight year by the Heat - was Chris Andersen, aka "The Birdman." This scowling 6'10" Heat player is one of the craziest-coifed and ink-festooned athletes in all of sports. Wearing a retro Mohawk, a kaleidoscopic array of tats that run all the way up his neck and God knows where else and assorted body piercings, this dude is a dangerous-looking cat. And it seems like he's always in hot water with opposing players and the refs.

Ever wonder why golf doesn't have a character like this? The closest equivalents in our game are Charley Hoffman's flowing blond hair and Rickie Fowler's orangeade outfits, rather tame when compared to "The Birdman."

Smuggest Caddie on Earth

One of the places I wanted to play was Montreux Golf & Country Club, a private facility with a Jack Nicklaus Signature design that hosts a regular PGA Tour stop, the Reno-Tahoe Open. Montreux was my first course. Though it has a Reno address, the club is about a 40-minute drive from downtown. It's inside a gate-guarded entrance. Once admitted, you wind past an upscale housing development and arrive at an imposing "French Manor-Style," 34,000-square-foot clubhouse.

Everyone here - where the public can play for $250 a round - is friendly and welcoming. Then I met the mandatory forecaddie assigned to our threesome, a 20-something who informed us he was a plus-3 handicap with Tour aspirations. His low round at Montreux? A 6-under 66, he smugly replied.

There was something arrogant about the kid. He treated two of his three temporary employees (including me) with utter disdain, and he wasn't much help during the round either as he preferred to run ahead of us and - apparently - be positioned to retrieve our expected shanks, slices and hooks in the thick underbrush that tightly borders Montreux's narrow fairways.

I've had dozens of loopers over the years, most of which have been engaging and focused on their interim boss. This guy wasn't in that category.
The Fabulous 15th at LakeRidge
One of the Coolest Holes in Golf

The second day involved 18 holes in the morning at LakeRidge, a public 18-hole track in Reno, followed by an afternoon horserace with all the writers at Eagle Valley West in Carson City. Most of the Robert Trent Jones Sr.-designed, 1969-opened venue at LakeRidge is well-worn and perfunctory, that is until you come to one of the most amazing holes I've seen on any of the 1,000-plus courses I've played and/or visited.

That would be the 15th, a 239-yard par-3 with a gasp-inducing 145-foot drop to a green engirded in water. In addition to executing a fun tee shot (play about a club less, depending on the wind), visitors encounter incredible panoramas of Reno and its surrounding mountains.

As a postscript, the corporation that owns LakeRidge filed for Chapter 11 bankruptcy a couple of days after my visit (I don't think our writer-inviter pushed them over the financial precipice). According to the local papers, Hash Lane Holdings LLC owes about $6 million in mortgage loans to Heritage Bank, over $100,000 to Washoe County, and a sewer bill of about $20,000 to the city of Reno.

Here's hoping the creditors give the proprietor of LakeRidge some space, if nothing else than to ensure the 15th hole lives on.
One of the Fine Holes at Eagle Valley West
Habel

Steve Habel has freelanced for Cybergolf almost six years. Sad to say as his longtime editor, I'd never met Steve. Talked on the phone with the Austin, Texas, native many times but, like many online relationships, you frequently don't have a face-to-face with that person on the other electronic end.

Such was my case with the imposing Habel, a former University of Texas defensive back with a gap-toothed grin and a shaved head. The only missing item that would make Steve a spitting image for Mr. Clean is an earring.

Steve is our most productive writer, regularly filing four to six stories a month. The former horseracing reporter is now on the road constantly for golf; as I'm writing this he's in Ireland playing in the European Tour's Irish Open pro-am. In 2012, a typical year for him, Habel played 182 rounds of golf and 154 different golf courses, spending 95 nights in hotel rooms, condos and guest houses.

You can tell Steve's got the golf-travel process down pat. When I mentioned I had a headache before a round, he pulled out a tidy bag filled with every med a busy golfer would need and handed me a new packet of aspirin. It was a joy to meet Steve, as well as another Cybergolf contributor, Wayne Mills, a husky New Englander always primed with a bawdy quip.

Horserace in the Heat

After my first-ever lunch at an In-N-Out Burger joint with Steve and Wayne, all 25 of us writers convened at Eagle Valley West in the foothills northwest of Carson City. There are two 18s here - the East and West - designed by Arthur Jack Snyder and built in 1976 and 1987, respectively.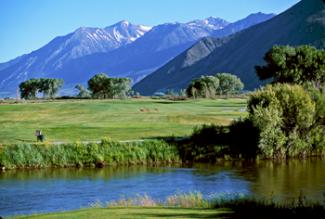 Water Enters Play often at Genoa Lakes' Lakes Course
Following a horserace in the baking sun on nine, abbreviated-for-us par-3 holes at West that ranged from 90 to 190 yards, we all retreated to the clubhouse for some welcome cold ones. There, Eagle Valley's three-in-one GM, director of golf and superintendent, Jim Kepler, a veteran of Nevada golf, talked to us in non-chamber-of-commerce terms about the state of the game.

Jim said golf's ills - mainly slow play and cost - could be solved in a big way by reducing green speeds. After all, Kepler reasons, why allow a select few low-handicappers dictate putting surfaces that roll upwards of 13 on the Stimpmeter when such conditions dramatically increase maintenance expenses, take a toll on the turf and result in rounds in excess of five hours as average-Joe golfers agonize over 3-footers?

So he keeps the greens at West and East at around 9, and that seems to minimize these problems. Jim also talked about his extensive junior golf program and how it's introduced many kids to his course and the game itself. He added that Eagle Valley boasts green fees as much as half the price of other area courses.

This is the kind of straight-shooting, no-frills and affordable approach that golf needs, not some fancy, and presumably expensive, "While We're Still Young" initiative by a national golf organization that seems like more of a turn-off than an invitation to play.

Genoa & Edgewood Tahoe

Thirty-six holes today, with the Lakes course at Genoa Lakes (and not its nearby Resort course, where I mistakenly first arrived) in the a.m. and Edgewood Tahoe in the afternoon. The Lakes is a co-design by a couple of Pacific Northwesterners, Peter Jacobsen of Portland and Tacoma's late John Harbottle III. Both are among my favorite people in golf, with my friend Harbottle's sudden passing last year in the San Francisco airport at the too-young age of 53 one of the saddest days in recent memory.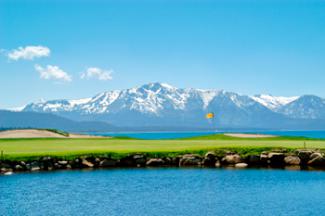 Lake Tahoe and Surrounding Mountains are on
Full Display at Edgewood Tahoe
The Lakes crosses generally flat terrain, with wetlands and the Carson River penetrating the field of play. In early June the cottonwood trees in this valley are in full bloom, so playing here was like being inside a snow globe as the cotton seeds swirled through the air and alit on the turf, making tracking and finding one's white Titleist a mind-bending, op-art challenge.

Following the Lakes, it was off to Edgewood Tahoe for lunch and a press conference for the fun-filled American Century Celebrity Golf Championship, which this year will be held July 16-21 on the beautiful George Fazio-designed course on the Nevada side of Lake Tahoe. The 2013 celebs include Olympic swim champion Michael Phelps, Packers' quarterback Aaron Rodgers and Steph Curry, the star point guard for the Golden State Warriors.

On speakerphone answering reporters' questions were golf instructor Hank Haney of Golf Channel's "The Haney Project" and Curry. Curry, the son of former NBA player Del Curry, was the more interesting of the two, though Haney provided cogent insight into Phelps and his future in golf, such as, "I think he'll hit some good shots . . . I think he'll hit some bad shots."

Curry noted he played golf in high school - "Mostly to get out of schoolwork" - and said the game's become a preferred hobby as he's matured. The soft-spoken 25-year-old, who set an all-time NBA regular-season record for three-point field goals in 2012-13, fairly cackled as he described the highlight of his budding golf career. "My favorite memory of golf is just beating my dad for the first time. It was on his birthday, which kind of sucked for him. I think I was 13 at the time. I know I shot somewhere in the 70s and finally beat him for the first time, so that was a big moment for me as a kid."

After the presser and an outstanding lunch, the traditional phalanx of players in golf carts wove across the course to their appointed holes for the shotgun start. The afternoon was beautiful, the course sublime.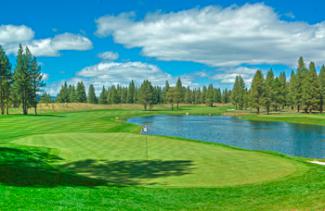 Old Greenwood Will Have to Be Played the Next Trip
In my cart was Jay Stuller, another Cybergolf contributor who grew up in my neck of the woods but has lived for years in the Bay Area. Jay informed me that his daughter, Jennifer, lives in the Wedgwood section of Seattle, where I reside, and when he visits Jay often strolls around the course where I'm a member, Sand Point Country Club. He said he's always wanted to play the lovely hill-perched layout overlooking Lake Washington and the Cascade Mountains. It wasn't a week later that I showed up for a class at 8 Limbs Yoga in the 'hood and who checks in ahead of me, but Jennifer Stuller. We had a good laugh; her dad had already told her about our round together. All roads, apparently, now lead to Wedgwood.

Winding around the Lake

That evening was spent at Harrah's Lake Tahoe, a massive edifice looming over the tourist town of Stateline, Nev. For dinner we all gathered in the Forest Buffet, which is situated on the 18th floor and offers incredible westward vistas of the shimmering lake. The food here is far better than your standard casino-buffet fare. Our plates were full and the beers came chilled; this trip was starting to take shape.

I opted out of golf the following morning, choosing instead to drive along the lake's California side as recommended by the master of the Tahoe/Reno Media Tour, Phil Wiedinger, aka "Dinger." Before departing for golf at Schaffer's Mill in Truckee on the lake's northwest corner, I attempted to buy some suntan lotion as I was getting crispy from temps in the 80s and 90s at 6,000-plus-foot elevation. I went into a shop at Harrah's, saw a small tube and brought it to the counter. When the clerk said $14, I thanked her, put the item on the counter and left. I found a bigger bottle at a pharmacy on the way out of town for $6.

The journey along the lake's south end and the California side is worth it. Though several road-construction projects temporarily halted traffic, Highway 89 offers a meandering cruise up and down spectacular stretches that bypass several bays and tourist overlooks.

Before heading to Schaffer's Mill, I checked in early at that night's place of lodging, the Resort at Squaw Creek, a lovely place near Squaw Valley USA - site of the 1960 Winter Olympics. I immediately felt safe, mainly because there was a sign-in table for a county sheriff's convention at the hotel. Besides, I was also now out in the countryside and no longer needed to find my way in and around Reno.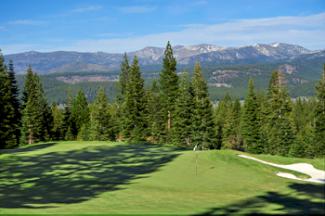 Some of the Trees and Alpine Vistas at Schaffer's Mill
Schaffer's Mill

Originally called Timilick, this course underwent some financial upheaval before re-emerging as Schaffer's Mill. The Harbottle-Johnny Miller design - which was augmented by a new clubhouse soon after we left - involves some rolling terrain and boasts outstanding turf. Many water hazards also impede play.

The highlight of the round was my pairing with Wayne Freedman, a famed feature reporter at KGO-TV in San Francisco. Freedman, a 51-time Emmy Award winner who I mistakenly named "Phil" on the scorecard (he howled and scratched it out quickly), was trying out his new state-of-the-art Nikon camera that had all the bells and whistles.

Before the round I'd been told that Freedman - who's won so many Emmys that a special rule went into effect that's barred him from winning more - was very intense. I found him otherwise. When he learned I was from Seattle, Wayne remarked his daughter attended the University of Washington and she loves the city. It's always good to have something in common with new acquaintances.

Our other playing partner was John Hamilton, the host of a weekend travel program on the Bay Area's KGO Radio. The combination of John, a warm and funny octogenarian, and Wayne, a very good golfer who was fun to kid because of his seriousness, was one of my favorite outings of the trip.

Kiel

I also had the good fortune to be paired on occasion with Kiel Christianson. One of the benefits of these boondoggles is having the chance to meet interesting folks, and Kiel certainly qualifies in that regard. A freelancer with Travel Golf (a Golf Channel publication), the day job of Kiel (pronounced "Kyle") is associate professor in the Department of Educational Psychology at the University of Illinois.

The two-time Fulbright Scholar has studied abroad and written extensively about such esoteric areas as psycholinguistics, which should be the No. 1 qualification for any golf writer.

We had a couple of fun rounds together, agreeing more often than not on various subjects (the Montreux caddie, slow play and the need to use your own clubs - his were lost in transit and didn't arrive until the second day).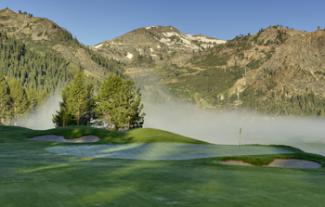 Fog Envelops the 2nd Hole at Resort
at Squaw Creek's Course
Back at the Ranch with Camanda

At this point four days into the trip, the writers scattered to different hotels and restaurants for the evening. A few of us - including a fellow I'd once written for, Dave Weretka, the publisher of Golf Chicago - met in the Resort at Squaw Creek's Sandy's Pub. In addition to Wayne, Kiel, Dave and a few other writers, there was staff from the resort and a PR lady, Amanda Horn of Reno's Abbi Agency.

I soon learned that Amanda is a practicing yogi, like me, with a crazy background. She grew up in Odessa, Texas - conservative oil country - and as a high schooler quickly distinguished herself from her peers. She wore colorful hair and hippie clothes, and organized several protests. Naturally, after graduating from high school, she left Odessa to join a circus.

For several years Amanda toured the country, performing as "Camanda" in a fire-eating act with "The End of the World Circus." In addition to her on-stage duties she handled pre-publicity for what she calls "a do-it-yourself, homemade, low-tech operation," a perfect lead-in to her becoming an account director for a PR agency in Reno, Nev.

She said of that circus experience in a blog entry on her agency's website: "At certain points along the tour we'd have eight large vehicles and 40 people to feed. I found myself at the helm of this mess because no one else wanted the job. Somebody had to be in charge if we were going to succeed, so I applied some of my left-brain skills to this circus-like cacophony and transformed it into an unforgettable must-see experience."

How cool is that? Some PR people can be pushy, force-feeding you to write glowing stories that will reappear in the collateral materials of visitor's centers and convention bureaus and hotels and golf resorts (the raison d'etre of these media tours). Very rarely do you get a chance to actually sit down and talk to them one-on-one. My chat with Amanda at noisy Sandy's Pub over microbrews and way too much food was exhilarating, and gave me a new appreciation for the different ways her particular skill set develops and matures.

Denouement

You're never certain what will happen after reaching the end of a hellbent, dawn-to-nightfall golf writer-inviter. That certainly held true for me on this one. I woke up at 3:00 a.m. on my final morning sneezing to beat the band. After about 10 of these violent exhalations, I felt like crap.

I was sick. Must've touched the wrong door handle or whiffed someone's nasty flu-breath somewhere.

Unable to sleep, I arose early, drove to Reno International Airport, dropped off the Toyota rental and caught my 10:15 a.m. return flight to Seattle (hope no one got my bug). For the next four days I slept in my own bed, sick and lost to the world.

I rallied enough to cover the U.S. Open at Merion for Cybergolf, with help from two of our other talented scribes, Jay Flemma and Marino Parascenzo, reporting from Philly.

The Reno-Tahoe trip was fun, tiring, infuriating (see: driving/navigating alone in Reno), rewarding (Waynes F. and M., John H., Kiel C., Habel, "Dinger" and Camanda), and satisfyingly complete.

Thanks for the invite Phil. Hope to see you all again soon.
For golf courses in Reno-Tahoe, visit http://www.visitrenotahoe.com/reno-tahoe/what-to-do/golf. For places to stay and entertainment options, visit http://www.visitrenotahoe.com/?WT.srch=1&vendorid-as=2056.

Jeff Shelley is the editorial director of Cybergolf.

All photos in this story are by Rod Hanna, a legendary photographer and artist based in Steamboat Springs, Colo. For more information about Rod, visit http://www.rodhanna.com.