Children's Book Celebrates Ouimet's Historic Win
On the centennial of arguably the greatest underdog triumph in sports, an award-winning author and artist have teamed up to bring the tale to life in an illustrated picture book for children.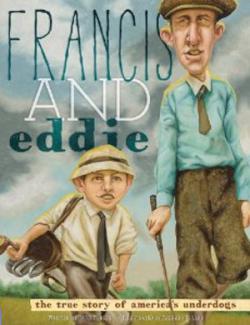 "Francis and Eddie" tells the true story of how 20-year-old amateur golfer Francis Ouimet and his 10-year-old caddie shocked the world by winning the 1913 U.S. Open. It is the first children's book about this seminal moment in golf history, which is being honored August 12-18 at the U.S. Amateur at The Country Club in Brookline, Mass. - the site of Ouimet's historic win.

A century ago, the world's best golfers gathered in Brookline. Joining them was little-known amateur Ouimet, who lived across the street from the course and taught himself to play by sneaking onto its fairways. His caddie was Eddie Lowery, who stood only four feet tall. Together, against their idols Ted Ray and Harry Vardon and in front of a crowd that grew from a handful of spectators to a horde of thousands as Ouimet advanced, Ouimet and Lowery attempted to pull off the impossible. Along the way, they forged a lifelong friendship.

In "Francis and Eddie," author Brad Herzog and illustrator Zachary Pullen celebrate a story of hope, loyalty and two young dreamers who believed in each other. The book has been named to the Summer 2013 Kids' Indie Next List as selected by independent booksellers and will be featured in a Golf Channel segment in mid-August.
"If you consider all of the elements that make for a great sports legend - David vs. Goliath, local kid makes good, a dramatic narrative, thrilling moments, a transcendent feat - this is the ultimate feel-good tale," says Herzog. "And there's a 10-year-old at the heart of it."

Adds Hall of Famer Curtis Strange, who won the U.S. Open at The Country Club 75 years later, "It reads like a fairy tale. It really is hard to believe that it happened."
Herzog (www.bradherzog.com) is the author of more than 30 books for children, as well as an acclaimed trilogy of American travel memoirs. Pullen (www.zacharypullen.com), whom Herzog describes as a "Norman Rockwell," has illustrated numerous books, and his work has appeared in publications ranging from Sports Illustrated to The New York Times Book Review.
A 100-second book trailer can be viewed at the publisher's website, www.whynotbooks.com, where "Francis and Eddie" is available as both a hardcover picture book ($17.95) and e-book ($9.99). It can also be purchased on Amazon.com and at bookstores nationwide.
As part of the charity partnership mission of Why Not Books, a portion of the proceeds from hardcover sales benefits the Francis Ouimet Scholarship Fund, which has provided more than $25 million in need-based college scholarships since 1949.