Chris Williams Wins Washington State Am by 10
Starting the final round with a six-stroke lead, Chris Williams didn't let up, adding birdies on the first, fourth and sixth holes at Eagles Pride Golf Course at Joint Base Lewis-McChord, Tacoma, Wash., to win the 86th Washington State Men's Amateur Championship by 10 strokes. He finished at 13-under 271.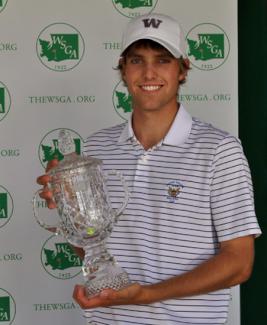 Chris Williams
The No. 6-ranked amateur in the world, Williams collected 16 birdies and an eagle on the week. "Keep it easy, and keep it simple," he said of his approach.

Williams, a senior on the men's golf team at the University of Washington, is the reigning WSGA Men's Player of the Year and 2007 WSGA Junior Boys' Player of the Year.

Williams was pleased about winning this title. In 2009 when the championship was held Palouse Ridge Golf Club in Pullman, Wash., Williams, fresh out of high school awaiting his freshman year at the UW, disqualified himself after the second round for signing an incorrect scorecard.
He walked away from the scoring table after the round, went to lunch, and upon returning to the scoreboard realized a mistake was on his card. He returned to the scoring table, explained the situation (he signed for a 70 rather than a 71), and acknowledged he would be disqualified under Rule 6-6d in The Rules of Golf.
At the time, Williams was tied for sixth and in contention entering the third round. "Super-frustrating to play well and end the tournament with a disqualification," said Williams after finally getting it right. "So now I take extra time to check my scorecard."
To watch his full 2012 interview, visit http://bit.ly/WSGAMENAM.
Two days ago Williams was named a first-team All-American by Golfweek, and justifiably so. He represented the U.S. team in the 2012 Walker Cup and Palmer Cup, and is defending champion at the Sahalee Players Championship and Pacific Coast Amateur. The Moscow, Idaho, native has a record UW six individual victories, and holds the record at eight different courses. He qualified for last year's U.S. Open and is a four-time Idaho High School 4A champion.
Nick Varelia of Kent, Wash. posted the low round on Saturday of the Washington Amateur, a 4-under 67 to jump four positions and claim runner-up at 3-under par 281. Varelia was named 2012 Great Northwest Athletic Conference Player-of-the-Year while leading the Vikings to a conference title.
The 2010 Washington State Men's Amateur champion Jeremy Wendelken ended up in third at 2-under 282.

The above report is courtesy of the Washington State Golf Association. For more information and all the scores, visit www.thewsga.org.