Christmas Comes Early for Senior Amateurs Seeking Championship at Quail Ridge
By: Jay Flemma
The festive white lights gracefully circling the swaying palm trees are an unmistakable sign that Christmas is coming to Florida, but for world-class senior amateur golfers, Christmas comes early this year.
Over 200 of the greatest American and international players over the age of 55 - from Sarasota to San Diego, from Fargo to Falls Church, from Buffalo to Boynton Beach, Fla. - have elatedly returned like collegiate alumni to a different alma mater of sorts. They have come to South Florida to congregate, celebrate, and compete at Quail Ridge Country Club, the Mecca of senior amateur golf, and to vie for the de facto championship of the senior amateur tour, the Society of Seniors Championship.

The senior amateur tour is actually called "The Society of Seniors," SOS to its friends, and it is far more than just a collection of players over 50 seeking one last shot at tournament glory. Founded in 1983 at Wild Dunes Golf Club in South Carolina by some of the greatest amateurs in American golf, the Society seeks to provide, nationwide, a preeminent set of events throughout the year for the greatest amateur champions in the senior ranks.

Back in 1980, Golf Digest named Society founder Dale Morey the best senior amateur player of the 1970's. "Morey won over 300 events in his lifetime," explains Quail Ridge starter Frank Wyatt, a transplant to Quail Ridge from his equally beloved North Carolina. "But he had trouble finding tournaments to compete against his equals. There was no tour for senior amateurs. So Morey, Ralph Bogart, Johnny Owens and Ed Tutwiler founded the Society in order to fill a need for so many ardent and talented golfers."

Twenty-seven years later, the Society has 882 worldwide members, and boasts every U.S. Senior Amateur champion since its inception among its ranks, as well as 14 members of the Walker Cup team. Membership is both coveted and highly selective. Only a lifelong resume of success in such tournaments as the USGA championships, the Amateur majors (such as the Travis Invitational at Garden City, Crump Cup at Pine Valley, Anderson team event at Winged Foot or Coleman Cup at Seminole), or other international events is enough to be considered for membership in the Society and for participation on its tour.
Each year, the schedule of events takes its members to some of the most storied and venerable clubs in America. The Society Championship and other tournaments are held at such clubs as Scioto in Ohio (Jack Nicklaus's home), Tillinghast's West Coast masterpiece at San Francisco Golf Club, The Honors Course in Tennesee, Pinehurst - Golftown U.S.A!, The Woodlands, Lake Nona, Yeaman's Hall and Austin Country Club.

This year, however, the championship is a reunion of special magnificence, as the tournament - like the Olympic Games - makes its quadrennial return to the home of the Society, Quail Ridge.

Quail Ridge is a 36-hole private facility and residential community along what is known as Golf Road, a street boasting a vast number of iconic private Florida clubs such as the Country Club of Florida, Pine Tree and Delrey Dunes. Prolific golf architect Joe Lee, an associate and protégé of the great Dick Wilson of Cog Hill fame, designed both the club's North and the South courses. Yet the club is defined by its most important, indeed seminal imperative, its raison d'etre.

"This is the home of senior amateur golf, as well as the Society of Seniors," explains a beaming Charlie Price, tournament chairman at Quail Ridge.

As the beating heart of senior amateur golf, Quail Ridge's membership is buoyed by over 150 single-digit seniors. "When it comes to senior golf, there is no other place like it in America," Price asserts fondly. "Just this week, I've been paired with two former finalists in the U.S. Senior Amateur: Dr. Bob Harris, whose family is the first family of golf in Minnesota and whose son is on the Champions Tour, and Moss Beecroft, the six-time Virginia State amateur champion."
The membership is a Who's Who of American senior golf, but what each member brings to the club in talent as a golfer is only surpassed in their unswerving devotion to the game. Everywhere you look, you meet "Great Friends of Golf" as Dan Jenkins, the greatest living golf writer, used the term: altruistic people who understand that - in order to foster the health and vibrancy, the good and welfare of the game we love so much, you need to give back to golf, just as golf gives to you. It is not just our beloved pastime, but our most sincere and lifelong companion: nurturing, teaching and befriending us from cradle to grave.

At Quail Ridge, you find a cadre of such stewards of golf's seminal graces.

"They are a serious group, with devoted passion for the game," gushed golf historian Philip Young. "They do a great service to golf and to golfers with all their hard work and devotion."

As the week progresses, we'll meet some of the "Great Friends of Golf" who have helped grow the Society and their annual championship, but for now, let's preview this year's championship.

Like Caesar's Gaul, the field is divided into three parts, (Omnia fielda divisa est in partes tres). The championship flight, for players between the ages of 55 and 64 (called the Dale Morey Divivsion), will play three days of medal play over the North Course. The other two divisions play three days of medal play over the newly renovated South. Players between 65 and 74 will compete in the Johnny Owens division. Players over 75 will compete in the Masters division.

The North course is both your typical Florida layout and quintessential '70s and '80s example of penal architecture, with the doctrine of "framing," symmetrical golf architecture that was the hallmark of that era. Off the tee and into the green, the course is straightforward center-line golf. Hook bunkers at 290, fade bunkers at 270, greenside bunkers at five and seven o'clock. There are two par-5s and two par-3s on each side, and par is 72.

However, Lee designed a critically important twist - internal contour and micro-movement in the greens. Like Winged Foot, most of the holes are like men. From foot to neck, they are roughly the same: but the greens are the faces. The greens have cunning slopes to one side, the other, or both as well as small, insidious breaks that will bedevil nervous putting strokes. Shaved chipping areas surround one side or the other, and occasionally either a beige-colored clamshell bunker or, worse, a water hazard may await someone brave enough to chase a sucker pin and who misses to the wrong side.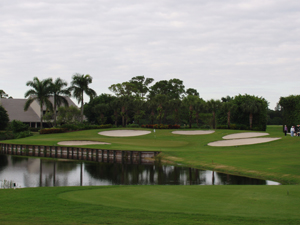 The Pint-sized Terror - North's 12th Hole
This year, the championship will be decided on the greens: the best short-game player will rise above the field. At 6,600 yards with 50-yard-wide fairways, the North Course at Quail Ridge is not long or narrow. But unless a mighty prevailing crosswind from the east turns the generally north-south axis course into Turnberry in a windy British Open, Quail Ridge is a second-shot golf course. The greens are "medium size" in industry terms, which means they are small, smaller still due to the tiny swales and runoffs that Lee designed into every hole.

Quail Ridge Greens Committee chairman Kevin Hammer, an accomplished amateur golfer in his own right and another Great Friend of Golf, agrees. "The best putters and short-game wizards will do well here," he says with knowing look, raising his eyebrows and smiling grimly. "There is trouble to navigate off the tee, but there are openings to all the greens, so a smart player can play safe, and then play to get up and down, but you need the right angle. That's critical. The best and smartest short games here are a force to be reckoned with this week."

While burly par-4s like Nos. 5 and 7 will deal out their share of bogeys, the back nine will see the most swings. The best hole is perhaps the shortest: the puny, pint-sized terror at the par-3 12th, which is surrounded by bunkers as well as water on the left - a hazard which the green actually slopes towards. I have dubbed the hole Bonhomme Richard after the tiny American brig captained by John Paul Jones that stunningly sank the mighty British warship Serapis during the War of 1812. It's a pretty hole, all right . . . pretty until your tee shot sinks. Then it morphs into a gnarled little grinning garden gnome giving you the business.

"Yeah," groused one player impishly during his practice round. "Let's see how pretty it is after you card a seven."

"To play this course successfully, you do have to play the par-3s well," adds Price. "The longer par-3s, in particular, play into the teeth of the easterly prevail."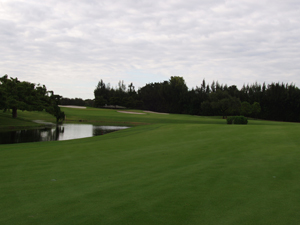 The 13th with it's Devilish Water Hazards
For those that need soothing after the excitement of 12, tough luck because the par-4 13th features another arrow from Lee's architectural quiver, a water hazards that juts into the fairway pinching the landing area. No. 13 is one of the few places on North where you have to think carefully off the tee, instead of just bombing out to the middle of the fairway. It also has good length and a deceiving green complex.

Lee reprises this concept at the par-5 16th, where a burn bisects the fairway, limiting distance off the tee. Lee also uses this defense at a few of his other courses, such as Feather Sound, Palisades and Twin Rivers. Finally, a long diagonal carry over water off 18 is the final challenge coming home.

Favorites to win include Vinny Giles, the well-decorated amateur who won the 2009 Senior Amateur, the 1972 U.S. Amateur at Charlotte Country Club, and the 1975 British Amateur, among many other titles. Philly's Chris Lange won the 2009 Travis Invitational. Pat Tallent is always a threat in any event he plays. He's been runner-up in both the Travis Invitational Seniors division and U.S. Senior Amateur. Tom Knapp, a former Florida State Amateur champ and a former pro, has been rounding into shape. He shot 66 three weeks ago in a Palm Beach event.

Other contenders include Norman Swenson, Chip Lutz, Alan Fadel, Jerry Greenbaum and Rick Wolff, the defending champion at Quail Ridge (he won the last time the SOS Championship played here in 2002), and any one of a number of Quail Ridge members who have the local knowledge to hang around and make the leaders nervous.

The South Course was recently renovated by Florida designer Kipp Schulties, and features white-sand, flash-faced bunkers that wreak havoc on a player's depth perception. Like the North, the micro-movement and interior contour will require deft putting, but South also has a few more strategic requirements off the tee and a few different hole designs than the North collection. The older players get a break and play a course merely 6,000 yards in length.
The public is welcome to come and watch. Spectators may simply drive into the gate, check in at the gate as guests of the tournament, and proceed to the club. Cell phones are not permitted and proper golf attire is required.

And so as the sun smolders to a cherry ember, lighting the skyline of palm trees aflame, old friends reunite like a scene from a Simon and Garfunkel song, sitting in their golf carts like bookends, reminiscing. Some have survived cancer, some have rebounded from the loss of a spouse, others are recent retirees, preparing for the next chapter of their lives. But each is an inspiration to the other. Far more than one last shot at golf glory, the tournament is a celebration of their lives and friendships.

Tonight they hug and smile and trade stories, but they'll all head to bed soon after the sun. After all, there's a lot to do. Tomorrow is Christmas Day.


Since launching his first golf writing website in 2004, http://www.jayflemma.thegolfspace.com, Jay Flemma's comparative analysis of golf designs and knowledge of golf course architecture and golf travel have garnered wide industry respect. In researching his book on America's great public golf courses (and whether they're worth the money), Jay, an associate editor of Cybergolf, has played over 220 nationally ranked public golf courses in 37 different states. Jay has played about 1,649,000 yards of golf - or roughly 938 miles. His pieces on travel and architecture appear in Golf Observer (www.golfobserver.com), Cybergolf and other print magazines. When not researching golf courses for design, value and excitement, Jay is an entertainment, copyright, Internet and trademark lawyer and an Entertainment and Internet Law professor in Manhattan. His clients have been nominated for Grammy and Emmy awards, won a Sundance Film Festival Best Director award, performed on stage and screen, and designed pop art for museums and collectors. Jay lives in Forest Hills, N.Y., and is fiercely loyal to his alma maters, Deerfield Academy in Massachusetts and Trinity College in Connecticut.