Christmas in May - The Travis Invitational at Garden City Golf Club
By: Jay Flemma
The Grand Old Club, the Grand Old Man
The Grand Old Amateur still stands
So raise your voice and clap your hands
It's what her legacy commands
Our Green and Gothic Home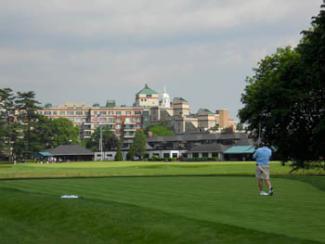 The Best Eden Hole in America
There is something sacred, something sublime, something unparalleled about the Walter J. Travis Invitational at Garden City in New York. PGA Tour players have the Masters; amateur golfers have the Travis. At 102 years young, "The Grand Old Amateur" is still a gold standard example of how to run an amateur golf competition in America.

Founded in 1899, the Devereux Emmet design at Garden City Golf Club underwent a mild renovation in the mid-1900's by fabled member, 1904 British Amateur champion and later quintessential Golden Age golf course architect Walter J. Travis, whose work there mostly consisted of adding slight internal contours to the greens (already wickedly tilted to one side or the other) and deepening the bunkers.

Travis may have done too good a job - the left-front bunker on the par-3 18th hole cost him the 1908 U.S. Amateur title. He hit into it but couldn't get out, bowing to J.D. Travers in the national semifinal. It's now called "Travis's Coffin" as it's said he "dug his own grave," for that tournament at least.

However, the Grand Old Man did win eight "Spring Invitationals" as the Travis Invitational was called from 1902-1939. They changed the title to the Travis Memorial in 1940 and then again later to the present title. And for all that time, the Grand Old Amateur has remained remarkably constant: stately, charming and dignified, the Travis is to amateurs what the Masters is to pros - a revival and a reunion. Each year, the members open not only their club but their hearts, and what results is a celebration not only of golf history and competition, but the game's core values of altruism and camaraderie as well.

"You just can't say enough about the members and how the minute you arrive, they make you feel a part of the club," noted Kevin Hammer, one of the country's greatest Mid-Amateur champions and a perennial threat to win the Travis. He was a semifinalist in 2008, bowing to tiny but plucky Mike Kelley, the eventual champion. "It's so wonderful to hear how much they appreciate you coming to compete and bask in all the celebrations of the great history. 'Camaraderie' is the right word. 'Throwback' is another - it's like stepping back in time through the decades. It's changed so little, and that's the beauty and rarity of it," he concluded eagerly.

"Camaraderie is right. Ever since my sponsor, Noel Volpe, brought me here, I've been inspired by the devotion the members have toward their wonderful history," confided a smiling Hans Albertsson. "The course is fantastic, but the wonderful good cheer of the members and the way they preserve and promote their one-of-a-kind history is even more refreshing. I look forward to seeing them each year as much as I do playing in the tournament. It's a blessing."

"I love that they haven't touched anything there. I felt like I walked through time into the 1800s," agreed defending champion Nick "007" Gilliam, so named for all his hair-raising, James Bond-esque, late-round escapes he produced in marching to the 2011 title in his rookie appearance in the Travis.

"You know what I love? My husband's new nickname!" beamed his blithe, bubbly wife Jamie. "That makes me a Bond girl!"
Travis Trivia

Here's a new feature for this year - each day you'll get a Travis trivia question. Answer at the end of the article.

Q. This winner of the 1998 Travis Invitational played out of Sunningdale in England, defeated popular amateur competitor Ed "Scissorhands" Gibstein in the final, and was the only golfer in a five-year period to supplant David Egar as champion.

Well if Gilliam hopes to repeat, he's going to need more than a bunch of gadgets from "Q" and a beautiful Bond girl. Only 16 players out of over 120 make the championship match-play bracket, so a golfer needs to keep super-spy cool in the crucible of Travis competition; the tournament is a rugged test of a contestant's skill at both match and medal play over the three days of play.

"Friday is a single qualifying day where the top 72 players out of the field of over 120 will advance to the match-play rounds conducted over the weekend," explains tournament chairman Pat Fogarty, who is also a contestant. "The match-play portion has five competition flights: a championship flight of the top 16 players after Friday's medal play, a second flight of the next 16 players, and then three more flights of eight players each. Additionally, 16 more players will qualify for the 'senior legends' flight."

"One of the nice things about the tournament is that, with 72 qualifiers, a player has a good chance to advance to weekend play," added Albertsson. Indeed, they need that many flights, as the quality of player the tournament attracts is staggering; well-decorated state amateur champions can lock horns with former USGA championship winners in any bracket, one through five. One year Jeff Thomas, a seven-time New Jersey state amateur champion, met Jerry Corville, a U.S. Mid-Amateur champion, in the fifth flight.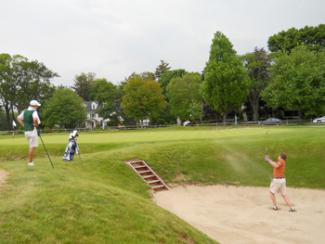 Owen 1 Plays to Green in 2011 Playoff
"Another year I remember Hunter Semels defeating Joe Sommers in a match where Hunter was 5-under and Joe was 4-under," Albertsson recalled. "The level of talent the tournament attracts is staggering. Great champions can meet each other in any flight."

"The field is so strong that the difference in ability between a top seed and a bottom seed in any flight can be negligible," Garden City golf pro emeritus Gil McNally explained. "Moreover, the stroke-play portion of the competition is only one round, where anything can and will happen."

But while the field can be jumbled by the casual slings and arrows of the capricious bounces of a single round, the match-play portion is an equalizer, giving the more skilled player a chance to overcome a high seeding and work through the brackets.

"In a tournament like this, being the top seed is not anywhere near as much of an advantage as it is in other sports like basketball," McNally stated with a knowing smile. 2009 alone saw a startling bloodletting at the top of almost every bracket as five No. 1 seeds out of the six flights were eliminated in the first round of match play. Then in 2010, medalist Dave Reneker of Bel-Air Country Club in Southern California tied the competitive course record with a sterling 67, only to bow out in the first round of match play.

What makes Garden City such a great match-play course is the large number of "half-par holes" - easier holes that tempt you into going for birdie or even eagle, but also harder holes that make you feel like your par picked up a shot on the field. Generally, players try to score on the four par-5s (Nos. 4, 7, 13 and 17), and the shorter par-4s, then hang on for dear life the rest of the way around.

"You know that on some holes, it's going to be a challenge to make a par, and no matter where you are on the golf course, if you miss an approach, you'll be scrambling big time," stated Allbertsson. "If you don't capitalize early, you feel you're under pressure because you have the hardest holes in front of you. Six, eight and 10-12 are tough and, of course, 15," he explains, describing the famous "Wall Hole," a behemoth of a 487-yard, uphill par-4 bisected by a stone wall, its green so severely pitched from left to right a miss-hit might end up on the adjacent 13th green. "You have get off to a good start, and avoid any big mistakes," Allbertsson concluded.
Albertsson additionally noted that the greens are also a cunning defense to the golf course, with both macro- and micro-movement. "They might appear to be flat, but they have everything from subtle rolls to severe contours. They are challenging to read and are equally tough on approaches and greenside recovery shots. You must be patient and your short game must be sharp."

"Every time I play it, I have a different favorite hole, and I learn something new about it every day," agreed Gilliam. "I love the open links feel of the golf course. It's as though it hasn't been touched by time in 112 years."

Additionally, Garden City is also known for its Muirfield-like rough - tall and thick - and its deep pot bunkers, sometimes not even big enough for one angry golfer and his wedge. One example is the short but dangerous par-4 14th. Almost ringed with tiny, penal pot bunkers from tee to green, the hole resembles the great links holes of both Muirfield and Royal Lytham.

As a result, any hole can trigger a monumental swing in the momentum of the match. One minute you can be in the catbird seat, in the middle of the fairway with a perfect angle to the flag and your opponent in trouble, and then one shot later, you can short-side yourself greenside and be more toasted than your morning English muffin. The reversals Garden City doles out not only from hole to hole, but shot to shot make it one of the greatest match-play courses in the world . . . anywhere, and that means no lead is safe.

Although the tournament is a mid-amateur event, young guns have dominated of late. Last year, Gilliam was touted pre-tournament as a prize rookie by both Fogarty and Hammer and then won the tournament in his first appearance. Big Ben Hayes did the same thing in 2010, winning the Travis in his first try. Hayes was only a few short years out of college when he out-dueled his USC roommate and co-competitor on the golf team, Brad Shaw, in the semifinals en route to the title. Both he and Gilliam are favorites to make the championship bracket.

Other 2012 pre-tournament favorites include Hammer, Albertsson, Reneker and a pair of Irish ex-pats known casually as "Owen 1" and "Owen 2" - that is Eoin O'Connor and Eoghan O'Connell. "Owen 2" (O'Connell) is the larger one physically, hence "Owen 2."

"Larger which way?" quipped Hammer, never passing up an opportunity to skewer his dear friend and partner in this year's Anderson tournament, another major amateur championship conducted at Winged Foot. And you can bet, the longer they stay in the tournament, the more barbs they will toss at each other about their physiognomy and golf games. O'Connell won the Travis in 2006. He also owns and operates the Fox Club in South Florida - a club so Irish it's been dubbed "Dublin in the Palms." Similarly, "Owen 1," (Eoin O'Connor) has had two high finishes in the match-play bracket. He's an unflappable match-play competitor - as relentless as he is precise and even-keeled. Watch out also for Roger Hoit, a former semifinalist, Steve White, John Marisco and Alan Fadel, who all had strong showings at the Coleman Invitational at Seminole two weeks ago and are rounding into form just in time.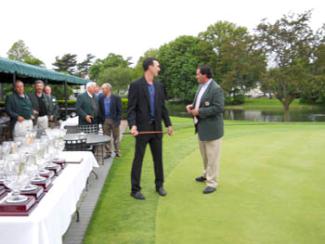 Nick 007 Gilliam to Defend his Travis Title
But the Travis is much more than just the best amateurs in the country. It's great local favorites like the always dangerous Joe Saladino, the 2008 runner-up to Mike Kelley and a perennial winner at Met Golf events, or attorney Joel Lulla, who was runner-up in 2009 to Chris Lange, or Jed Raynor, the Garden City member who thrilled not just the members but all the amateur golf world during his Cinderella run to the semifinals of the 100th Travis in 2010. His remarkable performance proved that sometimes at the Travis, the race goes not to the strong, but the sturdy.

"The year I won we played five rounds in three days against the best competition in the country, and I remember Joel and I were absolutely exhausted by the final," recalled Lange. "This golf course and this tournament test you on every shot. No one is going to run away and hide."

But most importantly, the Travis is defined by the generosity and selflessness of the members. It's the irrepressible Noel Volpe spreading good cheer as he roots for each player coming down the fairways. It's the unquenchable Merrick McQuilling bringing the sun with him wherever he goes, peals of sincere laughter at his raconteur wit ringing across the veranda. And it's the unsinkable Billy Kreitsek sharing his infectious love of the game with new friends and old, as well as each and every member of Garden City who put ego aside the day they don their Garden City-green member's jacket.

"It's Christmas in May," explained member Pat Mucci, laconically summing up the feeling everyone can't help but embrace upon arriving at Garden City. He's right. For one week the golf world can see the true virtue - the sincere value - of the game in all its purity and graciousness. It's refreshing to see things are still done with homespun charm and Old World courtesy. The Grand Old Club, the Grand Old Man, the Grand Old Amateur still stands, in all its stoic, dignified and venerable history.

That's part of what makes Garden City Golf Club an Ancient Splendor of the Golf World - every word capitalized because it is the definitive article, as it were. And with the right kind of eyes you too can see what golfers have seen there for over a century.

TRAVIS TRIVIA ANSWER: Ken Bakst. David Egar won in 1997 and then again from 1999-2001.
Since launching his first golf writing website in 2004, http://jayflemma.thegolfspace.com, Jay Flemma 's comparative analysis of golf designs and knowledge of golf course architecture and golf travel have garnered wide industry respect. In researching his book on America's great public golf courses (and whether they're worth the money), Jay, an associate editor of Cybergolf, has played over 420 nationally ranked public golf courses in 40 different states, and covered seven U.S. Opens and six PGA Championships, along with one trip to the Masters. A four-time award-winning sportswriter, Jay was called the best sports poet alive by both Sports Illustrated and NBC Sports writers and broadcasters. Jay has played about 3 million yards of golf - or close to 2,000 miles. His pieces on travel and architecture appear in Golf Observer (www.golfobserver.com), Cybergolf, PGA.com, Golf Magazine and other print magazines. When not researching golf courses for design, value and excitement, Jay is an entertainment, copyright, Internet and trademark lawyer and an Entertainment and Internet Law professor in Manhattan. His clients have been nominated for Grammy and Emmy awards, won a Sundance Film Festival Best Director award, performed on stage and screen, and designed pop art for museums and collectors. Jay lives in Forest Hills, N.Y., and is fiercely loyal to his alma maters, Deerfield Academy in Massachusetts and Trinity College in Connecticut.