Club at Brasada Canyons Delivers Drama in Central Oregon
Central Oregon and the Pacific Northwest, in general, stand as two of the nation's most active course development regions. A prime subsection of that area is Central Oregon, where the Club at Brasada Canyons is the centerpiece of the new Brasada Ranch. Laid out by Jacobsen Hardy Golf Course Design and opened this fall, the Club at Brasada Canyons debuts as the only desert-style layout on this arid plateau.
Jacobsen Hardy made the most of the site, routing 18 holes in, across and along the edges of a network of canyons to offer broad panoramas of the Cascade Mountain Range. Brasada's 80-foot-high wooden golf cart trestle - which delivers players back to the clubhouse and serves as backdrop to the par-5 finishing hole - is one of the more stunning manmade touches.
"There's so much to see during a round at Brasada, it's such a feast for the eyes, that we had to make some strategic decisions about when to create visual drama and when to simply get out of the way," said Peter Jacobsen, a partner with Jim Hardy in Houston-based Jacobsen Hardy Golf Course Design. "The creative part of our design here was mainly a matter of routing. There are three basic types of holes at Brasada: those that play in the canyons themselves; those that play along their edges at elevation; and those that play off the edges, either into the canyons below or across them to another edge.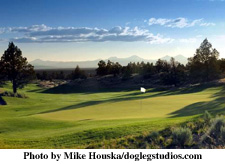 "It's unbelievably dramatic, nearly a mountain golf experience with all the elevation change - but very high desert in terms of the surrounding vegetation, which is unique to central Oregon. When we first arrived on site, it struck us all as being similar to Desert Mountain, in Scottsdale, but with juniper in place of the cactus. It's a singular golf environment, and the course we created here accentuates every bit of it."

Brasada's opening holes quickly take golfers into the experience: The par-5 1st snakes along a gently rising canyon floor; the par-4 2nd plays along a broad ridge-top to a green seemingly perched at land's end; the par-4 3rd drops precipitously from a ridge back down into a canyon, while the par-3 4th stretches from the edge of one ridge, across a canyon to another ridge.

"If you think hard on it, golf courses rarely offer so many hole templates that are so very distinct," said Jim Hardy. "The great courses have two or three environments or 'looks', and the remaining holes are variations on those themes. At Brasada Canyons, we had three or four themes - and the sheer variety of resulting holes is quite striking.
"Folks have latched onto the 15th" - a drivable par-4 across a canyon in full view of the Cascades - "but the 9th might be our favorite hole out there. It's 499 from the tips, a par-4. You play across a baranca, to a hugely generous landing area. There is no fairway bunkering - there is no need for it when you consider the natural roll of the terrain. The green sits out at the terminus of this ridgeline with the white-capped mountains as a backdrop. Just stunning."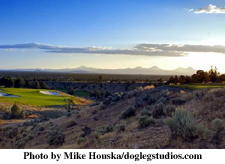 Housing never intrudes on the 7,328-yard course. Rex VanHoose, Jacobsen Hardy senior vice president/managing architect, notes that his firm was given an extremely wide berth in laying out Brasada Canyons. "The fairways at Brasada are extraordinarily wide for a whole host of reasons - because we were given a free hand by the developers, because the wind can really howl up there, and because holes framed by canyon walls tend to look narrow, even when they aren't.

"Combating that optical illusion was an aesthetic decision, but we had another reason for this width: Fairways on a grand scale fit the character of this property. With so many 360-degree views of the valley floor, with so many holes looking across at Mt. Jefferson, Three Sisters, Broken Top and Mt. Bachelor, we wanted the golf course to have its own sense of grandeur."
About Brasada Ranch

Brasada Ranch is located in the village of Powell Butte, 13 miles from Roberts Field in Redmond (RDM), with its daily direct flights to Portland, Seattle, Salt Lake City, San Francisco and Los Angeles. Portland is 150 miles to the northwest and Bend is 16 miles to the south. The resort development at Brasada Ranch (www.brasada.com) was developed as an "intelligent" community. Oregon Electric Group has run fiber optics to every home site and resort building, enabling four-digit dialing throughout Brasada Ranch. Each residential unit also features a "smart box", allowing all utilities to be monitored and programmed remotely, i.e., from a homeowner's alternate residence.

For this sort of ingenuity, for its salvage and use of wood from an old lumber mill, for the foresight to set aside half of its land as open space, Brasada Ranch was named Community of the Year by "Builder," the magazine of the National Association of Home Builders (NAHB), in the October 2007 issue. Brasada is also the first newly constructed destination resort in the nation to receive a gold rating from the U.S. Green Building Council's Leadership in Energy and Environmental Design (LEED). This prestigious LEED certification was given to Brasada Ranch's centerpiece structure, the 8,300-square-foot Discovery Center. In addition, the four other core community buildings are designed to LEED silver and gold standards.     
About Jacobsen Hardy Golf Course Design

Starting with its design of The Oregon Golf Club in 1992, Jacobsen Hardy has produced a succession of award-winning layouts, including Moorpark CC north of Los Angeles - named to Golf Magazine's "Top 10 New Courses You Can Play" for 2003; Houston's Redstone Golf Club, site of the PGA Tour's Shell Houston Open; and Hammock Bay Golf & Country Club in Naples, Fla., listed among Travel+Leisiure Golf's Top 10 Private Clubs to debut in 2004. In addition to The Club at Brasada Canyons, Jacobsen Hardy's 2007 openings included The Club at Gray's Crossing, a private track serving Tahoe Mountain Club members in Truckee, Calif. For more details, visit www.jacobsenhardy.com.