Club at Viniterra Now Open to Select Public Play
The word "Viniterra" loosely means "earth wines" or "land of grapes." In the case of one gated, Richmond-area golf community - with luxury estate home sites and planned golf cottages, as well as a world-class winery - either definition fits the bill.

The Club at Viniterra
Located just off Interstate 64 in the New Kent vineyards development of New Kent County, Va., almost equidistant between Richmond and Williamsburg, Viniterra is an environmentally sustainable community offering easy access to the Mid-Atlantic's urban areas, the Mid-North Carolina Outer Banks, the James, York and Rappahannock rivers, Chesapeake Bay and Virginia's beautiful countryside.

The ongoing New Kent Vineyards Planned Unit Development has been designed to include five major land bays connected by a European-style parkway utilizing roundabouts and wide buffers to retain the area's rural character.

There are a pair of centerpieces at Viniterra: A Rees Jones-designed golf course called the Club at Viniterra, which has grown in popularity since it opened its gates to select outside play a few months ago; and the New Kent Winery, built almost entirely with recycled building materials and which has won the hearts of the Virginia wine community.
The Club at Viniterra consists of slightly less than 1,200 acres of wooded, rugged terrain. Jones - the "U.S. Open Doctor," son of legendary architect Robert Trent Jones and recipient of the Old Tom Morris Award from the Golf Course Superintendents Association of America for his lifetime commitment to golf - crafted a rolling, challenging layout that can be stretched to nearly 7,800 yards from the tips.

The course features massive fairways and run-ups to nearly all of its greens. Also involved are various grass, sand and water hazards, making Viniterra a test for golfers who select the proper set of tees (some holes offer up to a dozen different starting points).

The routing incorporates many of the diverse, natural features of the property, including dramatic elevation changes, wetland areas and portions of a mature, deciduous forest. Ponds and 13 bridges were incorporated into the field of play.
"You will never be bored at Viniterra no matter how many times you play," said director of golf Bob Foster. "The scenery is spectacular as there are amazing topography changes not normally found in this part of Virginia. Any golfer of any skill level can play and enjoy the course with yardages ranging from 5,200 to almost 7,800. From the back tees, it is a real brute and rated as one of the hardest in the Commonwealth."

The Club at Viniterra saves as much as 80 percent of the water consumed by traditional courses and exclusively uses the grass hybrid "Celebration," which is far more drought-resistant and requires 70 percent less water to maintain than traditional strains.

The Jones design at Viniterra opened in late 2009 as an amenity to help sell real estate. Now that the golf course has matured, the developers opted to open it for limited public play.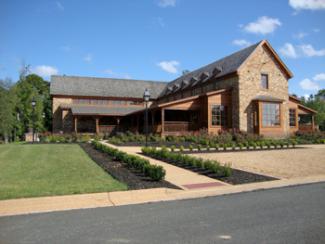 New Kent Winery
There are three separate areas along the course from which the New Kent Winery can be viewed. Built by craftsmen with historic materials reclaimed from buildings and structures over a century old - beautiful heart-pine trusses were reclaimed from a 1901 Southern Railroad Depot in the Shockoe Bottom area of Richmond; heart-pine structural timbers and floor timbers recovered from a Connecticut warehouse circa 1852 - the 17,000-square-foot facility is equipped with state-of-the-art wine-making equipment from around the world. It has already produced some of the finest wines in Virginia, including Chardonnay, Reserve Chardonnay, Merlot, White Merlot, Meritage, Vidal Blanc and Norton - a grape native to the state.
Among the oldest counties in Virginia, New Kent was settled by the English and so named for Kent in England. The area was the setting for significant events in American history: Captain John Smith first visited New Kent in 1607, and the church where George and Martha Washington were wed still holds services there today. Names like Pocahontas, General Cornwallis and Thomas Jefferson also once called the region home, and many different armies have marched along New Kent's roads - among the oldest in America, including British, American Revolutionary, Confederate and Union forces.

Today, New Kent is home to Colonial Downs, Virginia's home of thoroughbred horse-racing, as well as inviting wine country. The county is known for its rivers and streams, and other outdoor activities for sportsmen.
For more information about the Club at Viniterra, visit www.viniterra.com.