Club Car Introduces ERIC Charger for Precedent® Golf Cars
April 2, 2014. Club Car, the largest maker of small four-wheel electric vehicles in the world, has introduced a new high-frequency, solid-state charger known as ERIC.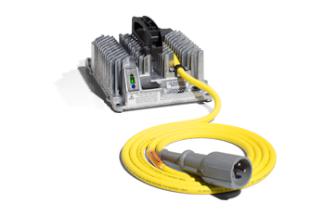 ERIC Charger
"ERIC offers cutting-edge features and functionality built into a smaller, lighter and smarter design. It eliminates many user errors and helps ensure that your vehicle is juiced and ready to go when needed," says Product Manager David Woodward.

ERIC is now standard on all Precedent electric golf cars manufactured after September 2013. It cannot be used on older cars with the on-board computer.

Eliminate User Errors

If a car is not receiving AC power when a user thinks it is, the owner can be left stranded. This common error occurs if the car is not plugged in correctly, or plugged into a bad outlet or an outlet with a defective circuit.
ERIC helps avoid these problems by communicating with users. "If the blue light is illuminated, you'll know that the car is getting AC power," says Woodward. ERIC also issues audible and visual alerts when charging begins. This gives users confidence that the car will be charged when needed. Status lights indicate when the vehicle is fully charged, and alert users when there's a problem with the charger.

"You can leave ERIC plugged in, just as you could the former charger. The difference is that after ERIC completes the initial charge, it continues to monitor the battery pack and deliver power as needed," Woodward says. "This is especially helpful if you use your car infrequently, such as with vacation homes."

And, with the widest voltage range in the industry (85-270 volts), ERIC works globally and keeps charging even during power swings.

ERIC's Components

The system consists of:

• A cutting-edge charger sealed in a protective aluminum housing
• A enhanced controller that replaces the old on-board computer
• A wiring harness
• An LED dash light that alerts you when the batteries have 20 and 10 percent battery capacity remaining
• A plug and a receptacle
Energy-Efficient, Sealed & Lightweight

ERIC boosts charging efficiency to 91 percent, a 10 percent increase over the former system. This saves energy during charging. To ensure long, reliable service, the charger is enclosed in a sealed aluminum housing that protects it from sand, dust and moisture often found in garages.

Weighing in at just eight pounds, it is much smaller and lighter than the previous charger, so it's easy to move and mount. "ERIC is the most efficient, intelligent and reliable golf car charger on the market," Woodward says.
Club Car vehicles are sold through authorized dealers. To find a dealer near you, visit www.clubcardealer.com.