Coastal Vietnamese Resorts form 'Golf the Beach'
Two of Vietnam's premier courses have joined forces to lure more golfers to one of the country's most activity-rich tourist areas. Ocean Dunes Golf Club in Phan Thiet and Sea Links Golf & Country Club in nearby Mui Ne have formed "Golf the Beach: Vietnam's Must-Play Getaway," to showcase the virtues of this sandy strip along the country's southeastern coast.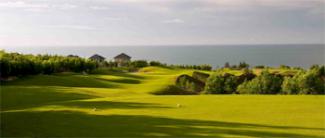 No. 7 at Sea Links
"It's about strength in numbers, and that's why 'Golf the Beach' is a very exciting development indeed," said Stephen Banks, general manager at Sea Links. "We've got two excellent championship courses here, with several more in the planning and construction stages, but this is the first time the Mui Ne/Phan Thiet area has been promoted as a golfing destination.

"We think it has major potential. We're so close to Ho Chi Minh City, but a day or two has never done this region justice. 'Golf the Beach' merely states the obvious: Golfers can come and play two of the best courses in Vietnam, each within 15 minutes of the other. At night, in between rounds, they can avail themselves of everything else the region has to offer."

These non-golfing attractions are why the Mui Ne/Phan Thiet strip has developed in recent years into a prime draw for foreign and Vietnamese tourists. Sandy beaches, reliable sun, cooling breezes, and plentiful restaurants, accommodations and nightlife make Mui Ne one of the country's top beach destinations.
To the north lie the famed Red Sands of Mui Ne while, to the south, stretch kilometers of open, quiet roads perfect for extended moped excursions to undeveloped beaches. At the same time, dependable wind and warm water have turned Mui Ne/Phan Thiet into one of the most popular spots for windsurfing and kite surfing in all of Southeast Asia.

No. 13 at Ocean Dunes
"Or maybe you'd rather take the cable car up Ta Cu and lay down beside the largest recumbent Buddha in Southeast Asia," said Glenn Cassells, director of golf at Ocean Dunes GC. "There's a very relaxed feel about this part of Vietnam, both on and off the golf course. But it's a beach destination at heart, and the vibe reflects that. It's clean, sunny, slow and casual - especially when you're coming from a place like Ho Chi Minh City, or any big city. It's a place to truly get away."

Golf has long been a stitch in this fabric. The Nick Faldo-designed course at Ocean Dunes has been a linchpin of the Vietnamese golf scene since opening in 1996. Indeed, it was the first modern resort course built in this country, the first to open outside the urban hubs of HCMC and Hanoi.

Sea Links, an attractive and formidable test created by the course architecture firm Golfplan, joined it in 2008, accelerating the golf-development boom that's still underway in the country.

The two courses offer golfers wildly contrasting yet equally compelling experiences. Ocean Dunes is laid out at sea level - directly beside the East Sea, and combines elements of firm-and-fast links play and colorful pine barrens. There are several standout holes that weave through the track's dunescape, coniferous forest and chain of lakes. However, the uphill ninth - a par-3 played through a funnel of casuarinas pines to a raised green at seaside - is regularly voted among the best short holes in the world.
Sea Links, meanwhile, is more expansive and its dramatic location - amidst the dunes high above Mui Ne - offers spectacular views of the East Sea. The undulating course is challenging. It measures 7,617 yards from the tips and many experts rate it the toughest in the country. Holes such as the fourth, a treacherous and long par-4, and the dogleg seventh are as testing as visually pleasing.

"The two courses complement each other by being so very different," confirmed Banks. "One is a flat course, one is hilly. One is more of a traditional design and one is thoroughly modern. Both are great courses, however, and they are never anything less than exhilarating. Golfers who come to this area for a golf week will almost definitely play both tracks more than once. That's both our calling card and our mission."

"We've got everything in place," Cassells added. "As well as having two championship courses, this area has its own micro-climate so conditions are way better than the rest of Vietnam for much of the year. Cool breezes and sunshine - that's every golfer's dream."
For more information, visit www.golfthebeachvn.com.