Cold Rain, Warm Spirits as 98th Travis Invitational Begins
By: Jay Flemma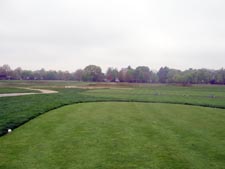 A granite-grey sky stretches from horizon to horizon across the Long Island sky on this morning, but for 130 golfers and the membership of Garden City Golf Club, today is Christmas Day, as bright, cheerful, and filled with promise as the grandest holiday. "Welcome to Friday at the Travis," beams one green-jacketed member of the club in greeting as players file into the clubhouse to begin the 98th playing of the Walter J. Travis Invitational, greater New York City's premiere amateur golf event. Varying replies, of "Thank you, its great to be here," come in reply from grateful golfers and happy patrons.
Though the rain waxed and waned over the course of the day - sometimes falling straight down, sometimes blowing fiercely to the side - the players' excitement in anticipation of starting in one of the country's most hallowed amateur events was palpable.
"You should love this weather," says one patron to English expatriate Michael Wharton-Palmer, a competitor who now calls Texarkana, Ark., home. "Does it remind you of home?"

"It reminds me of why I left," Wharton-Palmer jokes back good-naturedly, returning the smile and handshake with a sincere smile and firm grip. When it's so windy, rainy and cold that even a former U.K. resident notices, you know it's tough. Conditions were so inclement, only two golfers broke par all day over the par-73, 6,911-yard course.

Alan Specht of Wheatly Hills Country Club, five minutes away from Garden City, won medalist honors with a sparkling 4-under 69. "I played a different course than everyone else because of my early tee time," a grateful Specht said after finishing just before the worst of the tempest roared through. He opened with a birdie at the short "drive-and-pitch" par-4 first hole, strung together five straight pars and birdied the long par-5 seventh with a 10-foot putt before making his first bogey at the 10th. "I three-putted for bogey from 40 feet, but stayed focused and hit a lot of good shots coming home. I also got a little lucky," Specht noted with a knowing smile.

After a kick-in birdie at the short par-4 14th, Specht hit the shot of the day at the mighty par-4 15th, a huge par-4 with a fearsome cross-hazard bisecting the fairway. "I hit 3-wood off the tee and had long shot in that was totally blind. I hit 5-iron and when I got to the green, I was a foot away," Specht stated. "It was lucky; I trusted my target and hit it." Specht added a routine two-putt birdie at the short par-5 17th as a bonus.

After the round, Specht nodded to his golf coach, to whom he attributes a string resurgence in his game. "I've been working all winter with Rob Labritz, the pro at Glen Arbor Club in Westchester. With his guidance, I had a strong showing at the Havermeyer [another strong amateur tournament at nearby Southward Ho]. I haven't had a lot of luck here, having only made the championship flight once before, so I'm really happy. I'm hoping to keep competitive the rest of the way. To me, this is one of the most prestigious events in the country."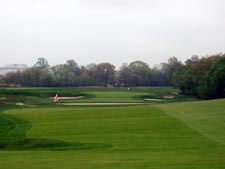 Kevin Hammer of Quail Ridge Country Club had the only other sub-par round, a 3-under 70 that vaulted him to the second seed in the championship flight as the tournament moves to match play for the rest of the weekend. Hammer reached 4-under after birdies at Nos. 1, 5, 9 and 10, but carded his first bogey on 11 after hitting a deep pot bunker off the tee and having to pitch out. Another bogey at 15 was offset by a two-putt birdie at seventeen.

"I played a pretty clean round of golf," Hammer stated. "I hit 13 fairways out of 15 and hit 15 greens in regulation," he explained. "I have a lot of respect for this golf course. I've seen it in a lot of conditions, but no matter what the weather, you need to keep the ball in play, be on the correct part of fairway and the right part of green. You have to pick carefully where to be defensive and where to be aggressive."

Hammer, a Merrill-Lynch executive by trade, considers it a great privilege to play in a tournament with such a rich history as the Travis. "I live all the way in Del Ray Beach, Fla., but my friends and I talk about this tournament throughout the year," he said with wide smile. "I have a large group of golf friends and we always circle the week in May on the calendar for the Travis. It's a highlight of our golf year."

"It's amazing how dedicated the players are and how passionate the members are for this tournament," echoed Minneapolis native Jim Lehman, whose 2-over 75 made him the ninth seed in the championship flight. "I'm interested in the history and traditions of the game and just to participate in an event that carries on Travis's legacy is a thrill. I've been so impressed that the membership is all on the same page in honoring the traditions of the game" he said humbly.
Lehman is a great example of the fine pedigree of player that competes in the Travis. He competed in eight USGA championships throughout his career and has even competed in the fabled Crump Cup at Pine Valley. Lehman will face Nathan Smith in the "8-9 match." The top 16 competitors advanced to the match play rounds of the championship flight.

The competition at the top was so fierce and the weather such an equalizer that, with eight players carding 76, a playoff was needed to eliminate one of the eight to close out the 16-man bracket. After carding clumsy bogeys on the first hole (the Travis playoff loop is 1-2-18), Dave Segot edged Jack Eisenbeis on the par-3 second hole to secure the 16th seed. Eisenbeis's tee ball landed in the back bunker, leaving him not only a treacherous downhill lie, but so close to the rear lip he had to abbreviate his backswing. After hooding the club, usually the last thing to do on a bunker shot, he put the ball on the green, but Segot rolled in a 5-footer for par.

"That playoff was tough," admitted Mike Cress, old Georgia Tech grad who switched allegiance to South Carolina in a loyal nod to his coaches, Puggy Blackmon and Bill McDonald, former Yellowjacket coaches who then moved on to the University of South Carolina. His mercurial 76 featured six bogeys and two birdies. "You have to know where to be careful on this course. There's tough pot bunkers, waste areas and thick rough, so you must take that side of the hole out of play," he explained with a relieved expression after his par secured him the 13th seed in the championship flight.
"On the greens, you can't under-read your putts here, because they'll run by the hole and scoot by 6, 8, 12 feet and then you miss the come-backer and a four becomes a six," Cress said. He survived just such a mental error. "On 16, I three-putted from 15 after having what I thought was a green light run at a birdie and telling my caddie, 'I'm not going on defense.' I blew it by 6 feet and missed the come-backer." The error triggered two more bogeys to close the round, one after his driver slipped in the rain on 17, leading to his scrambling to get up and down from a bunker for bogey, the other on the home hole after finding the right greenside bunker.

Indeed, the closing four holes proved a murderous stretch in the cold, rain, and wind. Ordinarily a mild finish - the long, tough 15th is followed by a short par-4, a short par-5, and the par-3 Eden Hole finisher - the closing holes played well over par. The (par) 4-4-5-3 finishing holes played to stroke averages of 4.77, 4.75, 5.21, and 3.59 (with a few players still out on the course).

Perhaps this run should be known as the "Scales of Justice," for the balance of a match can swing seemingly at whim from playing relatively easy to fiercely difficult and they are blind as to who they punish and who they will bless. Wharton-Palmer played this stretch in bogey-bogey-bogey-bogey. His 5-over 77 missed the playoff by a shot. Not to be outdone, well-decorated amateur and Garden City member Pat Fogarty - "Our best hope for a member to win this tournament," as one member put it - finished double-bogey, double bogey, double bogey, bogey. Fogarty, who set the competitive course record with a 67 in the club championship one year, missed qualifying for any of the match-play flights, showing exactly how demanding the 109-year-old course is to this day, despite technological advances that have brought lesser designs to their knees. With several players still to finish, the stroke average was a whopping 81. The only hole playing under par was the 137-yard second at a sedate 2.99 stroke average.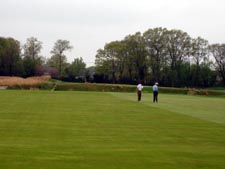 "We actually set the course up reasonably easy," said Gil McNally, the former head pro for 33 years and now pro emeritus. "With a large number of players we wanted people to move around quickly and this course holds up to scoring without making it tricky. The weather was the big factor why the scores were high. It [added to] the course four shots today."

As the tournament progresses the pins will get gradually harder, but still accessible. "We don't need to try to kill them," McNally says wisely. "We'll make them a little tougher test tomorrow and again early on Sunday" he explained.

Competitors in the championship flight, second flight (the "Devereux Emmet" flight), and senior flight, (named for former U.S. President and honorary member Dwight D. Eisenhower) will play as much as 36 holes a day if they keep winning. "Sunday afternoon we want to make them a little easier because the players are a little weary after three long days, they've played four rounds already" McNally said. "It's also for the fans. We know they don't want to see pars winning holes. We want to give them a chance to play the golf course and shoot a number so that good golf wins the championship. We want the course to look good and the players to look good as well, but we strive for a balance of the two. We don't want the course to look good because it makes the players look bad, or vice versa," he concluded.
"The last four holes are a good example," McNally points out, referring to the Scales of Justice. "Those last four holes are normally reasonable. Generally 16 is medium par-4 at best, 17 is usually an easy par-5, and 18 is usually a safe three, but today 15, already challenging, is brutally long. Sixteen - usually a short iron or wedge, was a long iron or hybrid for most players. Into that wind, seventeen played over par. Normally the whole field can reach that green in two, but I don't know if anyone can with weather. The natural grasses and rough are a great defender of the course as well," he added.
Besides the tribulations of Fogarty and Wharton-Palmer, Jim Lehman can attest to the capricious nature of the finish, as he experienced both the agony and the ecstasy. "I was hanging on for dear life at the end," he said, a look of horror flashing across his face. "On 15, I lost control of the club when it slipped. The ball darted out right into some of the heaviest rough on the course. I chopped it on the green and three-putted for double-bogey, which put me at 3-over." Lehman righted the ship, finishing par-birdie-par, one of only a handful of players to play the Scales of Justice at even par.

The course, a cunning Devereux Emmet routing, improved competitively by Travis's addition of bunkers and green contours can be divided into three distinct terrains. One, two, three, 17 and 18 form the "Carterette Loop," named for Carterette Road, the boundary circling those holes. Holes four through eight and 13 through 16 play in the great open expanse of the windswept Hempstead Plain. Holes nine through 12, which play along the western outer rim of the property, perfectly form the shape of the letter "W" when viewed from overhead.

Originating in 1902 as the "Spring Invitational" for Garden City Golf Club members and their guests, the tournament has grown mightily in stature since it's inception. Walter J. Travis, "The Grand Old Man," a member of Garden City Golf Club and one of the most accomplished amateur players in golf history, won the first eight Spring Invitational Tournaments and claimed his ninth and final title in 1914. After his death in 1927, the club renamed the tournament he loved so much in his honor. Travis won three U.S. Amateur titles (1900, 1901, and 1903) and was a semifinalist five other times.

Since the days of Travis, the tournament has continued to attract the finest mid-amateurs from not only across the United States, but internationally as well. Charleston, S.C., Oakmont, Pa., Burlington, Vermont, Texarkana, Ark., San Francisco, even Lahinch and Portmarnock in Ireland are just a few of the places competitors in this year's field call home.

Though the same leaden-slate sky stretches dispassionately over greater New York City, pouring rain upon everything, their fervent love of golf keeps the players and Garden City members warm. Rather than leave at the end of the day, officials from the USGA museum in Far Hills have sent remarkable treasured artifacts for display after play has completed. There was the ornate U.S. Amateur trophy in all its encrusted glory, an old 1-iron Hogan used at Merion, and a "jigger" (sand wedge) used by Francis Ouimet at the 1913 Open.

With great friends, great golf, and history by their side, they'll be warm long into the night.

The Match Play Bracket for the Travis Championship (seeding on left):

1. Alan Specht (69) vs. 16. Dave Segot (76)

8. Nathan Smith (75) vs. 9. Jim Lehman (75)

4. Joe Saladino (74) vs. 13. Michael Cress (76)

5. Chris Lange (74) vs. 12. Mark Thompson (76)

2. Kevin Hammer (70) vs. 15. Greg Rohlf (76)

7. Eoghan O'Connell (75) vs. 10. Alan Fadel (76)

3. Hans Albertson (74) vs. 14. Michael McDermott (76)

6. Michael Kelley (75) vs. 11. Rob Shawger (76)


Since launching his first golf writing website in 2004, http://www.jayflemma.thegolfspace.com, Jay Flemma's comparative analysis of golf designs and knowledge of golf course architecture and golf travel have garnered wide industry respect. In researching his book on America's great public golf courses (and whether they're worth the money), Jay, an associate editor of Cybergolf, has played over 220 nationally ranked public golf courses in 37 different states. Jay has played about 1,649,000 yards of golf - or roughly 938 miles. His pieces on travel and architecture appear in Golf Observer (www.golfobserver.com), Cybergolf and other print magazines. When not researching golf courses for design, value and excitement, Jay is an entertainment, copyright, Internet and trademark lawyer and an Entertainment and Internet Law professor in Manhattan. His clients have been nominated for Grammy and Emmy awards, won a Sundance Film Festival Best Director award, performed on stage and screen, and designed pop art for museums and collectors. Jay lives in Forest Hills, N.Y., and is fiercely loyal to his alma maters, Deerfield Academy in Massachusetts and Trinity College in Connecticut.