Color Me Golf - What's New at the 2013 PGA Merchandise Show
By: Nancy Berkley
With 1,000 companies showing off their new products at the annual PGA Merchandise Show in Orlando, Fla., it's not hard to easily spot a trend. This year the trend was blinding - bright colors everywhere, from balls to belts, club heads to grips, and shirts to gloves.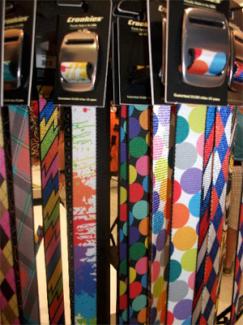 Some of the Colorful Stuff at
2013 PGA Merchandise Show
For about a decade I have been trooping to Orlando at the end of each January to see what manufacturers are offering for golfers and golf facilities. Although my focus is always on "What's new for women golfers," I cannot avoid making observations about the entire marketplace.

Some shows have offered a "travel" theme, with countries and tour operators dominating sections of the convention hall. Other years, new clothing technology has shined with competition in high-tech fabrics.

But the color theme this year carries a critical and welcome message: Golf is no longer a boring old man (or ladies) sport. The PGA's new-golfer successful initiative of five easy lessons - the "Get Golf Ready" program - perhaps should be renamed simply "Get with It." Golf has a new look that is young and nontraditional.

I searched for tipping points and the source of this new-found "non-establishment" theme. Maybe it is Bubba Watson's pink driver, Rickie Fowler's orange hat or Michelle Wie's short skirts and other young LPGA golfers who dress with flair.
Multicolored Tops on Display
But, maybe the new golf individualism stems from broader trends in society bolstered by social media and Facebook that allow individuals to show off their uniqueness. Perhaps President Obama's fondness for the game is in the mix also. And if Jack Nicklaus says it's okay to have a 12-hole tournament, then we all have permission to make our own rules.

Whatever the reasons, it is good news for the game because new segments of committed golfers are needed. For example, never before has the golf industry had this plethora of programs for young girls and boys. The LPGA-USGA Girls Golf program, the First Tee and the introduction of golf to school athletic programs have been helpful.
But now, with Dottie Pepper elected to the board of directors of the PGA of America and put in charge of junior golf team leagues (like Little League baseball), we can watch for even more growth in the junior golf segment. As I have asked before: "How many bikes would be sold if no one learned to ride one until they were 30?"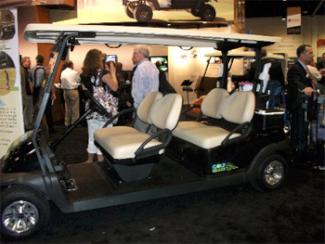 Family-Friendly Golf Carts Now Offered
Proof that the industry is rethinking itself shows up in a new and prominently displayed golf cart manufactured by Club Car. For years at these shows, I have been visiting the golf cart booths and making my way through the testosterone to ask about a "family golf cart" - two rows of seats and four golf bags. The usual explanation was that it would be dangerous for young children to ride in a golf cart.

But, here it is - the Club Car "Get Golf Ready" new golf cart. (Of course I still ask about the option to install seat belts for children and get blank-faced responses, but seat belt options will happen.)

It looks like from what I hear 2012 will turn out to have been a good year for the industry helped by very good weather in the nation's major golf regions. Early reports indicate that the number of golfers is increasing slightly (more so in the women's segment than the men's), but at the same time people are playing fewer rounds.

The individualism trend and bright colors with lots of options to "have it your way" should help to attract younger segments which, over their lifetimes, have a shot at bringing the game back to its former glory.
Nancy Berkley, President of Berkley Golf Consulting, is an expert on women's golf and junior-girls golf. She is a frequent contributor to www.cybergolf.com/womensgolf. Her book, "Women Welcome Here! A Guide to Growing Women's Golf," published by the National Golf Foundation, is an industry reference on marketing golf to women and spotting trends within the industry. She offers information and advice about the golf industry on www.berkleygolfconsulting.com and is often quoted in national publications. She was a contributing editor of "Golf for Women" magazine and a founding advisor of "Golfer Girl Magazine." Her interviews with women in the golf industry now appear on www.golfergirlcareers.com. Nancy lives in Palm Beach Gardens, Fla., and is a graduate of the University of Minnesota, Harvard University and Rutgers Law School. After a business and legal career, she decided to write about the game she learned and loved as a teenager. She describes herself as a good bogey golfer with permanent potential.