Completing the Menu at Kiawah Island Golf Resort
By: John Torsiello
In December I told you about two of the four "other" public golf courses at the Kiawah Island Resort in South Carolina, Osprey Point and Cougar Point.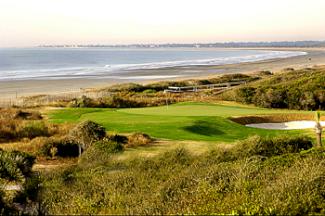 The 16th Hole at Turtle Point
When I say "other" I'm referring to the fact that Kiawah is, of course, home to one of the world's top tracks, the Ocean Course, site of this year's PGA Championship and a wonder by the sea designed by Pete Dye. While the Ocean Course is as good as advertised, the resort also boasts four "other" daily-fee layouts that are among the best courses you will find in the Low Country. The two courses that I'll give you the lowdown down on in this article are Turtle Point and Oak Point.

My son-in-law, Brandon Burke, a resident of nearby Mount Pleasant who accompanied me on my visits to Turtle and Oak points, said that one of his buddies, an accomplished player who worked at Kiawah, claims Nos. 14 to 16 at Turtle Point are among the finest brace of holes anywhere.

Thus it was with much anticipation that I pondered this trio as we worked our way around the Jack Nicklaus-designed gem. While not overly long, Turtle Point places a stringent demand on a thoughtful approach to each hole. There is water pretty much everywhere and fairway and greenside bunkers to complicate matters. Unfortunately, I found a number of these hazards, which caused more than a few "what the hecks" being uttered as I considered how a really nice-looking drive or iron shot could find such an ugly place to come to rest.
Oh well, such is a Nicklaus course.

I really liked No. 11, a dogleg-right, 408-yard par-4 that has water to the right starting at about 150 yards and bisecting the fairway in front of the putting surface. I managed to hit a nice fade off the tee that bounced through rough and left me with only an 8-iron in to a very large green. My shot came up a bit short, however, something that plagued both of us the entire round. Perhaps it was the time of year, the chilly weather or the wind, but club selection was extremely difficult on this day. I would advise anyone who plays Turtle Point to take at least one more club on most holes because the wind is mostly in your face on the entire layout, a bit of a quirky discovery.

Anyway, we finally worked our way to the much-heralded stretch of holes that sit alongside the Atlantic Ocean and found them very reminiscent of long stretches of the Ocean Course. They were all that my son-in-law's buddy bragged about and more. It was a brilliantly sunny day and the view of the dunes and ocean were spectacular.

No. 14 is a 174-yard par-3 which plays out of a chute of bushes that have been bent hard toward land by years of buffeting winds off the nearby ocean. I hit a pretty good 7-iron that came up a bit short and was unable to get down for par.

The 15th is a delightful, 385-yard par-4 that has the ocean all along its left side. A driver and 8-iron got me onto the green where I three-putted, perhaps distracted by the natural beauty of the surroundings.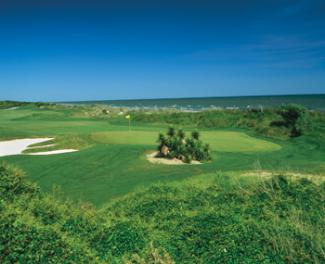 Turtle Point's 15th Hole
The 16th is another par-3 of 179 yards that again plays out of a tunnel of sea shrubs. There are waste areas all around the green, which we both avoided, and walked off with bogeys after we were unable to get up and down from in front of the green.

A good short game is essential at Turtle Pont, because you will find yourself with testy chips if you miss the greens only slightly. Plus, the putting surfaces are undulating and difficult to read, which made it almost impossible on the day we played to make anything outside of 10 feet.

The 18th is a tough finishing hole that plays 434 yards from the tips. You'll need a good drive to reach a narrow landing area and then a crisp mid-iron shot over water to find a green that sits on a peninsula.

Overall, I found Turtle Point one of the best courses on the island. A second go-round would make the experience more enjoyable after figuring out the wind's overall effect and the slope and speed of the greens.

Oak Point is different in some respects than the other Kiawah courses. It was added to the stable a few years back and is actually "off-island," meaning you'll hit it first as you drive toward Kiawah Resort on Route 12, which, by the way, is a sweet ride with live oaks draped with Spanish moss lining both sides of the narrow roadway. Make sure you check out a funky little restaurant on Main Road that turns into Bohicket Road that turns into Betsy Kerrison Parkway - called Chez Fish - after a round at Kiawah. The tomato and crab bisque is out of this world.
The 18th hole at Oak Point
The resort purchased Oak Point in 1997 and immediately set about restoring and enhancing the Clyde Johnson creation. The track occupies a former cotton and indigo plantation and is within close proximity to Kiawah River and Haulover Creek (love those uniquely Southern place names).

If you like looking at water you'll love Oak Point. Every hole, save one, the par-4 16th, has water in some form and often the wet stuff must be crossed on the tee shot or approach to the greens. But that's what makes Oak Point so much fun. If you put your tee shot where you should, navigating the layout is relatively straightforward. The par-4s and three par-3s are not long and thus you can attack them with nothing more than mid- to short-irons. The par-5s are all about 500 yards in length from the tips and therefore very approachable for players of all skill levels, especially if you play down a marker or two, which is advisable on the first try.

Brandon claims that locals believe Oak Point is kind of a forgotten course since it is not located directly on the island but right before it, and is often passed by golfers heading to Kiawah proper. He told me, perhaps in an effort to rattle this old guy, that a pond encompassing the first green and 10th hole approach is home to an alligator nest that has "some of the biggest gators I've seen besides The Ocean Course." He swears there's an even bigger gator in a pond that splits the 10th and 13th holes. He says he hit a shot perhaps 20 feet from "Megagator," which made it very difficult to concentrate on his second shot on the par-5 13th. That's another great aspect of playing golf on Low Country courses; you have built in "gator excuses" for bad shots that you can't use in other areas of the country.

I loved the second hole, a 183-yard par-3 that has water left and behind the putting surface. The seventh is a very cool, 168-yard short hole that has a pond in front, sand flowing down to the water's edge and a pot bunker in front of the very long green. This is a neat-looking hole from the tee.
I thought the 14th, a 345-yarder, to be one of the best examples of a good short par-4 I have encountered in the area. The fairway narrows as it proceeds to the green, and you have to thread the needle if you hit driver in order to leave you with nothing more than a wedge or 9-iron over water (of course) to the green. You can make easy par or disappointing double here with equal ease.

We thought the best hole on the course was by far the 406-yard par-4 18th that runs along the waterway and offers an amazing panoramic view. Brandon says he's caught it at the right time of day, when the sun is setting, presenting a breathtaking view of South Carolina's cotton candy skies. Always the artist, Brandon is.

Again, the daily-fee rates at both courses are reasonable for such fine layouts, especially during the off-seasons in late fall, winter and early spring, the latter coming about two months before the North warms up.

My suggestion is to play all four of Kiawah's "other" courses and then take on the Ocean Course. It will be a cool way to build yourself up for the big treat as you enjoy some great golf in the meantime.

For more information about the Kiawah Resort courses, visit www.kiawahresort.com.
John Torsiello is an editor/writer living in Connecticut. He has written extensively about all aspects of the golf industry for a number of national and regional publications. He is a regular contributor to "Golf Course Industry," "Lawn and Landscape," "Golfing" and "Fairway Living" magazines as well as various online publications. He has strong, ongoing relationships with industry professionals and has worked closely with course owners, architects, developers, course superintendents and general managers around the country. He has won a number of awards for his writing, including first place from the Turf and Ornamental Communicators Association for a piece that appeared in "Golf Course Industry" magazine.