Construction Company Shows Adaptability
With the opening of Royal St. Kitts Golf Club earlier this year, Frontier Construction Co. has wrapped up its fifth Caribbean project in five years – a feat of logistics few course builders can match.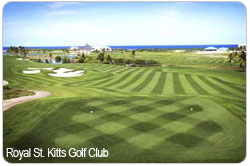 "For a contractor, St. Kitts is a tough place to work," says architect Tom McBroom, who designed the 6,900-yard, par-71 St. Kitts layout. "You have to import everything which leaves you vulnerable on a lot of fronts. We hadn't worked with Frontier before but we were very happy with the job they did. Together I think we produced one helluva product."

Royal St. Kitts GC, the centerpiece of the new St. Kitts Marriott Resort & The Royal Beach Casino, has already been hailed as one of the top courses in the entire Caribbean. Frontier Construction brought a wealth of tropical construction acumen to bear here, having recently completed three new courses in Puerto Rico – Caguas Real GC near San Juan with architect John Sanford; El Legado Resort, home of Chi Chi Rodriguez, who designed the layout; and the Fred Garbin-designed Coamo Springs Golf & Tennis Club in the south, near Ponce. In 2000, Frontier built another Marriott project in Costa Rica, the Marriott Los Suenos Resort, designed by Ted Robinson.
The course grow-in superintendent at Los Suenos was Greg Jackson, who then went from Central America to the Eastern Caribbean, where he oversaw the grow-in of Royal St. Kitts. Frontier and Jackson had the added challenge of working with seashore paspalum on St. Kitts, a first for both parties.
"Paspalum is salt-water friendly, but people need to understand the fresh-water requirements to get the paspalum established," says Nick Scigliano, president of the Jones Mills, Pa.-based Frontier Construction. "This was our first paspalum job. The agronomic program presented to us dictated the use of freshwater to get it established. Once it was established we introduced the salt water."
At a project like St. Kitts, where the decision to go with paspalum (Sea Isle I on the fairways; Sea Isle 2000 on the greens) was dictated by the paucity of available fresh water, Scigliano pointed out the significant silver lining: "This stuff is really aggressive and grows fast," he says. "Versus Bermuda, I'd say it establishes 25 percent faster."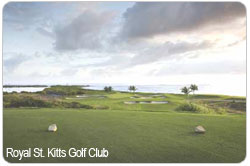 Jackson – who's now in Fiji, growing in another Marriott-developed golf course using yet another paspalum strain, Sea Isle Supreme – followed the fresh-water recommendations at St. Kitts as best he could. Where he deviated, the results were predictable.

"Toward the end of the grow-in, I was forced to 'blend' with brackish water because we planted so many holes, so fast, the fresh (desalinated) water was insufficient to keep up," Jackson explains. "We began blending on the last two holes planted with less than desirable results. The TDS [total dissolved solids] was high enough to desiccate the young sprigs, resulting in a re-sprig after sufficient fresh water became available. I believe if you were so inclined to use water with a reasonable TDS, say, 3,000-4,000 PPM, you may be able to pull it off . However, this would lengthen your grow-in time."

When Jackson left for Fiji, Peter Stormes took over as Royal St. Kitts' superintendent, in late March 2005. He arrived from Jamaica, where he was an assistant superintendent on the White Witch course at the Ritz-Carlton Rose Hall. Tifdwarf was the turf choice there. Stormes reports that, today, the Sea Isle I fairways at St. Kitts require some verticutting "to keep it where it should be, but the main benefit is water. I can't believe how little it requires. In Jamaica, the Tifdwarf needed something every night and in some spots we couldn't keep up. Here, it's every three nights.
"We're probably putting on 3,000 to 4,000 parts per million of salt. We have a desalination deal here; we pump it into irrigation lake but the salt leeches up into the pond. But it's not really that salty. From taking Dr. Duncan's seminar – Dr. Ronnie Duncan is the paspalum pioneer/guru at the University of Georgia – it can handle a lot higher than that."

Trouble is, other golf course plantings typically can't handle it. Frontier's Scigliano warns that once that switch to brackish irrigation water has been made, the onus moves to the delicate balance between accommodating the paspalum, which thrives on the salt water, alongside other plantings around the golf course that don't.

"Great care needs to be taken in design and installation of the irrigation system at paspalum courses to control exactly where the saltwater is put down – so only the saltwater-tolerant material receives it," Scigliano explains. "When you go to saltwater, you have to be very careful with all the plantings around the golf course. If you get too much overspray with the irrigation, the saltwater will quickly compromise the health of plants not intended to receive it."

Frontier was not the original course construction provider at St. Kitts. Canadian contractor Evans Golf started the project but, according to McBroom, Evans opted out in 2002 when the project was delayed, as the developers completed construction of a desalination plant. Frontier was retained at the end of 2003 to finish the job – the entire back nine, practice range and extensive finish work on the front side.

"Frontier is a great bunch of guys to work with, very professional," Jackson says. "Doug Show was Frontier's construction project manager in Costa Rica and I really enjoyed working with him. When the opportunity arose to bring in another contractor to finish St. Kitts, Doug Show and Frontier were the first contractors I thought of. Doug's workmanship is meticulous, their equipment is in great condition and always ready to work. The finish work was perfect, just as I like it. And if there were any concerns, they were always properly addressed."

For example, all the sand in the bunkers was shipped in from the mainland, at great expense. Jackson and Frontier were understandably determined to ensure that it didn't go anywhere. Accordingly, all the bunkers were outfitted with synthetic liners similar to those you'd find lining a lake. "That was tedious work, but they paid a lot of money for that sand and they couldn't afford to lose it," Scigliano says.

Frontier Construction Co. is one of the industry's busiest course builders and renovators. This spring the firm finished up a series of renovation projects at Laurel Valley Golf Club in Ligonier, Pa., in preparation for June's Senior PGA Championship, won by Mike Reid. Working with architect Ron Forse, Frontier recently completed an 18-hole bunker renovation project at Chester Valley Golf Club in Malvern, Pa., and is in the midst of a major renovation of Hidden Valley GC in Salem, Va., under direction of architect Bill Love. Frontier will soon begin work on another comprehensive renovation job with Forse at Preakness Hills CC in Wayne, N.J.